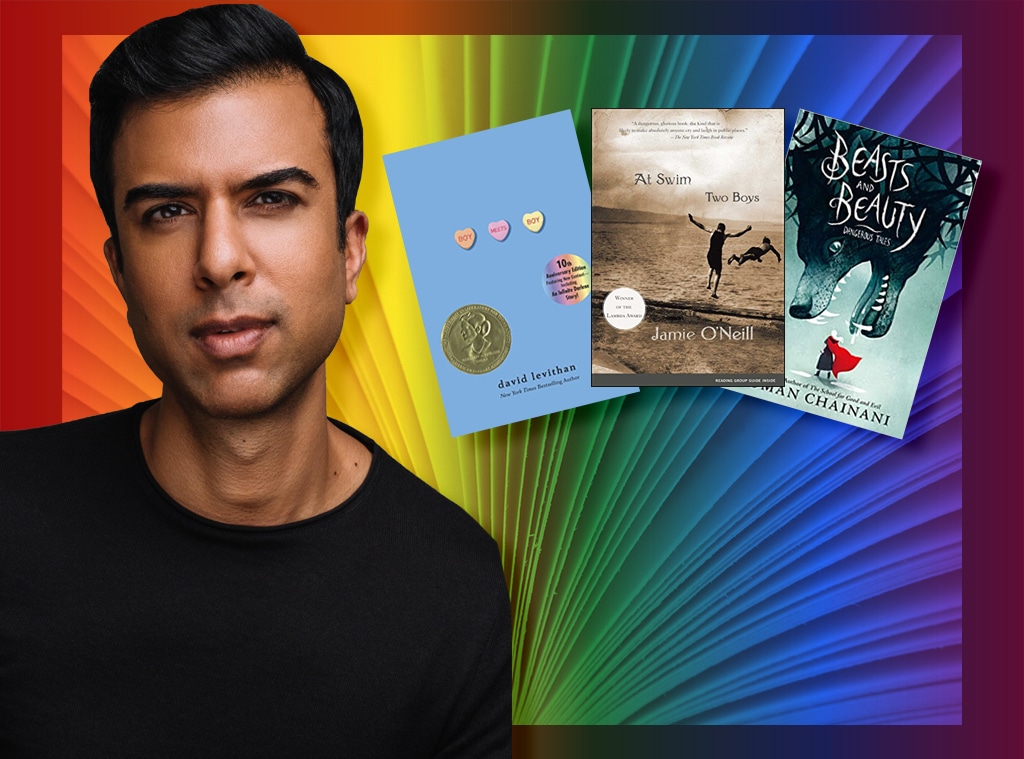 Chad Wagner & Steven Trumon Gray
We independently selected these products because we love them, and we hope you do too. Shop with E! has affiliate relationships, so we may get a commission if you purchase something through our links. Items are sold by the retailer, not E!.
Soman Chainani is a screenwriter, director and New York Times best-selling author. His debut series The School for Good and Evil has sold more than 3 million copies. It has been translated into 30 different languages and its global reach is about to expand even further, with a Netflix movie in the works for 2022, starring Charlize Theron and Kerry Washington. Soman's book Beasts & Beauty will drop on September 21, 2021.
As a gay Indian American, LGBTQ representation has played a large role in Soman's work as an author. In addition to being a successful writer, Soman is a very avid reader himself. Recently, he shared his roundup of must-read LGBTQ+ with E! News. Keep on scrolling to find out which books have made a lasting impression on him and why he recommends them for your next read.
At Swim, Two Boys by Jamie O'Neill
"Perhaps the most stunning work of gay fiction ever, charting the friendship and romance between two boys during Ireland's Easter Uprising. I still think about the way O'Neill constructs his sentences, pure dreamy stream-of-consciousness, that mainlines straight into your heart."
The Velvet Rage: Overcoming the Pain of Growing Up Gay in a Straight Man's World by Alan Downs
"For me, growing up gay meant an innate self-consciousness, a questioning of myself to the core. But this book was the jailbreak, a clear and passionate guide to letting go of judgment and living life from the inside out."
Auntie Mame: An Irreverent Escapade by Patrick Dennis
"Nothing has influenced my writing more than this madcap romp about a glamorous aunt, who breaks every one of society's rules, reinvents herself more than Madonna, and has a savage, sparkling wit that makes her one of history's great gay icons. In every one of my books, I have one character who is the reincarnated spirit of Mame."
Boy Meets Boy by David Levithan
"This valentine truffle, about a high school that embraces every kind of love, feels like it invented romance. Rather than depict our world as it is, it presents a vision of the world as it should be. If this was required reading at every high school, so much would change for the better!"
Blue Boy by Rakesh Satyal
"Growing up in a white suburb, I thought I had a lot of things going against me: being brown, being gay, being too skinny. But in Satyal's novel, I found a sharp, witty young protagonist with all the same problems — but the courage to trust himself and find divine meaning in his life when he most needs it."
Cry to Heaven by Anne Rice
"Rice's writing is famously homoerotic (her Sleeping Beauty series is gay heaven), but this one, about castrati singers in 18th century Italy is a standout, at once bold, sexy, extravagant, and like nothing you've ever read before. A sumptuous, sensual feast."
The Line of Beauty by Alan Hollingshurst
"Every new Hollingshurst book is an event, because it feels like reading Charles Dickens or Henry James, only with openly gay characters and a frankness about sex and sexuality. This one is a standout, because it asks the question I struggled with when I first moved to New York City in the early 2000s: how do you find family and community if you don't yet know who you are?"
Proxy by Alex London
"One of my favorite novels as a kid was Sid Fleischmann's The Whipping Boy, because the friendship between the two boys was so intense and visceral but never crossed the line into romance. London revises this by offering a gay, dystopian retelling that is thrilling, smart, and action-packed."
The School for Good and Evil by Soman Chainani
Read Soman's book The School for Good and Evil before it becomes a Netflix movie. Charlize Theron, Kerry Washington, Laurence Fishburne, Michelle Yeoh, Sofia Wylie, Sophie Anne Caruso, Jamie Flatters, Earl Cave, Kit Young, and more stars are currently filming the adaptation.
The book is about two girls. One is in the School for Good, which Cinderella, Rapunzel, and Snow White attended. Meanwhile, the other is a student at The School for Evil, but were they placed in the correct schools? Read the novel to find out. 
Beasts and Beauty: Dangerous Tales by Soman Chainani
If you enjoy fairytales, but you're craving something new, this book is for you. Soman spins the classic stories into fresh, new stories... with a twist.... or two.