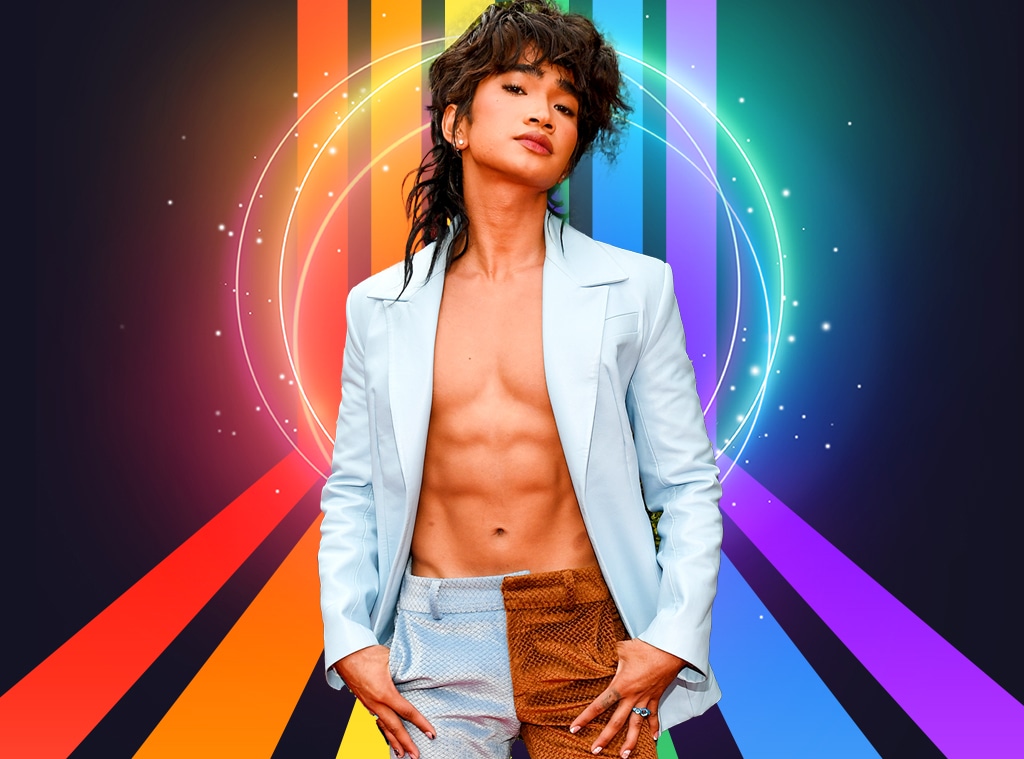 Kevin Mazur/Getty Images / E! Illustration
With the world slowly beginning to open up on the other side of the coronavirus pandemic, this Pride season is one of tremendous celebration. And yet the spirit of a movement born out of protest lives on. As the month of June comes to a close and International Pride Day nears, E! News has asked members of the newest generation of LGBTQ stars to share what Pride means to them in 2021.
Welcome to The New Faces of Pride.
While Bretman Rock's Instagram bio may say he's "doing the least, but looking the most," the Filipino influencer's read on himself is a bit modest.
The 22-year-old with 16 million Instagram followers and 8.4 YouTuber subscribers won Breakthrough Social Star at the 2021 MTV Movie and TV Awards last month, going on to deliver a hilarious and heartfelt speech. 
"This award is for all the Asian Americans who [believe] in me, all the Pacific Islanders, and most importantly, this is for all the LGBTQ community," Bretman said. 
And in his Instagram caption about his big win, Bretman wrote, "I will always understand the assignment."
And that's because he's done his homework, opening up to E! News about the queer media that helped shape him in his formative years. Hint: The show's got charisma, uniqueness, nerve and talent, just like Bretman.
Watch:
Billy Porter Praises "Pose" for Portraying LGBT Families
Here, Bretman joins E! News' week-long New Faces of Pride celebration, offering their take on the state of things in this most unusual year.
After a year unlike any other, what are you most looking forward to this Pride?
Being able to just be surrounded by my people, not just through the Wi-Fi and internet connection but through actual skin-to-skin contact with people who are just as queer as me and are just as prideful, you know? Honestly just being able to see other queers in the flesh is just really what I am excited about.
How has your personal definition of Pride changed or shifted after all we've been through these last few months?
I don't think my definition of Pride really changed in the past couple of months. If anything like the main definition didn't change, but the past couple of months just added more to that definition. Quarantine really taught me to be prideful of just being alone in my own thoughts. I feel like people don't realize that they could also be prideful for their thoughts and decisions and whether it was bad decisions or good decisions, your decisions and your thoughts are what make you the person who you are today. So you also have to be prideful of your knowledge and your creativity and your ideas. You know, period.
What queer media, be it books, music or film/TV, is a mainstay in your life? Why?
Oh gosh, I feel like every queer person probably said this as an answer, but if RuPaul's Drag Race was ever to be pulled out of television, girlllllll, all of the queers would cause an empire, an uprising, a pandemonium, bitch. Like, yeah, I would say if y'all were ever take away Drag Race from us…it's a problem. Drag Race was, like, my outlet and finally being able to see myself in television and that was through Manila Luzon, who was a Drag Race contestant. Manila was the first Asian queer person that I ever saw on mainstream media and Drag Race really did that for me.
What was the first time you saw yourself reflected in entertainment in a way that filled you with pride? And if you're still waiting, what is it that you're hoping to see?
Going back to Drag Race, when I first ever saw Manila Luzon on and the first thing I recognized was her name, Manila Luzon, because that is literally the capital and city of the Philippines and she named herself after that. That meant the world to me and let alone he looks like me, as well. He looks like a typical Filipino man and I just saw myself in him, and there was nothing more that I wanted to do. I mean, I wasn't going to be a Drag Queen, but there was nothing more that I wanted to do then put some makeup on when I saw her.
You finally get to meet your queer hero. Who are they? And after "Thank you" and "I love you," what's the next thing you tell them?
I have so many, oh my gosh if I could meet Freddie Mercury… first of all, I would thank him for his legacy and everything that he has done for the gay community. Regardless if he realizes it or not. But I would tell all of my queer icons, just thank you for being gay because you made me gay, honestly. You made me gayer, you made me realize myself, you paved the way for me, and I just want to just listen to everything that all of my queer heroes have to say about their experiences in life and just have a conversation with them. Like imagine me and Freddie Mercury having a conversation about being gay, I think that would just be so freaking iconic. But also at the same time I don't even know where to begin because I do not know how to meet famous people and people that I look up to.
You are given the keys to your industry. What's the first thing you do to make it a more inclusive environment for everyone?
If I had the key to my industry, I would change so many things, but I would definitely start off by getting more people of color and queer, especially my trans brothers and sisters, the credit that they deserve. Whether it is a simple act credit to them or as simple as literally getting them paid, I need more queer people to get paid for their craft, for their ideas, for their knowledge. I need more f--king people of color to be credited for what they have done, for not just the pop culture but for the culture in general, and that's what I would change. I would really just give more credit where the credit has and always been deserved.
What is your message to future generations of queer people coming of age right now? How do you want to instill hope in them?
I want you guys to know that we are more queer then we have ever been before, and it is all thanks to our late brothers and sisters, especially our Black trans brothers and sisters who have come before us. To enjoy the gay rights that you have today, you have to give thanks and look back to those who paved the way for us. With that being said, we need to move on and be more compassionate to one another, be more understanding with one another with each other's cultures, feelings, identities, and self-expression. Let's be real, there is still a lot of issues and problems in the gay community regardless if it's in the gay community, lesbian community, trans community, bisexual community and so forth, there is so many things to be done and I think moving forward we just have to be more compassionate to each other and have humility. We need to know when to apologize to one another because that is the best we can do as human beings, we apologize and we move on. There's only going up from here.