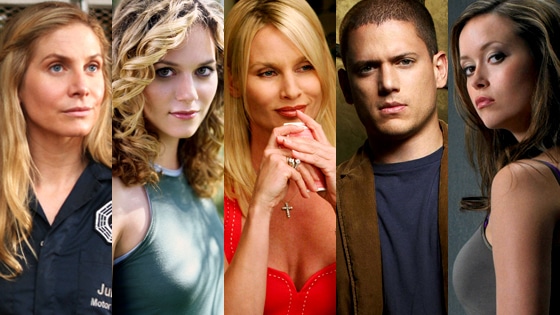 ABC/Mario Perez, The WB/Frank Ockenfels, Ron Tom/ABC, Michael Lavine/FOX, Jill Greenberg/FOX
Yesterday we decided which Show We'll Miss the Most, and today we shift the spotlight slightly to the left to focus on stars we'll miss the most, some from shows that have gone to the great DVD shelf in the sky and some stars who have simply signed off of their ongoing shows for the very last time. The five nominees for Star You'll Miss the Most are:
• Hilarie Burton, One Tree Hill's P. Sawyer, who drove off into the sunset for a long-awaited happy ending with Lucas Scott (Chad Michael Murray)
• Summer Glau as Cameron, Terminator's comely cyborg with a nuclear-fueled heart of gold
• Wentworth Miller, whose Michael Scofield was the breakout leading man of Fox's Prison Break
• Elizabeth Mitchell as the beautiful, brilliant, brave and doomed Dr. Juliet Burke on Lost
• Nicollette Sheridan, the Desperate Housewives star whom executive producer Marc Cherry called "a throwback kinda dame"
Tater Tops 2009: Star You'll Miss the Most
Any other stars you'd like to wish a fond farewell? Maybe Katee Sackhoff of Battlestar Galactica, Jeremy Davies of Lost or Kal Penn of House? Post in the comments!