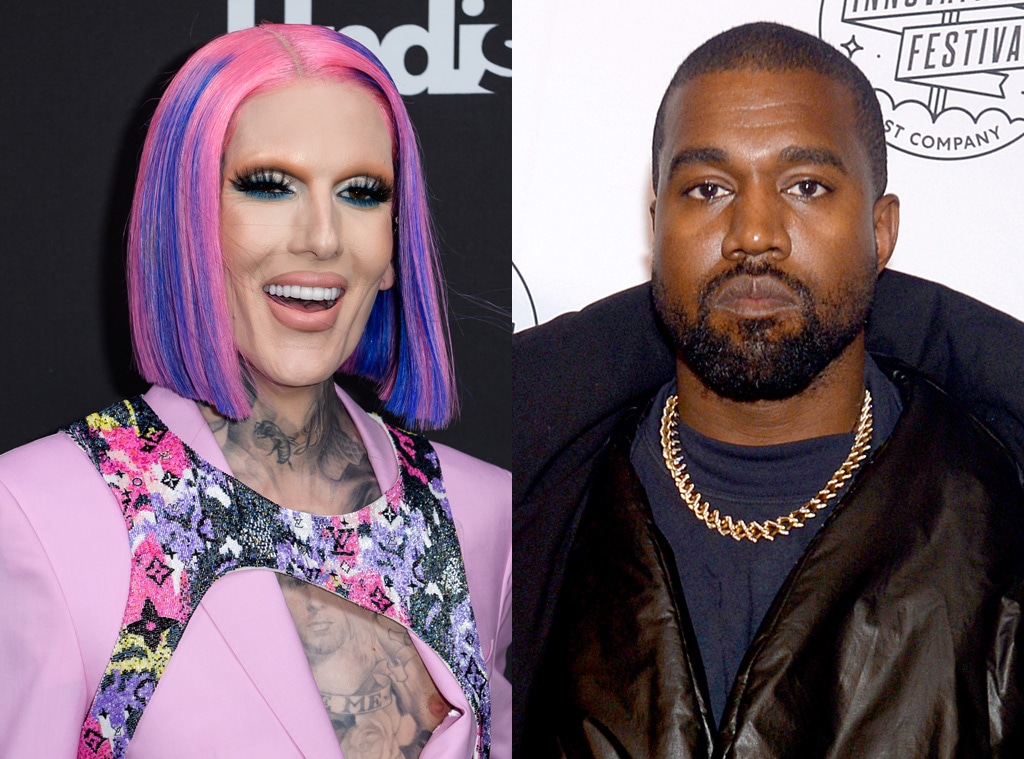 Jason Koerner/Getty Images/Brad Barket/Getty Images for Fast Company
Jeffree Star is no stranger to making headlines.
As one of YouTube's most successful—and notorious—content creators, the 35-year-old beauty vlogger has been the subject of feuds, drama and lots of rumors. But when kicking off 2021, Jeffree found himself being linked to the one and only Kanye West.
In an exclusive interview with E! News, the beauty mogul set the record straight that there is nothing romantic going on with the Grammy-winning rapper.
"I think the coincidence is crazy when you live in Hidden Hills, two miles away from him and then I've always loved Wyoming and I was obviously aware that they had been going there a lot," he exclusively told E! News. "I think the rumors are funny, they're hilarious. I had no idea that a girl that was on TikTok made it up until recently, so that was a shocker." 
Jeffree added, "I really did mean when, I say I really do like tall men. I think Kanye's music is amazing, but he's definitely not for me."
Watch:
Jeffree Star's Dating History: Nathan, Andre Marhold & More
Today, the YouTube personality isn't even interested in finding a special someone for the summer. After experiencing a car accident in Wyoming this spring that resulted in a broken vertebrae in his spine, Jeffree is focused on making a full recovery and growing his businesses.
"Oh, no dating," he assured us. "I'm honestly, after the accident, really focused on myself, but there'll be some big announcements that I have for the world. I had a lot of time to rest and really reflect and had some big life moments that I'm not ready to share yet, but soon."
For starters, he partnered with TheOD Foundation for Pride month to support currently and formerly incarcerated LGBTQ+ Individuals, as well as those serving alternate forms of criminal supervision.
In addition, Jeffree Star Cosmetics is donating a portion of all sales from the upcoming Rainbow Collection to TheOD Foundation along with a $25,000 pledge.
"I just remember being a little boy discovering makeup so young and wearing makeup at such a young age. It was so different than how it is now so, to me, Pride is freedom," Jeffree proclaimed. "It's getting to be exactly who I want to be and letting everyone know that that's OK. And I think that Pride month is so important. I'm just so carefree and I just love Pride so much and I just love what it's about…I think that Pride is so important to let people know that there's all types of walks of life and we should all be respected and all be celebrated."