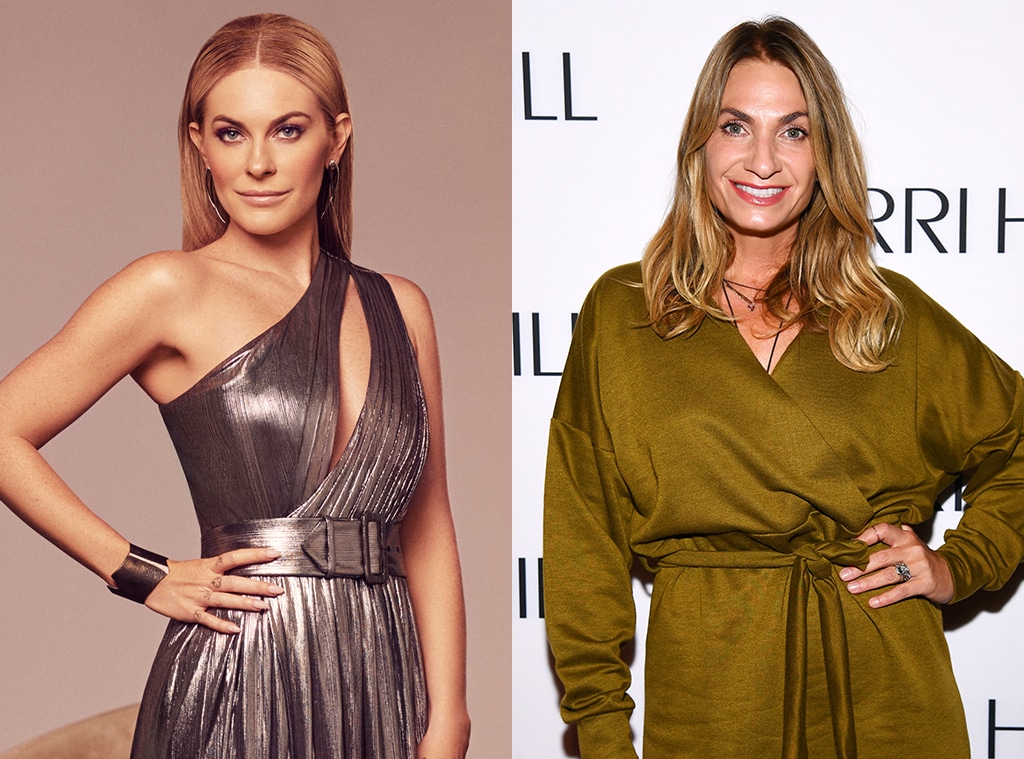 Sophy Holland/Bravo, Dave Kotinsky/Getty Images for Sherri Hill
Leah McSweeney is firing back.
The Real Housewives of New York City star is speaking out against Heather Thomson's recent allegations amid their ongoing feud on and off the hit Bravo show. Leah addressed many things, including her take on why Heather stopped filming as a "friend of" during season 13 and Heather's claim that she was "assaulted," which she made during an interview with the Friends of Dorothy podcast.
"I'm seeing a narrative emerge that I'm not comfortable with and thus feel the need to speak out," Leah shared via Instagram stories on June 8. "Heather was unable to forge natural connections with any of the women and that is why she discontinued filming. Everything that she's been saying about me in the press these last few weeks bears no resemblance to reality."
Leah continued, "I took issue with her from the beginning because I'm not a fan of disingenuous people. She says one thing in the press and another to people's faces. Say what you mean, mean what you say. I never once lied to her or about her. It's no secret that I was having a hard time on this trip due to the tremendous personal loss that I was dealing with in real time. Heather was well aware of this and acknowledged it. I apologized to everyone for being aggressive and squashed it, including with Heather."
The RHONY star added, "To now have her out in the press spinning lies about me while openly attacking my mental health and sobriety journey and falsely accusing me of assault is wrong, dangerous, inappropriate and a sad attempt to save face simply because she couldn't hang/cut it on the show. You will see all of this play out in the coming episodes/see for yourself."
Leah said "there are some historic issues that we address this season that are far more important than trying to keep Heather relevant which are being clouded over."
"In closing Heather has accomplished nothing but proven my point. The entire reason I took issue with her in the first place has now happened to me/come full circle," the Bravolebrity concluded. "She defames women to lift herself up. I won't allow myself to be dragged down in this dumb bulls--t because she can't be honest about why she really stopped filming."
In response to Leah's lengthy statement, Heather told E! News exclusively, "Watch the show tonight. Look at the show and form your own opinion. That, to me, speaks louder than anything."
During Heather's Apr. 27 interview, she alleged, "I get assaulted this season on the show, believe it or not," though she did not name her alleged assaulter.
She added, "People were more interested in dragging me or taking me down and showing who is the queen bee. I just don't have time for that stuff.
While Heather didn't mention Leah by name, she did point to, "the new girl. The new regime that was intimidated, I don't even like to use that word, just wanted to show who's the queen bee."
E! News has reached out to Heather for a response.
The Real Housewives of New York City airs tonight at 9 p.m. on Bravo.
(E! and Bravo are both part of the NBCUniversal family).