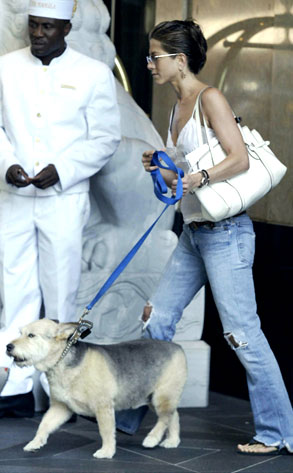 INFdaily.com
Like the Friends theme song goes, she'll be there for you.
In a PawNation poll, 70 percent of animal lovers voted Jennifer Aniston as the celeb they would trust to pet sit their furry friend. We imagine her dogs, Dolly and Norman, agree.
Mickey Rourke placed a distant second in that category, but his beloved Chihuahua Loki was selected as the celeb pet's passing that readers mourned the most, followed closely by Oprah's cocker spaniel Sophie, Tori Spelling's pug Mimi LaRue and Michael Jackson's chimp Bubbles.
And in a surprise upset, Bo Obama placed third in Favorite Presidential Pet, bested by Millie Bush and Socks Clinton (a neck-and-neck No. 1 and No. 2, respectively). We're guessing that this was before the microphone incident.