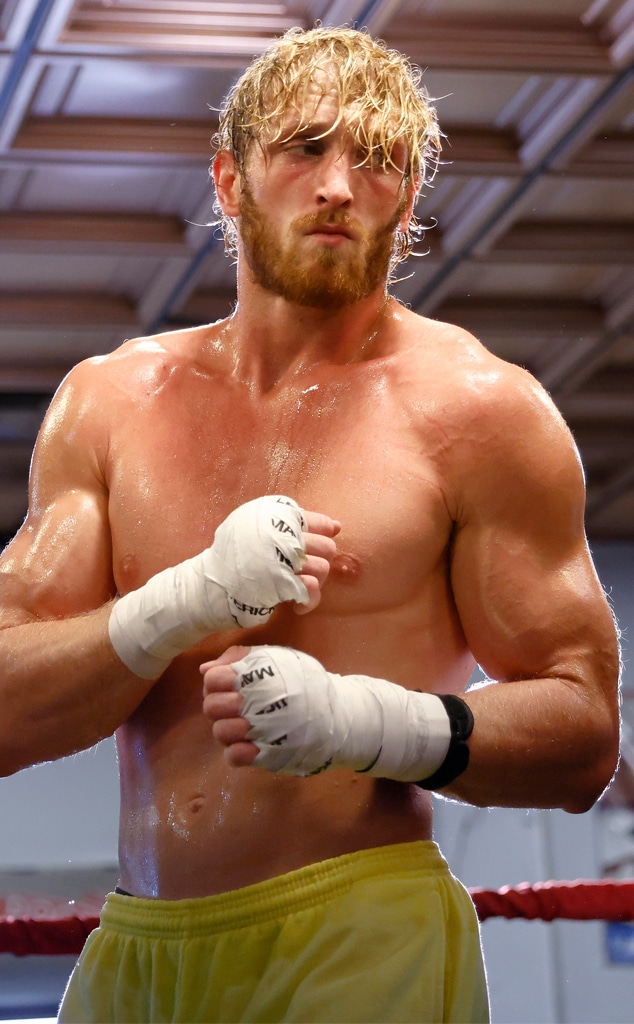 Michael Reaves/Getty Images
first punch will crack his spirit
second punch will crack his ego
third punch will crack his jaw
fight's over. kiss my girl. go home.
So Logan Paul could only hope!
The 26-year-old, best known for his online antics and controversies, trotted out that poetry on Aug. 14, 2018, less than two weeks before he was due to take on British rapper, gamer and fellow YouTube star KSI at Manchester Arena in the U.K., a bout promptly dubbed by promoters as the biggest amateur boxing match ever.
KSI (real name Olajide Olayinka Williams Olatunji) had one fight under his belt, a decision over YouTuber Joe Weller, directly after which he had set his sights on "Jake Paul, Logan Paul—any of the Pauls, I don't care!"
Indeed, from the ring, seconds after being declared the victor over Joe, he called upon either brother to come and get it.
Well, challenge accepted, after which much trash-talking ensued, to the delight of KSI and Logan's tens of millions of YouTube subscribers. Doubling the shenanigans, Jake took on KSI's younger brother, Deji Olatunji, in the chief undercard bout.
And in the course of it all, something surprising happened—at least it may sound surprising to those who mainly think of the Paul siblings as online rabble-rousers, sometimes funny but questionably talented and oft-thoughtless dudes who do things like go into a forest in Japan and film a dead body and post it to his YouTube channel (Logan on Dec. 31, 2017, after which he apologized) or call COVID-19 a hoax (Jake). 
Johnny Louis/Getty Images
What happened was, they seemed to take boxing really seriously. 
"I didn't choose boxing, boxing chose me," Logan recently told Showtime, home of his pay-per-view June 6 exhibition match with boxing legend Floyd Mayweather Jr., who is 50-0, including his 2017 post-retirement defeat of UFC champ Conor McGregor. "Seriously, I got challenged to box. I answered that challenge and then kind of fell perfectly into the sport."
Stephen McCarthy/Sportsfile via Getty Images
Not that the sporting world took him all that seriously in the beginning, hand-to-hand combat having previously proved an efficient way for famous people to attract some eyeballs (or make some money). Celebrity Boxing, featuring the likes of Tonya Harding vs. Paula Jones and Danny Bonaduce vs. Donny Osmond, was a real, albeit short-lived, show in 2002, and MTV made mad fun of the concept with its graphically violent claymation series Celebrity Deathmatch. 
That first fight with KSI drew a mix of attention from devoted Logan Paul believers, those who thought it would be fun to watch no matter what, celebs who know a scene when they see it, and others who weren't shy to admit they wanted to see Logan get punched in the face. And sure, probably some regular boxing fans, too.
Three years later, not all that much has changed.
"My name can definitely make people feel both things," he acknowledged in May on The Daily Show, referring to the love-him-or-hate-him reaction he tends to provoke. "But I think it's because I've given them reasons to feel both positive and negative things about me. Either way, it's my fault, and at the end of the day, I like the idea that I make people feel."
Leading up to Logan's 2018 match with KSI, former world champion Ricky Hatton told the BBC, "Years ago if you would have mentioned it everyone would have laughed at you and would not have really taken it seriously,. But at the end of the day, as professional boxers, we're in the entertainment business."
UFC heavyweight Walt Harris said all that attention was good for the sport—"as long as they go in there and fight hard and don't do the sport a disservice"—but while heavyweight boxer Nathan Gorman agreed that Logan Paul vs. KSI would probably get tons of clicks, he didn't love that the pair were being offered such a huge stage to try boxing on for size, while fighters like him had to toil in the trenches for their big break.
"I think they're both a pair of [bleeped with a punching sound]!" offered two-time world heavyweight champion Tyson Fury, one of a dwindling number of household names who practice the sweet science. "And me and Walt could kill 'em—we'll kick their ass!"
KSI and Logan fought to a draw on Aug. 25, 2018 in what was indeed the biggest non-professional boxing match ever, racking up 1.3 million pay-per-view buys, after which KSI said, "I guess we have to have a rematch."
"The rematch is going to be f--king crazy!" Logan agreed. (Meanwhile, Jake TKO'd Deji in the fifth round.)
The rematch took place Nov. 9, 2019, at Los Angeles' Staples Center, as if they were both really big-deal fighters, and KSI scored a majority decision, two judges calling it for him and a third for Logan. It marked Logan and KSI's professional boxing debuts (meaning bare-faced, with no head guards), and was shown exclusively on the live-event streaming service DAZN. Justin Bieber, Wiz Khalifa and Post Malone were among the 12,000 in attendance.
Jayne Kamin-Oncea/Getty Images
But though Logan lost, the hype had attracted all the attention he could have wished for, including from Mayweather.
Their teams hustling behind the scenes to get it done, their exhibition bout, dubbed "Bragging Rights," was announced on Dec. 6, 2020. Originally scheduled for Feb. 20, 2021, it was postponed until June 6, and they're now getting ready to rumble at Hard Rock Stadium in Miami Gardens, Fla. The match will consist of eight three-minute rounds, no headgear, no judges—and no official winner, hence the moniker. Showtime is selling the fight for $49.99 and, according to Gametime, the last-minute ticket app, the highest-price seats were going for $1,984. 
"When I started making f--king videos on YouTube, that was the cusp, the precipice for all this. This is it. This is endgame," Logan told Showtime. "This is what I signed up for. This is what I wanted. This is me in my element. I love this s--t. All of it's exciting for me."
Meanwhile, the Logan vs. Floyd weigh-in a month ago was largely memorable thanks to Jake Paul, who grabbed Floyd's hat off his head, prompting chaos to ensue.
"I didn't expect Floyd Mayweather to try and kill my brother with all of his security guards," Logan, who said he had told his little brother not to take his opponent's hat, quipped afterward.
"The event was obviously bizarre because we have never seen anything like this," reporter Danny Segura, who covers combat sports for USA Today, told CBS Sports as part of an oral history on the swiping of Floyd's hat (true story). "We have seen Floyd Mayweather fight Conor McGregor but that was still within the combat sports realm. This is the first time that Floyd has sort of stepped that far into this promotion or celebrity fights. I did not know what to expect."
Logan insisted he wasn't intimidated, telling CBS, "He wins fights but no one is terrified of Floyd Mayweather. He barely scrapes away with boring-ass fights." (All that verbal pugilism on YouTube definitely prepared him for the required trash-talk portion of these proceedings.)
Danny compared Jake's prank to "something that you maybe do in elementary or middle school to your friends, but this is a 44-year-old man." Milton Lacroix, Logan's trainer, called it "funny as hell."
Jake said he "knew it would be a hilarious troll moment and I knew it would piss him off like crazy." He alleged that Floyd punched him during the melee. ("I got asked in an interview if we were planning on pursing legal action. Because, you know, it's assault," Logan said. "I mean, but also, that was theft with Jake and 'Gotcha Hat.' I don't know, do they cancel out?") 
"To be honest, and I told my brother this, 'the guy doesn't hit hard,'" Jake said. "I think that's a known thing in his career. His last knockout is like 2011 and he has boring fights. I stole his hat because he steals people's money with boring fights."
Logan claimed Floyd said "he was going to kill Jake, and I don't take that s--t lightly. It has become super personal."
Which seems to be where the difference between YouTube star turned aspiring boxer and veteran professional athlete comes in.
"This is easy. It's what I do. I'm a fighter. I don't worry about anything," Floyd told reporters at a June 3 press conference, when asked if the dust-up with Jake had added extra fuel to his fire. "I've been pro for years, seen every style, and came out on top."
At the end of the day, he said, "I'm not upset at all. My thing is this...There's a difference between respect and disrespect. There was untying my shoe. My children's mother passed away last year, [and he was] talking about her. Touching my hat. So, it's all about reciprocation. Treat people how they want to be treated…Jake Paul has nothing to do with this event."
And why is Mayweather doing this, again? 
"Why not?" he replied when asked that very question during a press conference. "I told you I was an entertainer. I'm not just a fighter, I'm an entertainer."
"We all know that Floyd is one of the smartest entertainers in the sport of boxing," Logan's adviser Guadalupe Valencia told ESPN this past week. "There's a reason he's fighting Logan." He wouldn't say how much Logan was going to make from those eight three-minute rounds (presuming they go the distance), but he said it was more than some world-champion boxers. 
So you can guess that Floyd scored himself a pretty sweet deal. (First Take co-host Stephen A. Smith speculated on air that he could be pulling in around $100 million.)
And though Logan told ESPN that he would have fought Mayweather for free, given what an "iconic opportunity" it was, he most certainly is not.
"I have no interest in being cruiserweight champ of the world," he said. "I don't care. My goal is to be the biggest entertainer on the planet. And putting on big fights and big shows as a freelance fighter is a good way to do that."
He also has said he wants to do at least one MMA fight in his lifetime, but admitted that boxing is easier on him, physically, at the moment. 
"MMA's f--king hard," the 26-year-old told Showtime. "I got bad knees. I'm old now. I'm aging. My upper body's strong. My upper body always has been strong. I got dense-ass bones. I'm in like the top half-percentile in bone density. My strength is all here. MMA is tough. The lower body knows."
When not in the same room with Jake, Logan—who spent two months training in Puerto Rico to prepare for June 6—sounds more intent on showing that respect for the task at hand and for Floyd Mayweather's place in the boxing pantheon.
His plan for Sunday? "Fight my heart out. Fight my f--king heart out," Logan told Showtime. "Fight my heart out. That's the beautiful thing about this sport. Experience, it's fantastic. In almost any industry, experience is going to trump everything else. But at the end of the day, this is a fight and anything can happen."
But don't worry, he hasn't gone all humble or anything.
Watch:
Logan Paul Acknowledges His White Privilege to Fight Racism
"If I win, it's the greatest upset in the history of combat sports," Logan said on his YouTube channel, still the premiere place for his most unfiltered, off-the-cuff content. "Time stands still. The Earth stops revolving on its axis. It's the genesis. If Floyd Mayweather wins, nothing happens. No one cares. Congrats, bro, you beat a YouTuber. You want a cookie? Move on."
And whatever the result, the twentysomething entertainer with the creaky bones is just getting started.
"I can understand how now, when we're first getting into the sport, people will be upset about the moves we're making," he told ESPN. "But what happens in two years or in three years or in four years? When we're actually good at this sport, when we're actually beating good guys and selling out stadiums. The hate and the ill will has to stop eventually.
"Eventually, we'll be significant enough in this vertical that people will have to put respect on our names. And those people will feel silly that they felt the opposite at first. I believe it takes an evolved person to put their bias aside and see what Jake and I are doing. Unfortunately, not a lot of people are living in that high-frequency, evolved state. And that's not my f--king problem."