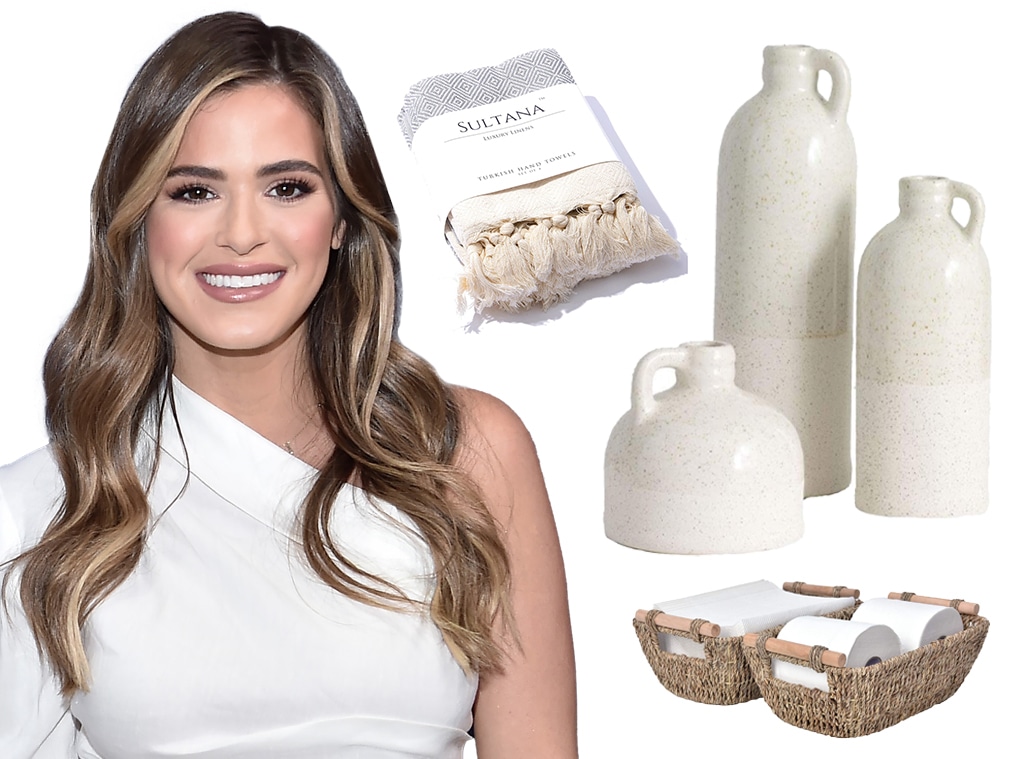 Steven Ferdman/Getty Images; Amazon
We included these products chosen by JoJo Fletcher because we think you'll like her picks at these prices. JoJo is a paid spokesperson for the Amazon Influencer Program. E! has affiliate relationships, so we may get a commission if you purchase something through our links. Items are sold by the retailer, not E!. Prices are accurate as of publish time.
If you've been following The Bachelorette alum JoJo Fletcher's life after the show, you know she spends a lot of time renovating homes. She has a great point of view and a knack for finding affordable finds.
"I feel like I am always on Amazon. I feel like I need to be in Amazon Anonymous because I am finding great finds every day," JoJo said during a live broadcast. However, that's a sentiment that all of us can relate to. Amazon really does have it all, but sometimes there are just so many things that it's hard to know where to begin. However, JoJo, who has been remodeling and flipping homes for years. So, of course, she has some chic, multi-functional suggestions to make the most out of your space.
The Bachelor Nation fan favorite said, "I have a whole bunch of really cool, smaller styling items that I think are the harder things [to decide on] when you're finishing up a space. The little things make a big difference. A good way to refresh your current space is swapping little things in and out."
Ultimately, JoJo says the key to designing a room is "storage, cute storage, finding things that can be decorative and super functional." And if you want to know what she has in mind, check out her must-have Amazon home items and how she uses each of them for more than one purpose.
Household Essentials Ml-4105 Barrel Storage Tub W-Lid
JoJo adores this barrel because it's "big, beautiful, and has amazing texture." She said it provides "incredible storage that you can hide all your junk in."
She also shared this pro tip: "If you're somebody who wants to clean up super last minute, you get this and you can throw in everything. Pop the lid on and no one will know that you didn't really clean up that day."
She also suggested using the basket as a side table as well, remarking, "You can put it in the corner of your living room. You can put it next to your sofa on the end and you can throw some coasters on there and it works." One product that works as décor, storage, and furniture? That's definitely a worthwhile purchase. 
Creative Co-Op Paulownia Wood Hand Carved Tray
"I love trays. I love putting them on my dining room table. I also love putting them in when I'm styling shelves or on a coffee ottoman. This tray is really beautiful and big. I love the color tones in the wood. I'm really into the soft woods.
"This is really good to start layering your pieces. If you have a coffee table or a side table at home and you want to get a little more intentional with your designs, this is a great layering piece to add into your designs. You can put a vase on here or some little plants or really anything you like. Just do what you like and you can make it work."
Anding White Ceramic Vase
"I love this. This is a really cute vase. I am obsessed with it. It just feels so exceptionally well-made."
"This piece is very versatile: if you have a spot on your shelf that you need to fill or a corner of your kitchen or if you have a coffee tray that you need to accessorize, this cute little guy is perfect. I love it. It has a cool, sleek design. It just looks freaking expensive and I got it at Amazon."
StorageWorks Hand-Woven Small Wicker Baskets- Set of 2
"I utilize baskets because I think they are a cute way to de-clutter, especially in bathrooms. If you need a de-cluttering solution in your bathroom, this will be really great. I love these anywhere in a bathroom, whether it's on top of the toilet or on a shelf. It's a great place to put all of your bathroom stuff. It looks cute and it's purposeful."
These baskets come in four colors and they have 1,900+ 5-star Amazon reviews.
Kouboo La Jolla Rattan Round Serving Tray
"This is another styling tray that I'm obsessed with. It's really fun. It's so cute. I love the color. Love the texture. You can use it as a tray for serving platters or you can use it as a décor tray."
Sullivans Small Ceramic Jug Set, Farmhouse Home Decor, Set of 3 Vases, White
"These vases are really great for any area.  I love that these come as a set of three because you can use three of them together. You can use one alone. You can do two of them together. I love the color of these. They're great neutrals and I feel like you can use these anywhere."
This set has 3,400+ 5-star reviews from Amazon shoppers and there are three colors to choose from.
Kdays Thick Faux Leather Tweed Linen Ivory Brown Color Block Throw Pillow Cover
"I am a sucker for pillows. Let me tell you, I would hoard pillows if I could. If you're trying to balance your space with a little bit of a masculine touch, I found a faux leather pillow that's really beautiful, neutral, and mixes well with a bunch of different colors."
Lifver Drink Coasters 6 Pieces Ceramic
"I really appreciate coasters. I am all about protecting your counters and furniture. I love that these have the grit on the back of them. I love the design. I love the colors. I'm into the stone look right now. Throw these on top of your coffee table tray." This 6-piece set has more than 3,600 5-star reviews on Amazon.
Capri Blue Candle- 19 Oz.
"I go through candles very quickly. I love candles. I think that the way your home smells says a lot about you. When you go into a home, you want it to smell inviting."
"This is one of my all-time favorite candles. We've ordered this many times and I don't get sick of the smell. It's amazing." JoJo isn't the only one who adores this scent.
The candle has 7,900+ 5-star reviews from Amazon customers. It's also been recommended by Hannah Brown, Lana Condor, and Nicky Hilton.
Palais Dinnerware Mango Wood Cutting Board
"I found this really cute cutting board or it can be used as a cheese board. It's even just cute to accessorize your kitchen. Just throw this up on your back kitchen wall and put some stuff in front of it."
Kouboo La Jolla Rattan Fruit Bowl
"I love a good fruit bowl. This is a must-have in the kitchen."
Sultana Luxury Linens - Turkish Hand Towels Set of 4
-Originally published June 4, 2021 at 4 AM PT.