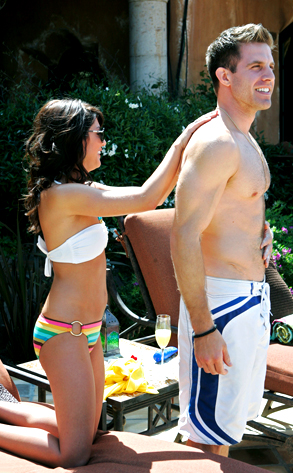 ABC/Adam Larkey
Jillian Harris fell for Jason Mesnick on The Bachelor, and he turned out to be the biggest reality-show jerk of all time. On Monday night, she sent one of the seemingly nicest guys with the saddest story, Sasha Petrovic, packing. And now the bachelorette has an unemployed bartender, a struggling musician and a tattooed loudmouth, who may or may not have an anger problem, vying for her attention, and she seems to be digging each of them.
When asked this morning if Jillian is attracted to jerks, Sasha said, "I think she's attracted to probably some of the bad boys. 'Cause Wes, she said he's a bad boy, and he's covered in tattoos. Dave's got some tattoos as well. But she's also attracted to guys like Kiptyn and Jake who are like apple-pie all-American guys. I think she's kind of across the board. It's almost maybe like she wants to be attracted more to the nice guys, but she finds herself drawn to almost the, I don't want to say jerks, but the tougher personalities."
But did Sasha turn out to be the biggest jerk of them all? On his first impression of the Canadian cutie, Sasha told reporters...