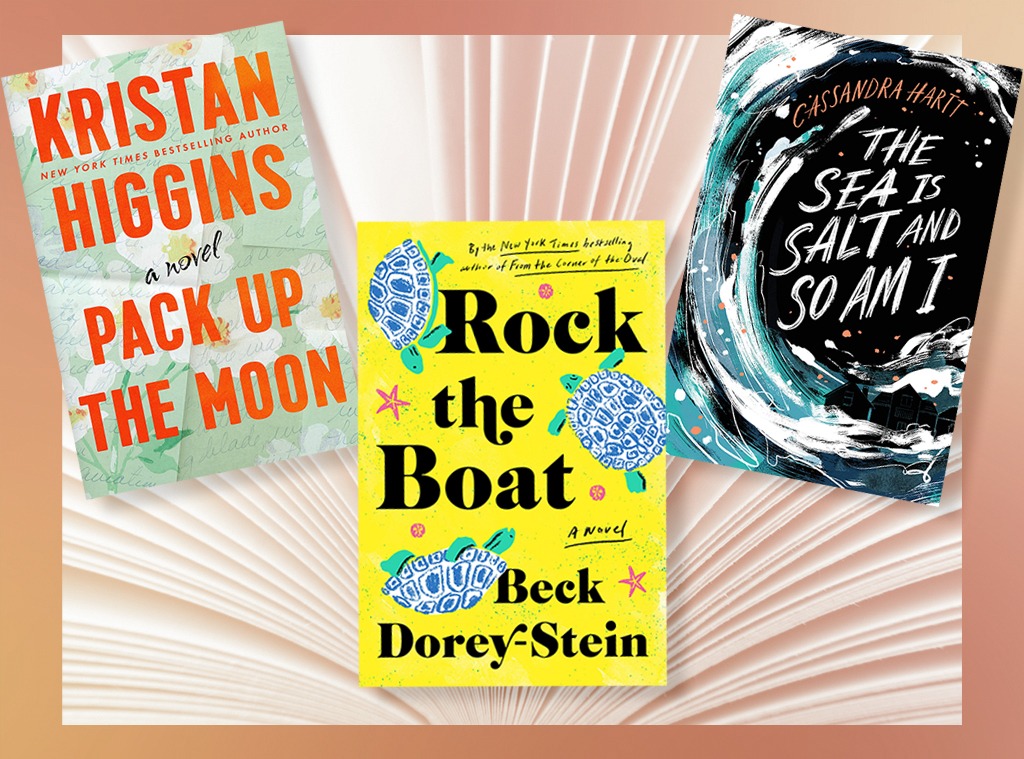 We love these products, and we hope you do too. E! has affiliate relationships, so we may get a small share of the revenue from your purchases. Items are sold by the retailer, not E!
Summer is just around the corner, so you know what that means: It's beach read season, people.
For book lovers, there's just nothing quite like sitting on a beach with a sweating drink by your side as you get lost in the pages of a novel. And, fortunately, June 2021's new releases are sure to satisfy your literary cravings. 
This month features highly awaited novels from two of our favorite authors, including Taylor Jenkins Reid, who most recently delighted us with Daisy Jones and the Six, and the latest Nantucket adventure from Elin Hilderbrand, a.k.a. the queen of the summer beach read.
So go on, slather on the sunscreen, grab an iced coffee and start reading after shopping physical copies of our picks or—because technology—pulling them up on Kindle Unlimited or through a free trial of Audible.
Here are the 16 books to throw in your beach bag this month...
Malibu Rising by Taylor Jenkins Reid
After the success of The Seven Husbands of Evelyn Hugo and Daisy Jones and the Six, whatever Reid releases has become a major literary event. And her latest more than lives up to the expectations. Set in Malibu in the 1980s, the novel tells the story of the Riva siblings over the course of one unforgettable night. Full of sunshine and surfing, nostalgia and nuanced family dynamics, we're California dreaming of seeing this one adapted into a limited series ASAP.  (June 1)
The Other Black Girl by Zakiya Dalila Harris
Harris effortlessly blends genres and dissects delicate workplace dynamics in one of the most anticipated debuts of the year. The Other Black Girl introducers readers to Nella and Hazel, the only two Black employees at a New York City publishing house. When the women begin to clash, things start getting very weird. Think Black Swan but with books and social commentary added in for good measure. (June 1)
Lizzie and Dante by Mary Bly
Just for the cover alone, Bly's tale of an Italian getaway deserves a spot on your bookshelf. And the love story within the pages is just as escapist, delivering the ultimate fantasy through the relationship of Shakespeare scholar Lizzie and the enigmatic chef she meets on vacation. (June 1)
An Unlikely Spy by Rebecca Starford
Prepare to fall in awe with Evelyn Varley, the titular unexpected MI5 agent in this fast-paced thriller filled with more twists than a bag of pretzels. Set during World War II, memoirist Starford's fiction debut is a must-read for historical fiction buffs. (June 1)
One Last Stop by Casey McQuiston
Fact: Red, White & Royal Blue is one the most underrated rom-coms in recent years. So, let's all promise to make up for that by devouring McQuiston's LGBTQ+ love story between jaded cinephile August and Jane, a punk rocker who's time-traveled from the 1970s. Inject this into our eyeballs STAT! (June 1)
One Two Three by Laurie Frankel
The author of This Is How It Always Is, one of Reese Witherspoon's picks, is back with a novel that'll make you laugh, cry and then laugh again. Everyone in Bourne knows the Mitchell triplets and the book shifts between their three perspectives as they come of age watching and then joining their mother's fight to protect their small town as its dark secrets come to light. (June 8)
The Sea Is Salt and So Am I by Cassandra Hartt
Fans of Normal People and John Green's novels should definitely check out Hartt's captivating YA debut told through the perspective of three high school students in a small Maine town who are forever connected and changed when a hurricane hits. Capturing the turbulence of teenagers and the enormity of their feelings, The Sea Is Salt and So Am I is tailor-made to become a Netflix hit in the very near future. (June 8)
Pack Up the Moon by Kristan Higgins
Grab your Kleenex now because Higgins' love story about a man learning how to move on with the help of the letters his late wife left him, one for each month in the year following her death. Heartbreaking, humorous and heartfelt, Pack Up the Moon is an exploration in finding happiness even in the hardest of circumstances. We repeat: Stock up on tissues. (June 8)
Live Your Life: My Story of Loving and Losing Nick Cordero by Amanda Kloots
Love. Loss. Life. Kloots reflects on all of these and more in her memoir that serves as a love letter to her late husband Nick Cordero, the Broadway star who died of complications caused by coronavirus at the age of 41 in July 2020. Written with her sister Anna Kloots, Live Your Life explores every step of her grieving process and contains 16 pages of exclusive photos from the couple's relationship. (June 15)
The Maidens by Alex Michaelides
After delivering one of the buzziest thrillers in recent memory with The Silent Patient, the expectations were deafening for Michaelides' follow-up. Prepare to get your psychological suspense fix via The Maidens, which mixes a modern murder mystery with Greek mythology, thanks to the titular secret society of female students and the charismatic Cambridge University professor who may or may not have killed one of their members. (June 15)
Dream Girl by Laura Lippman
After a near-fatal accident, a bestselling author receives an unexpected phone call from Aubrey, a woman claiming to be the "real" character from his hit novel. Could it be one of his three ex-wives? Maybe his jilted ex-girlfriend? Or a figment of his imagination? Talk about a nightmare. (June 22)
Blush by Jamie Brenner
Take a lush trip to the North Fork of Long Island to spend some time with three generations of women in the Hollander family in The Forever Summer scribe's wine-drenched read. With the trio each facing their own personal obstacle, they come together through an unlikely source: Reviving a "trashy" book club dedicated to scandalous novels from the 1980s. (June 22)
Rock the Boat by Beck Dorey-Stein
There's something about old friends reuniting in their seaside hometown that just feels right for a sizzling summer read. Whip-smart and perfectly capturing that delicate balance between your younger and adult selves, Dorey-Stein's book will have you—gasp!—craving a reunion with your high school pals. (June 29)
Something Wild by Hanna Halperin
Told in alternating perspectives and interweaving the past and present, Halperin's searing story about two sisters who travel to the Boston suburbs to help their mom pack up their childhood home. But when they discover that their mother is in an abusive relationship, their bond is tested as they are forced to reckon with their complicated family history. (June29)
Survive the Night by Riley Sager
Your heart will be racing and your mom's head will likely be shaking thanks to the Home Before Dark author's tale of a movie-obsessed college student who finds herself locked in a car with the potential "Campus Killer." Will she become the serial murderer's fourth victim? Or will she be able to do what the title suggests? You'll have to turn the page to find out. (June 29)
We love these products, and we hope you do too. E! has affiliate relationships, so we may get a small share of the revenue from your purchases. Items are sold by the retailer, not E!.