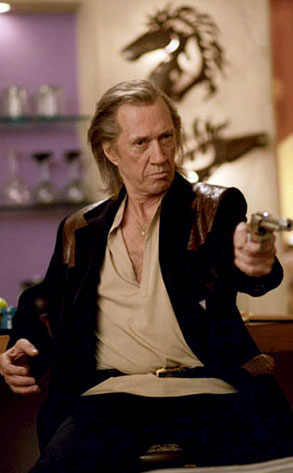 Miramax Films
David Carradine, the always-working star of TV's Kung Fu and omnipotent title figure in Quentin Tarantino's Kill Bill movies, was found dead today in a Thailand hotel.
A report on Thailand's The Nation news site cited local police as saying the 72-year-old actor was "found hung in a closet" this morning by a hotel maid, and that suicide was suspected. Carradine's Hollywood management company, however, flaty disputed the suicide theory, and said Thai police were investigating.
Prolific to the end, Carradine left Los Angeles for Bangkok, the Thai capital, on May 29 to shoot a movie called Stretch, Tiffany Smith of Chuck Binder & Associates said. Carradine's first day of shooting was Monday.
"He was as happy as can be," Smith told E! News. "He was very eager, very excited to do this project."