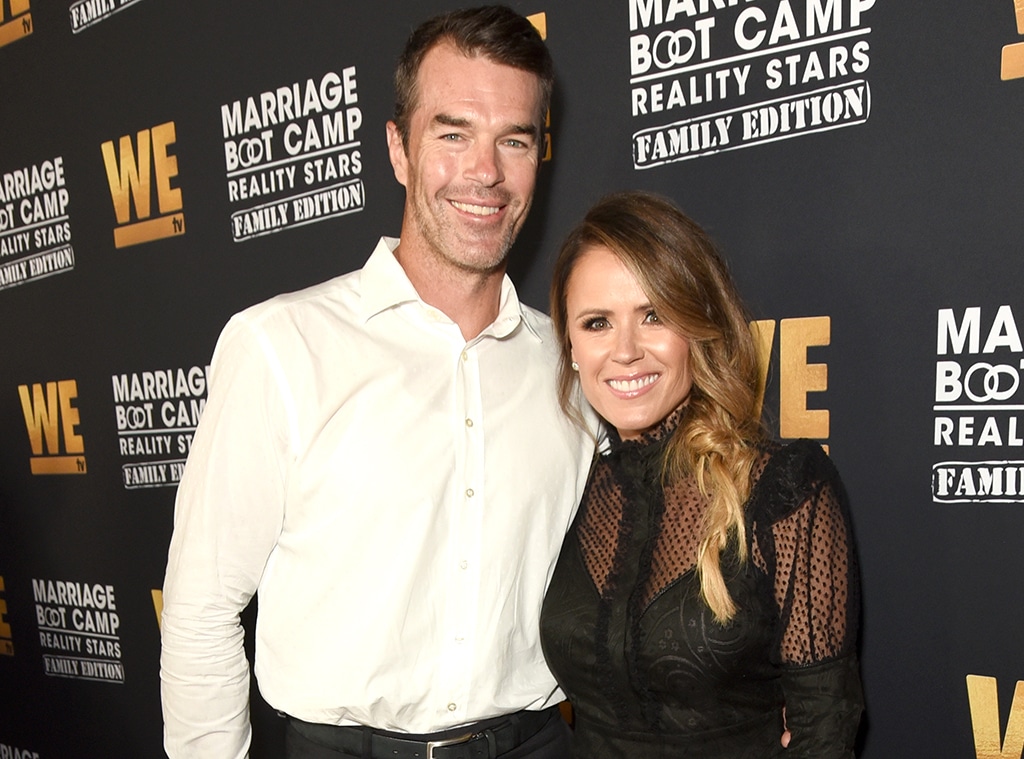 Getty Images
After months of uncertainty, Trista and Ryan Sutter finally have some answers about his health.
During the May 25 episode of her podcast Better Etc., the former Bachelorette and her husband shared he has been diagnosed with Lyme disease. 
"It's been hard," Trista said while looking back at their path to Ryan's diagnosis. "It's a really difficult thing to see the person that you love most in this world struggling. And he's a big strong guy, and to see him get emotional and feel helpless in a way in that all I could do was really advocate for him. So, that's what I did."
While Trista informed her followers of Ryan's medical journey in November, her spouse of 17 years said he actually started experiencing symptoms in early 2020.
"My body would just itch for no reason. I'd get some pretty severe headaches…swollen lymph nodes, nausea, night sweats, fevers, really really deep bone aches and muscle aches and joint aches, periods of extreme fatigue—almost paralyzing fatigue…. All things that I just had never really experienced before in my life," he recalled. "I mean, I've done a lot of things that have made me tired, but this was beyond tired."
After speaking with a number of doctors and undergoing a series of tests, Ryan still didn't have clarity. It wasn't until about a year into the investigative process that he received a diagnosis.
Ryan later learned he has a genetic predisposition that makes him more susceptible to toxins, which he said he's exposed to as a firefighter. He also said he was dealing with mold in his body.
"On top of being exposed to mold, I was also dealing with these long days, exhaustion, dehydration, all these other things that weaken your immune system, products of combustion," he explained. "So, my immune system was weakened, making it difficult to fight off infections, or what it seems like, allowing prior infections that my immune system had been able to sort of suppress and keep down to resurface. One of those infections was indeed Lyme disease."
Watch:
Chris Harrison Explains How They Pick "The Bachelor" & "Bachelorette"
Ryan tested positive for Lyme disease. "I now essentially have Lyme disease," he said. "It seems like that's something that I will always have. It's just that, now, I know and I can start to try to build back my immune system so I can fight it off. Again, Epstein-Barr I had shown that virus. This weakened immune system may have allowed that to kind of come back in. On top of that, COVID. So, I had the COVID virus, EBV virus and Lyme disease all were able to show back up. I don't know which ones necessarily did and which ones didn't other than Lyme disease."
Now, "the major things" Ryan is addressing are Lyme disease and mold toxicity. For Lyme disease, he said he's "responded well" to supplements and dietary changes. He also noted he has a "good team" supporting him.
"I truly believe that we're on the right path now," he continued. "I'm very thankful for where we are and for everyone who's helped us get there, whether that's doctors, our family support or even all the people that have written in on social media or in other avenues."
Trista and Ryan also hope to use their platform to help other people in their health journeys. "For anyone out there who is struggling, keep up hope and keep advocating for yourself," Trista said. "Never stop, never settle for an answer that you don't believe to be true. Keep advocating, keep looking for answers. It's your right. It's your right to find answers and consult with different doctors."