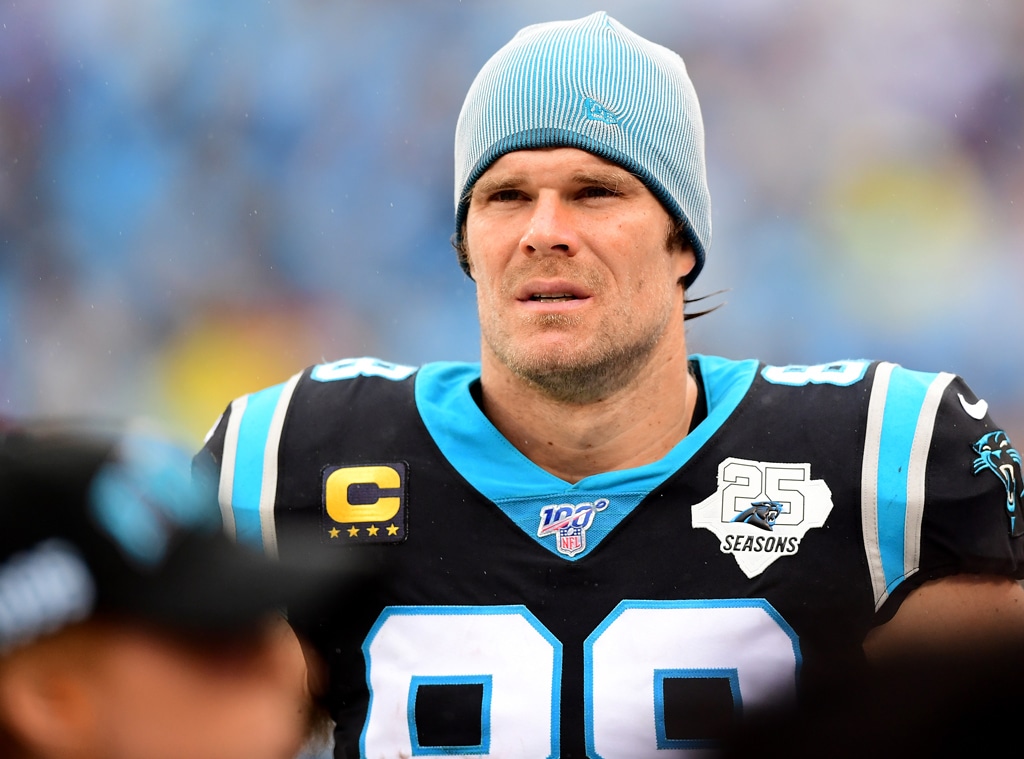 Jacob Kupferman/Getty Images
Greg Olsen's heart is hurting for his son. 
On Monday, May 24, the former NFL player gave fans an update on the health of his 8-year-old son TJ, who has faced serious heart issues since he was born, according to Greg. He's previously explained that TJ was born with a "complex, critical congenital heart defect" called hypoplastic left heart syndrome.
TJ has already undergone three open heart surgeries in his life and has been surviving with a modified heart, he said.
"This past week has been exceptionally challenging for our family," the athlete wrote on Instagram. "Unfortunately, it seems his heart is reaching its end. We are currently working through the process to determine our next steps, which ultimately could lead to a heart transplant." 
The former Carolina Panthers star shared, "We don't know how long we will be within these hospital walls. We do know that we are in full control of our attitudes and our outlook."
"TJ has been a fighter since birth," he continued. "We are going to get through this as a family and be better off as a result of this experience."
Greg said he's very thankful "for the incredible support we have received over the years," giving a special shoutout to the "worldclass care" of the "amazing team" at Levine Children's Hospital in Charlotte, North Carolina. 
He signed the note from the entire Olsen family, which includes his wife of more than a decade, Kara, and their two other children Talbot and Tate.
His Insta picture showed twins Talbot and TJ, smiling in their Nike athletic gear, clearing taking after the former NFL tight end. 
He followed it up with another pic of all three of his babies, writing, "Today was the first time in days all 3 kids were together. TJ was so happy to have Tate and Talbot come visit with him today!" 
Greg said, "We're going to do our best to keep our lives 'normal'. Thankful for days like today."
The couple started The HEARTest Yard initiative with The Greg Olsen Foundation several years ago, after they had a positive experience with a live-in, private-duty nurse to care for TJ. The HEARTest Yard privatizes an in-home healthcare package and covers the costs for families in similar situations.
As Kara shared during a Q&A the hospital, "Obviously just caring for healthy children is hard in itself, so we wanted an extra set of eyes on TJ. We called her Mama T—her name's Thadine. While she was living with us, I said, 'Greg, this is why we're given this journey. Let's provide this care to all children treated at Levine Children's Hospital.'"
Greg added, "We said, 'Okay, not everybody has the ability to fund this themselves.' It's very expensive, and a lot of people can't handle those expenses." 
After spending the 2020 season with the Seattle Seahawks, Greg announced his retirement from the sport in January 2021.
At the time, he said he was looking forward to the "next chapter" with his family. He recalled going on his first date with Kara in Miami, saying, "She has been by my side through it all. Living the past 14 years with me was not an easy task. I try to remind myself and her of that fact every day."
He shared, "My 3 kids, Tate, TJ, and Talbot, have taught me a life bigger than myself and my own wants and wishes... I look forward to catching up on so many moments I have missed as I chased this life."
Greg has joined FOX's sports broadcasting team.