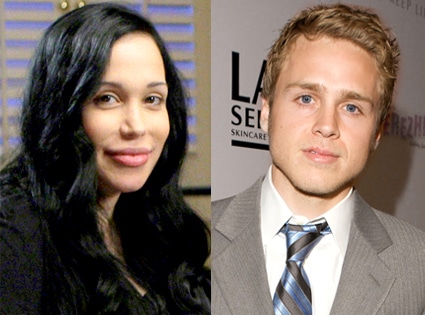 NBC/Paul Drinkwater, Chris Polk/Getty Images
It was a supertight race—a lot tighter than Adam vs. Kris, trust—but your pick for The Awful Truth's Most Awful Celeb in Hollywood has finally been determined! We started with 128 of this town's most awful, and after a month of voting, the race to the bottom has been won.
The champ cinches it with just 55 percent of the bitchy vote—so close!
How do ya choose the bigger of two evils? Reader Big Mama voted for Nadya Suleman: "Spencer is only hurting himself. Octotramp is hurting her children and giving loving mothers and women who need the help of fertility treatments a bad name."
While concerned voter C.B. states: "Octomom may be a bit crazy, but she just wants a family. Spencer actually thinks he is things he isn't. It's so annoying!"
We actually agree with both of you, babes.
So, statistically, who won the dishonorable honor of Most Awful fame-sucking slut? Was it Octomom Nadya Suleman or Spencer Pratt?
Drumroll, s'il vous plaît! The Most Awful Celebrity in Hollywood is...
Spencer Pratt!
While creating all sorts of drama on another reality-ish show other than The Hills, Spence's fame-whoring and general dork crimes beat out 127 other celebs: alleged child molesters, convicted murderers, enabling stage parents, anti-Semites, woman batterers, cheaters, hypocrites, homewreckers, closeted queens, drug abusers and a woman who's using her ungodly amount of offspring for her own personal gain.
(No, not Kate Gosselin—she wasn't originally in our poll. But she damn well should have been!)
Some claim that neither Spence nor Suleman should've even been on our list to begin with, claiming they're not real celebrities since they aren't true actors, singers or performers. Uh, what do you call that fake stuff Pratt pulls on every ep of The Hills? Real life? And since when did you have to have talent to become famous? That would rule out half the messes running amok on reality shows. (And Octomom's about to become one of 'em!)
And not only is S.P. superawful, he's unsexy—Spence even won the title of Unsexiest Man of the Year (beating out Blake Incarcerated and Jennifer Aniston!) back in November. Is he rigging all of the A.T.'s contests? Or is he just that universally unliked? We're sure he's loving the attention either way!
Congrats, Spence! And, Octomom, don't be sad. Second place is the new first place. Just look at Adam Lambert on Idol and Gilles Marini on DWTS. Not winning doesn't make you any less awful!