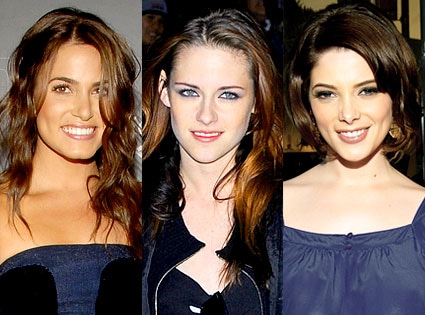 James Mark Sullivan/Getty Images; Devaney/Getty Images; Beck Starr/Getty Images
We told you a couple of months ago how the whole Twi cast spent their bonding seshes up in Vancouver—and it wasn't (always) rotating bedroom buddies. It was cigarettes. And lots of 'em. The whole cast would light up every chance they got. Pent-up sexual energy, perhaps?
Well, two members of the crew are trying to quit the dirty habit.
Think you know who?
Ashley Greene and Nikki Reed (hmmm, is N trying to make Ash her new BFF?)! It's always easier to quit smoking and sex at the same time, isn't it?
The two gals supposedly want to quit lighting up in order to be "better role models for their fans."
"Everyone on the cast smokes, and they are all trying to quit because they are on Twilight and know they are in the public eye," says a friend close to Ms. Reed. But the only people taking it seriously seem to be Ash and Nik.
"[Ashley and Nikki] know they are role models for little kids," says the pal. "If there are a ton of paparazzi photos of them smoking, that's not a positive image."
Brava, babes! But how are they quitting this habit, exactly?
"SmokeStiks."
S.S. are basically like smoking patches. They have nicotine in them, but no tobacco. "SmokeStiks look like those fake cigarettes actors use in plays," says a tester. "There's no smoke; it just lights up when you puff."
Can think of better things to put in your mouth than some pitiful make-believe cigarette, but whatever does the trick! Plus, you're just putting off (painfully) the inevitable withdrawal from nicotine this way. Seems awfully masochistic. But hey, hear the Twi crowd likes that slow-churning kinda way.
Also, don't think this cancer-stick replacement comes cheaply. They are like $100! Damn, must be good to be rolling in the Twilight dough.
So do you all think Rob's next to quit? Don't count on it.
Does it turn you off—or on—that our fave boy smokes like a chimney?
—Additional reporting by Taryn Ryder and Becky Bain