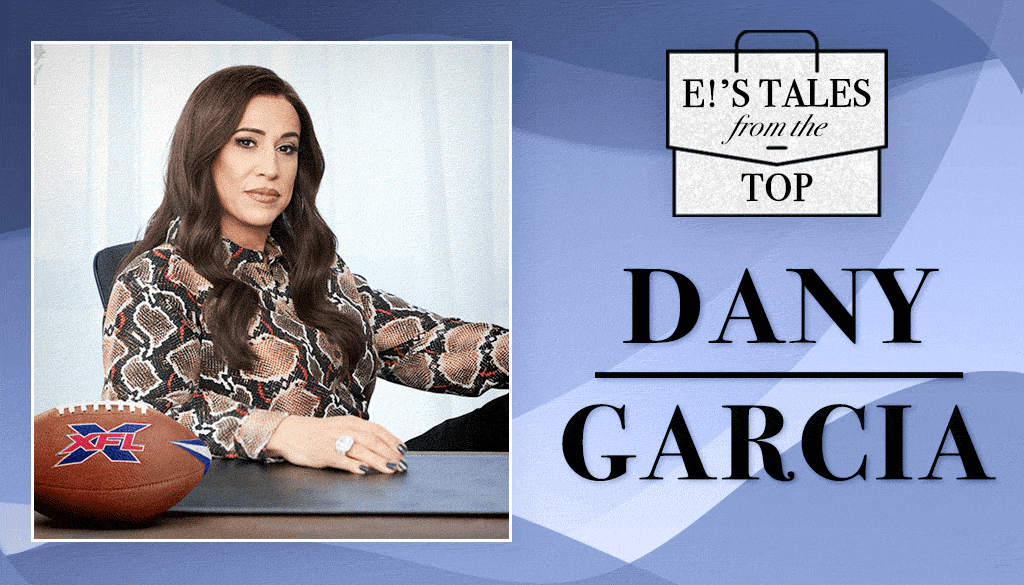 Erik Umphrey/Per Bernal/Philip Macias; E! Illustration
Welcome to E!'s Tales From the Top, our series on women who are leaders in their fields and masters of their craft. Spanning industries and experiences, these powerhouse women answer all the questions you've ever had about how they got to where they are today—and what they overcame to get there. Read along as they bring their resumés to life. 
Allow us to reintroduce you to Dany Garcia. 
You've likely seen her name somewhere—her resume is long, wide-ranging and, put simply, impressive. But often the first title attributed to Dany is: Dwayne "The Rock" Johnson's ex-wife. Which, she is, but it's arguably her least important and least remarkable title. She's got fistfuls of others: Producer on some of Hollywood's most lucrative blockbusters, founder of a womenswear line, professional bodybuilder and history-making owner of the XFL. But that's not where her story begins.
"My first job," she recalled in an exclusive interview with E! News, "was running an eight-stall barn when I was growing up in New Jersey, when I was 12 years old."
Seeing her obsession with horses, she elaborated, her grandparents paid $600 for a 12-year-old trail horse she named Bucky "and the deal was that I would work to pay for his board and feed. I was running and cleaning the barn and driving huge tractors and cutting hay down. It was an amazing experience. It was very much an eye-opening experience only because I didn't realize how much I could do."
Spoiler: It was a lot. While Dany may not have predicted every title under her (weight) belt today, she understood early on that she wanted to make money.
"At a very young age, I had a good conceptualization of what wealth meant," she explained. "My parents had immigrated as young teenagers from Cuba to America and my father worked at an autobody shop where he was the manager." With three children, she continued, "Money meant something and it was tight. And so for me, I was very much interested in how quickly could I create wealth because that would take care of my family. It was not about a wealth so I could have things, but it was an understanding of wealth would create freedom for my family."
That entrepreneurial seed was further planted as she worked at a men's suit store during high school. "I saw this trade off of owning your own business and what the results would be," she noted. "So as a young person, I was like, 'I'm going to be a millionaire and I'm going to run businesses.' That was sort of in my head: 'I'm going to create and run businesses.'"
Slowly but surely, Dany made those grand dreams her reality. While not all of her jobs were a hit (a college internship inputting data for an accounting department remains her worst to date), the University of Miami School of Business graduate began her career at Merrill Lynch and eventually, after becoming a new mom to now-19-year-old Simone Johnson (with Dwayne) founded her own wealth management firm.
A major personal change came in 2007 when she and Dwayne, who met at the University of Miami, announced the end of their 10-year marriage, vowing to spend, as they put it in a joint statement, "the rest of our lives together as best friends and business partners."
More than a decade later, the two have kept that promise. In fact, the same year their divorce became official, the future action star formally enlisted his ex-wife to head his management. "With DJ, I had actually always been a part of the construct of his career since he was in college," she said. "So, as he transitioned into wrestling, I had an active role in that as well. So when we officially decided to divorce, I had already been playing such an active role in his career and his interaction with the WWE that it was a natural transition to go into a more public-facing or take that as a sole responsibility."
But with this being years before Gwyneth Paltrow introduced the term "conscious uncoupling" into our general lexicon, the idea of being so friendly with your ex that you could work with him was pretty foreign. "I was used to already being the only woman in the room or not surrounded by [women], so that transition wasn't uncomfortable for me," Dany said, referencing her shift from finance to Hollywood. "But what was different was coming in the room to speak with authority and direction and representing your ex-husband. So for many individuals, it was catching up to this unique relationship."
However, any mumblings over their relationship status were eventually muffled by the business at hand. "Luckily once I started speaking, everything fell into place because the conversations I was having and the way I was approaching development of a career always balanced this strong business sense and the return on investment acumen that studios all aligned with," she explained, "so all of the sudden they were having conversations that were also creative, but also balanced with business and that gave us this incredible advantage."
Plus, she had The Rock in her corner, ready to say "And listen to her," Dany recalled. Ultimately, "It took a beat," she said, "but then as my relationships developed, it became very clear that my work was to add value to whoever our studio partner was in addition to adding value to DJ's career."
It wasn't that seamless. Not only were they forging a unique path, so many of Dany's suggestions simply hadn't been done before. "So there was also this learning curve in the room to have individuals adapt to what I wanted to execute," she said. "I quickly needed to get comfortable that the confusion in the room may not completely have to do with the fact that Dwayne was my ex-husband and I was in the leadership role."
Cutting through that "required a lot of self-awareness," she admitted. She had to stop assuming that she was doing something wrong and realize she was blazing a fresh trail. "You look at the culmination of DJ's career, and you look at the expansiveness of the empire and everything that we had built out—you can see that, wow, there's nothing but never-been-done before moments throughout all those years," she explained. "And that meant there was numerous never-been-done before conversations happening in various rooms."
Watch:
"Jungle Cruise" Official Trailer
Together, she and Dwayne founded Seven Bucks Productions, which has helped birth some of his biggest roles: Baywatch, Jumanji: Welcome to the Jungle, Hobbs & Shaw and the upcoming Jungle Cruise to name a few. And, if there was ever a fact to sum up the immense success Dwayne has had on this one-of-a-kind path from collegiate football player to pro wrestler-turned-box office wonder, it's that he has been named among Forbes' highest-paid actors in Hollywood annually...since 2012. 
But, movies are just one part of Dany's portfolio. In addition to Seven Bucks Productions and TGC Management—Henry Cavill is also a client—there are a variety of ventures and investments under the umbrella of her eponymous The Garcia Companies, for which she serves as chairwoman. In May, she brought another goal to fruition—one with roots from when she was a 15-year-old French horn player learning "God Save the Queen" in her high school marching band. 
"I swear, it was like a bell went off in my head and I started writing the initials GSTQ," she recalled of her teenage self, explaining the origins of her clothing brand's title. "The idea of God coming down, save the queen, this country—everyone is behind saving the queen and wishing the best. For me, who had such massive ambitions, but such a small life—nothing in my life was reflecting the greatness of what I hoped would be accomplished—the GSTQ became a mantra. It became a mindset for me...It was sort of the validation in my mind: You're a queen. You've got this. What is your mindset? You're going to grow." 
Grow she did into a womenswear founder. With the recent launch of the first collection for the brand, Dany aims to provide clothing literally fit for multi-hyphenate women with items that marry fashion and function. "I have a very passionate relationship with fashion where it's up and down because my body type is a little unique as a bodybuilder." Paired with long work days, Dany realized, "There was this space where clothing wasn't meeting me. It wasn't moving with me and moving with a 15-hour day. And I thought, gosh, clothing with a mindset that's all about the wearer and her needs and being supportive and saying, 'I've got you girl. You put this on and then we go.' It's polished to perform, but you can move in it, but you look elegant, but it's realistic to all the demands that we have to do."
After all, according to this mogul, clothes should work for the wearer. "I've always felt fashion can have an aspect to it where you have to earn the right to put it on. And that to me was, like, no, no, no, no, no," she said. "'I'm going to earn the right to be worthy for you to wear me and then while you're wearing me, I'm going to do everything possible so you can go crush.' Let's change that."
And, yes, before we get any further, The Rock isn't the only athlete in this modern relationship. Formerly a member of her high school track team and a collegiate rower, Dany has been competing as a bodybuilder since 2011 and earned her IFBB Pro card in 2014. Nowadays, she's not only a competitor herself, but also a history-making owner. Through her, Johnson and RedBird Capital's joint acquisition of the XFL in August, she became the first woman to own an equal or majority ownership stake in a major professional sports league in the United States.
"The entire experience has been life-changing for me," she told E! News over email. "The enormity of relaunching this league combined with the complex strategy and partnerships executions we are cultivating for the benefit of our athletes and audiences is a 24/7 impacting event. While it is no small task and we are months from hitting the field, it's humbling to see that following my passions has had such a positive impact in other people's lives. It gives me joy to hear that this acquisition inspired others to take a leap in their own careers."
And, she had a cheerleader in Johnson, who loudly celebrated as she shattered that ceiling. "I have the pleasure to illuminate this huge milestone in sports history," he wrote on Instagram in August. "My XFL partner, @danygarciaco becomes the first woman to own an entire professional sports league. She was the architect in our strategic acquisition of the XFL and now we proudly and humbly go to work with our partners—all for the love of football. Congrats Dany! Let's get to work."
If that Beyoncé quote about how she has as many hours in a day as the rest of us comes to mind, take solace in the fact that Dany doesn't do it all, nor is she trying to. "The more I double down on myself, the easier it is to do all of the things that you see on my list because everything in my portfolio, I'm passionate about," she explained. Simultaneously, "I'm hyper aware of how I show up," Dany continued. "What am I doing within these organizations and what should I not be doing?"
Referencing the advice of a peer, she shared, "She's always saying, 'Dany, you do not need to wash the windows and sweep the floor and also create the strategy.'"
In other words, Dany explained, we all need to hone in on our best assets. "I think for women in particular," she said, "we actually can do many things very, very well, but that's not good enough. What is the thing you do the best and stay in that space. Have the discipline to stay in that space."
To shop her new line, visit GSTQ.com.