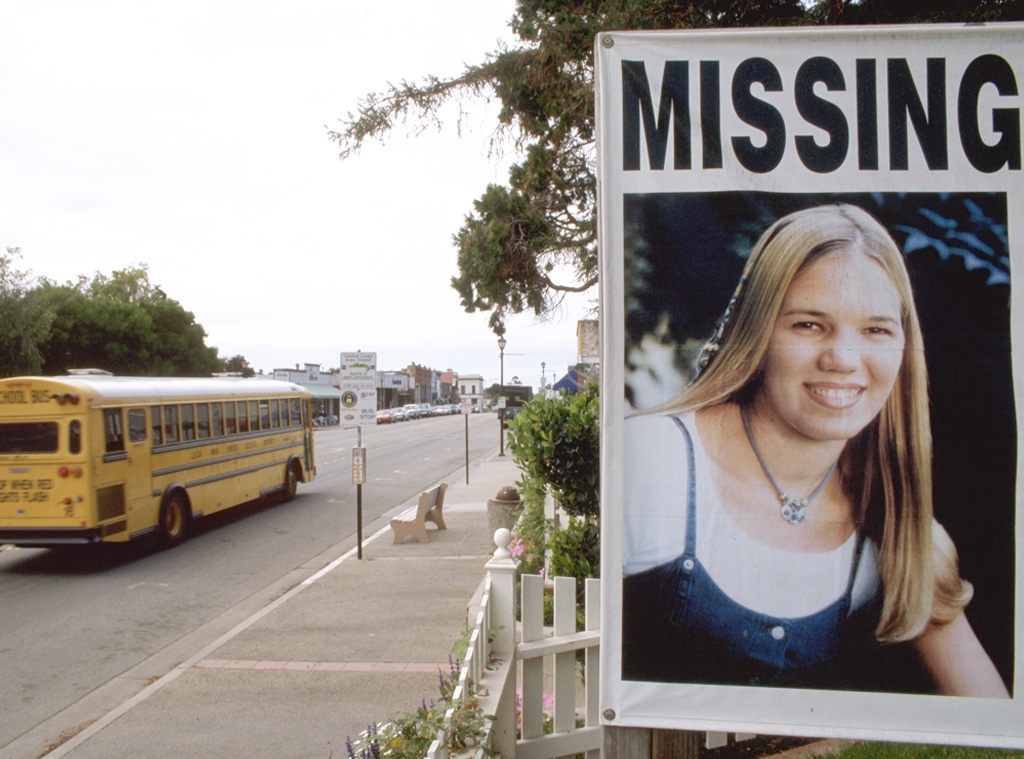 Axel Koester/Sygma via Getty Images
On the night of Friday, May 24, 1996, Kristin Smart went out with some friends, hoping to find a party to kick off the long Memorial Day weekend—but not before calling her parents, letting them know in the message she left on their answering machine that she had "good news" and would phone again on Sunday.
"She was very excited," her mom, Denise Smart, told the Los Angeles Times in 2006, recalling how Kristin shared that her biology professor was letting her retake an exam that had inexplicably gone missing earlier that quarter. "She said, 'Hi, good news, good news.' That was her good news: She had gotten a call from professor whatever his name was. She had been trying for so long to get that resolved." Denise figured they'd catch up on Sunday, as they always did.
Kristin, a 19-year-old freshman at Cal Poly San Luis Obispo, the eldest of three siblings who wrote poetry and had worked as a lifeguard in her hometown of Stockton, did find a party. But she never made it back to her dorm.
According to myriad accounts of that night gathered by authorities, at around 8:30 p.m. on Friday, Kristin and three girlfriends left campus on foot and soon caught a ride in another pal's truck. After driving around for a couple hours, Kristin suggested a birthday party being thrown by some fraternity brothers at a nearby house.
But Kristin was the only one who wanted to go, so she got out of the vehicle about two blocks away from the party on Crandall Way.
"I can still see her standing there after we dropped her off, a little mad I think that I wouldn't go with her," her friend Margarita Campos told the San Luis Obispo Telegram-Tribune (now just Tribune) in 1997. "Someone who wasn't as independent as Kristin wouldn't have gone to a party alone. She kept saying, 'You go with me.' But I didn't want to go. I told her, 'You better be careful,' and she said she would be fine. Then she said 'Bye.'"
At that point in the evening, according to Kristin's friends, none of them—including Kristin—had been drinking. 
Witnesses later told authorities that Kristin seemed intoxicated when she left the party, with one person claiming they saw her drinking tequila while police were also told she was chugging vodka. Still other partygoers said they never saw her with a drink. 
Uncredited/AP/Shutterstock
One friend told police, per the LA Times, that it wouldn't have been unheard of for Kristin to act tipsier than she really was. When going through her emails, investigators also learned that she sometimes tried on different names for size, finding messages signed with a variety of monikers, including Roxie and Trixie.
She picked Roxie for this particular night out.
Kristin's parents described her as a warm, kind, fun-loving and adventurous but sometimes anxious girl, one who worked as a camp counselor on Oahu and traveled to Venezuela on an exchange program but was scared to get her driver's license. She called her mom every week and wasn't loving college so far, but was trying. Investigators found that she ended her email messages with, "Live your life to be an EXCLAMATION, rather than an EXPLANATION."
Her father, Stan Smart, told the LA Times, "We thought [Cal Poly, about a four-hour drive from Stockton] would be a good place for her. We thought it was a safe community, you know. And it is. It just didn't work out that way for our family."
At 6-foot-1 and fit from years of swimming, Kristin also cut a striking figure. She had dyed her naturally blonde hair brown during the school year and, the mercury hovering at 80 degrees on the night of May 24, she was casually dressed in black running shorts with a cropped T-shirt and red sneakers.
During the party, Kristin—who had told some people that her name was Roxie—was seen at one point with Paul Flores, also a 19-year-old freshman. At around 2 a.m. when the party was breaking up, she was heading out with fellow students Cheryl Anderson and Tim Davis when Paul joined them.
When they got back to campus, Tim went in a different direction, toward his dorm, Cheryl telling him the three of them would be fine. The trio got to Cheryl's building first, she recalled, according to deposition testimony, and Paul said he'd be sure to get Kristin back to her room safely. They went back and forth a little, Cheryl said, explaining that she would have walked Kristin back herself if Paul hadn't insisted he'd do it.
She said that she didn't remember Kristin saying anything on the walk home. Paul was keeping an arm around her, seemingly to help her along, and on a few occasions when Kristin stopped walking, Paul told Cheryl she was free to go on ahead. When they got to her building, Cheryl added, Paul asked her for a kiss goodnight, which she found weird, and then when she declined, a hug. Maybe she shook his hand, she recalled.
Then he and Kristin walked off into the night.
Axel Koester/Sygma via Getty Images
Paul told campus police that, as they approached their respective residence halls, he and Kristin went their separate ways.
He had a black eye, he explained, from playing pickup basketball the Monday after the party. (A fellow player told the cops that Paul showed up with the black eye and, when asked where he got it, claimed he just woke up with it.) In a subsequent interview with campus police, Paul said he sustained the injury while doing repair work on a truck at his father's house but hadn't wanted to "sound stupid" before. 
A police report stated that Paul's roommate, who had been away for the weekend, said Paul had told him he walked Kristin to her dorm and then came back. But also he had teased Paul about the case, the roommate added, and when he asked Paul "what he did" with Kristin, Paul said, "She's home with my parents."
Paul eventually appeared before a grand jury in October 1996, one of eight people subpoenaed to give evidence. He invoked his Fifth Amendment right to not incriminate himself and his testimony only lasted for about five minutes.
Meanwhile, some friends had gone looking for Kristin on Saturday and Sunday when she failed to turn up and knocks on her door went unanswered. But authorities reportedly weren't alerted until Kristin's roommate, Crystal Calvin, returned to the dorm on Monday, May 27, and saw Kristin's purse and other personal items in the room where she'd last seen them Friday. She called the University Police Department twice, and later that day they reached out to Kristin's parents to see if she was at home with them.
"When they first contacted us, like any parent, I was frustrated to think that she'd done something embarrassing," dad Stan told the San Francisco Examiner in 1998. 
Per the LA Times, in the University Police's May28 report first documenting that Kristin was missing, an officer wrote, "Smart appeared to be under the influence of alcohol on Friday night. Smart was talking with and socializing with several different males at the party. Smart lives her life in her own way, not conforming to typical teenage behavior."
The last sentence of the report read, "These observations are in no way implying that her behavior caused her disappearance, but they provide a picture of her conduct on the night of her disappearance."
Watch:
2 Men Arrested in Kristin Smart's Disappearance 25 Years Later
Margarita Campos said on CBS News' 48 Hours in November that, when they parted ways on the night in question, Kristin didn't have money, ID or her keys, so Margarita gave her friend her key to let herself back into the dormitory later. 
"I was expecting her to knock on my door and be, like, 'Oh, Margarita, you missed a rager. And here's your key,'" Margarita said. "I knocked on her door, and I thought she was just sleeping, or she went out and about, you know?" As for the campus police, she recalled, "They were, like, 'Are you sure she didn't go out of town?' It's, like, she has nothing on her...How could she have gone out of town?"
Margarita admitted, "To this day, like, I was like, why—why did I just let her go by herself?...I did have guilt about that...But you have to understand, she was a really independent free spirit."
Authorities also entertained the possibility that Kristin had simply run away, a notion her mother didn't believe for a second, no matter much she hoped her daughter was alive and well. Talking to the Los Angeles Times in 2006, Denise recalled feeling as if investigators were treating Kristin "like a lost bicycle."
Searchers conducted a dig at the landfill where the Cal Poly trash was dumped several days after Kristin disappeared, but it was four weeks before campus police reached out out to the San Luis Obispo Sheriff's Department for assistance.
Soon enough, however, investigators honed in on Paul, a below-average student who, according to what his parents told police, had no friends in high school and hadn't found much social success in college, either. In December 1995, another female student had called the San Luis Obispo police on him after he climbed up a trellis and refused to get off her balcony, but he left before officers arrived. Six weeks after that, he was caught drunkenly speeding his truck through an intersection and, after blowing a .13 (.08 being the legal limit) on a breathalyzer, he lost his license.
"[On] weekend nights," a law enforcement source told the LA Times, "he'd sit in his room and drink beer, get drunk and then go wander around the outskirts of campus, looking for parties."
Per that source, Tim Davis, a senior who had helped throw the party, told investigators he "saw Paul Flores on top of Kristin Smart," whose name he thought was Roxie, in the hallway. "He didn't know if Flores had knocked Kristin Smart down on purpose or if it was an accident." They got up, according to Tim, and went their separate ways.
Tim also said that he saw "Roxie" at the end of the night lying down outside on the next-door neighbor's lawn. He went over to wake her up and she told him she was cold.
Axel Koester/Sygma via Getty Images
Authorities thoroughly believed that Paul was their guy, that he was the only one who could say for sure what happened to Kristin. Four different scent dogs led police to Paul's dorm, an indicator that she had been there. But as weeks turned into months and months turned into years, that was technically only a working theory, as no trace of the teen's body was ever found.
Her parents, meanwhile, were also convinced of Paul's guilt, suing him for wrongful death in 1996 in hopes of getting him to reveal more about that night. After he invoked the Fifth Amendment again in a 1997 deposition, they dropped the lawsuit. But they kept their own files on the case—and kept tabs on Paul, sending members of his family photos of Kristin in their myriad pleas to get them to talk. All of the packages were returned, after being opened, to the Smarts.
Denise and Stan also kept the search for Kristin going after police activity tapered off, giving interviews in order to keep her name and face in the news, contacting the FBI and state lawmakers. In 1997, the California legislature passed the Kristin Smart Campus Safety Act, which requires campus police to promptly report missing students to local law enforcement and for the entities to formally work out which agency will take the lead in the case of a violent crime.
"It's been like having an open wound and having someone continually pouring salt in it," Denise told the Examiner in 1998. "Having a missing child is just not something that gets better over time. It's another dimension, and it just can't heal." (A lawyer who had previously represented Paul told the newspaper that there were "no facts to indicate that Paul had anything to do with the disappearance of Kristin Smart.")
And, Denise insisted, "we're not after Paul Flores...We're after our daughter. We only want our daughter back."
Two year after his daughter went missing, Stan Smart was still going to Cal Poly about once a month to search for Kristin, or traces of her, himself.
"Stan feels like sometimes he just needs to go there, to be there," Denise explained. "I'm just the opposite. It's too chilling, too hard for me to be there."
Denise Pearce, a family friend who used to have Kristin babysit her kids, told the Examiner that Kristin "would be so grateful, but so surprised that she would have gotten this much attention."
Carolyn Cole/Los Angeles Times/Shutterstock
The case—beautiful, vibrant college student goes missing without a trace—naturally captivated the media at first and tips poured in as to Kristin's supposed whereabouts, all disappointments in the end. But even when the initial frenzy quieted down, the investigation was frequently revisited over the years. Amateur sleuths took up the case as well, chat rooms and message boards giving way to social media and Reddit threads. The most notable deep dive of late came courtesy of musician Chris Lambert's 2019-2020 podcast Your Own Backyard, seemingly a nod both to the proximity of the crime to where he grew up and authorities' suspicion that Paul had buried Kristin close to home.
The result, however, was always the same frustrating dead end, that Kristin's killer was out there and it was no secret as to whom the police suspected, but... no arrests, no charges.
"Because of inconsistencies in his activities, or claimed activities during that period, we believe he has further knowledge about what happened, and he is a suspect in her disappearance," Sgt. Bill Wammock of the San Luis Obispo County Sheriff's Department told the Examiner in 1998. "This has been a frustrating case for us, for the parents, for the press, because we don't have an answer to what happened here."
Kristin was formally declared dead in 2002. In 2006, sheriff's spokesman Sgt. Brian Hascall called Paul an "active suspect" and the investigation "open and active."
Talking to the LA Times 10 years after Kristin disappeared, Stan said, "Nothing really has changed. I mean, I still have a lot of anger about the situation. And my wife is a bit of an emotional wreck at times. And it hasn't been resolved. We haven't really resolved the issues as to where our daughter is, and what happened to her."
Uncredited/AP/Shutterstock
But as all this time went by, investigators never gave up the quest to make their case.
And on April 13, seven weeks shy of the 25th anniversary of Kristin's disappearance, Paul, 44, was arrested and the next day charged with first-degree murder, authorities alleging that on the morning of May 25, 1996, he tried to sexually assault Kristin in his dorm room and, in the course of events, killed her and then hid her body. He has pleaded not guilty.
At arraignment his lawyer, Robert Sanger, said Paul "denies every allegation, special or otherwise," against him. Moreover, he added, the affidavit which prompted a judge to sign off on his client's arrest warrant contained "very little" information that wasn't already a "matter of public record, blogging, speculation and whatnot for over 20 years."
Deputy Dist. Atty. Christopher Peuvrelle offered that Sanger "must not have read the same warrant I did."
Paul's 80-year-old father, Ruben Flores, was also arrested at his home in Arroyo Grande, Calif., and charged with accessory after the fact of murder for allegedly helping Paul hide Kristin's body. He pleaded not guilty and was released on $50,000 bail into his ex-wife's supervision and fitted with an ankle bracelet monitor. Their son is being held without bail while he awaits trial.
A preliminary hearing has been set for both cases on July 6. 
Paul, who moved to Southern California in the late 1990s, was arrested in San Pedro and, according to the LA Times, this was not his first run-in with law enforcement in the past twenty-odd years.
In 1998 he was arrested in Huntington Beach on suspicion of assault with a deadly weapon other than a firearm, but ultimately not prosecuted due to lack of evidence. He was also investigated, but not charged, when his DNA in the system was matched to a sample taken during a 2007 medical exam after a woman alleged she woke up naked in a stranger's bed with no idea how she'd gotten there. Tests determined she'd had sexual contact but she was unable to identify Paul in a lineup and a urine sample concluded she hadn't been drugged.
But the DNA hit registered with law enforcement up in San Luis Obispo, still hoping for a break in their own unsolved case.
A Los Angeles Police detective told the Times last month that Paul was also a suspect in two other alleged sexual assaults occurring between 2013 and 2017. 
Paul was previously arrested in February for alleged possession of a firearm by a felon, the bust stemming from an April 2020 search of his home by Los Angeles County sheriff's deputies in conjunction with the San Luis Obispo Sheriff's Department. (Paul has a felony DUI conviction, one of five DUIs on his record. He has never been charged with any sex crime.)
Uncredited/AP/Shutterstock
After the arrests of Paul and Ruben were announced April 13, a representative for the Smart family called it "an extremely emotional day" and relayed that Stan and Denise would not be granting interviews or otherwise speaking with reporters anytime soon.
"I think they're feeling a bit of relief," San Luis Obispo Sheriff Ian Parkinson said of the family at a press conference following the arrests, "but as you can imagine, until we return Kristin to them, this is not over. We have committed to them that we are not going to stop until Kristin has been recovered, no matter what the cost."
Another search warrant for Ruben's property was being executed that day, the sheriff said. In mid-March, investigators had combed the yard with cadaver dogs, and officers were seen coming and going from the property with buckets and shovels for two days.
The Smart investigation first showed new signs of life last year when Paul's Los Angeles-area residence and vehicles were searched for "specific items of evidence," as noted in the warrant. The San Luis Obispo Sheriff's Department also obtained a wiretap for his calls and text messages. Four other residences in California and Washington were searched last year, as well, including Paul's mother Susan's residence, also in Arroyo Grande.
Prosecutor Christopher Peuvrelle said in court last month that the excavation beneath Ruben Flores' deck "showed damning evidence that a body had been buried in that location and then recently moved."
Ruben's attorney, Harold Mesick, countered that the so-called evidence against his client—disrupted soil—was "so minimal as to shock the conscience."
Sheriff Ian Parkinson also acknowledged that, in the days immediately following Kristin's disappearance, "mistakes were made, and that made things much more difficult."
Your Own Backyard host Chris Lambert told 48 Hours, "So much was lost in those first few days where if that very first phone call...was taken seriously, answers might have been uncovered the first week."
And as he also pointed out on his podcast, investigators didn't search the Flores house for weeks, and when they did they didn't bring dogs or a designated forensics team. 
It wasn't until the San Luis Obispo Sheriff's Department took over the investigation, more than a month in, that a canine unit was brought to the Cal Poly campus. Still, the dogs lit up outside Paul's former room (he left school not long after Kristin disappeared), and led investigators straight toward his mattress. But then, per the San Francisco Examiner, the mattress wasn't immediately tested for DNA, fibers or hair. And, according to the LA Times, an earring that looked like one Kristin was seen wearing was found in the driveway at one of the Flores parent's homes, but a detective misplaced it.
Ian Parkinson, who became sheriff in 2011, told reporters last month that, over the past 10 years, they'd executed more than 40 search warrants, recovered 193 new items of evidence, conducted 138 in-person interviews and had dozens of pieces of evidence re-examined. But while he couldn't go into certain details, he said, they had found physical evidence related to Kristin's death in two homes and their evidence included trucks that belonged to the Flores family when she disappeared.
Axel Koester/Sygma via Getty Images
The Smarts' longtime attorney James Murphy—who filed the wrongful death suit on the Smarts' behalf in 1996 and has had a billboard touting a $75,000 reward for information leading to Kristin's whereabouts in his front yard since 1997—told 48 Hours after the Flores arrests, "To see them in custody was a feeling of great joy for me...My job was to hunt them. And that's what I've been doing for a long, long time, along with a lot of other people. That's been our goal."
Denise and Stan are "interested in seeing Paul Flores get convicted and Ruben Flores get held accountable," Murphy continued, but "most importantly they want to find their daughter." He promised them the billboard would stay up until that happened.
The Smart family did release a written statement after the arrests, saying, "For over 24 years, we have waited for this bittersweet day. It is impossible to put into words what this day means for our family; we pray it is the first step to bringing our daughter home. While Kristin's loving spirit will always live in our hearts, our life without her hugs, laughs and smiles is a heartache that never abates. The knowledge that a father and son, despite our desperate pleas for help, could have withheld this horrible secret for nearly 25 years, denying us the chance to lay our daughter to rest, is an unrelenting and unforgiving pain. We now put our faith in the justice system and move forward, comforted in the knowledge that Kristin has been held in the hearts of so many and that she has not been forgotten."
They also paid special thanks to Sheriff Ian Parkinson; Commander Nate Paul; Detective Clint Cole, who joined the investigation in 2017; and Chris Lambert for their dogged persistence.
"We are here today because he has remained true to his word," the Smart family said of Parkinson. "We have kept the faith; never given up; and fully placed our trust and support with him and his team. The task he and his team accepted was unprecedented in volume and scope, yet they met every setback and challenge with resolve and an unequaled commitment to Kristin and our family."
Detective Clint Cole also brought "new oxygen to Team Kristin and kept our hopes alive. We would not be here today without his professionalism, perseverance, and dedication." And Chris Lambert, "along with four incredible angels (C, J, J, and J)," the added, a touch cryptically, "balanced Kristin on their shoulders while lightening our burden and held our hearts and hopes with fierce resolve and commitment. There simply are 'no words.'"
They concluded their statement with a sentiment reminiscent of the way Kristin herself used to punctuate her own messages to friends, emphasizing the optimism: "To HEAL, we must REMEMBER not only Kristin but also every heart that carried Kristin and our family in theirs! Kristin's story is ultimately one of unwavering commitment, resilience and immense gratitude."