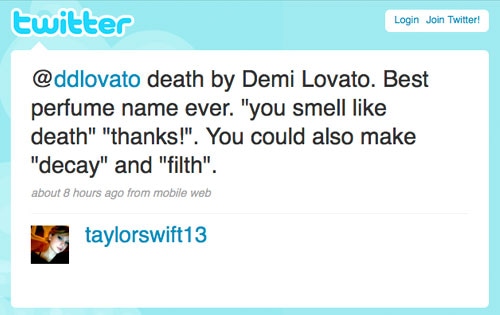 twitter.com/taylorswift13
Little Miss Sonny With a Chance, Demi Lovato, is quite the jokester, claiming, "Btw, everyone, gonna make a perfume called death……'Wow you smell SO good! What are you wearing?!' 'DEATH.' "
Taylor Swift thought she was hilarious, responding, "death by Demi Lovato. Best perfume name ever. 'you smell like death' 'thanks!'. You could also make 'decay' and 'filth.' "
In addition to goofing around and rocking out on the Disney Channel, Lovato may be using Twitter for a little loving. She's been sending flirty smilies to Trace Cyrus, Miley Cyrus' big brother. They also talk about movies and hanging out in Paris. "@TraceCyrus You are! Were gonna see the Eiffel tower remember? :P .... P.S. did you see the trailer for new moon?! We have GOT to see it!!!!"
His response is considerably more romantic. "@ddlovato seein the eiffel tower w/ U would complete my trip 2 europe<3. Just checked out the trailer!MUST C it 2gether as soon as its out!"
They may not be as cute as Taylor Lautner and Selena Gomez, but we thing Sonny and Cyrus may be having a chance at love.
Elsewhere in the Twitterverse…
•  Comic Rob Huebel is very wise and dares to say the things we're all thinking, such as, "If you watch, I'm a Celebrity Get Me out of Here, you are a bad person."
•  Adrianne Curry is oversharing about when Brady Bunch hubby Christopher Knight comes home from wherever he is. "Man,I miss my husband!I'm going to remind him why everyone comes to me for sex advice....I'm prepared 2 put my talents on full display." TMI.
•  Eliza Dushku pays homage to an icon, but she's not sure if she's dead or alive. "Ava Gardner: what a dame of deliciousness you were/are."
•  According to Pink, Carey Hart is a bit of a sore loser. "Carey's mad cause i beat him in cards."
We might not always be as funny as Demi or Rob, but you should be following us @eonline anyway!