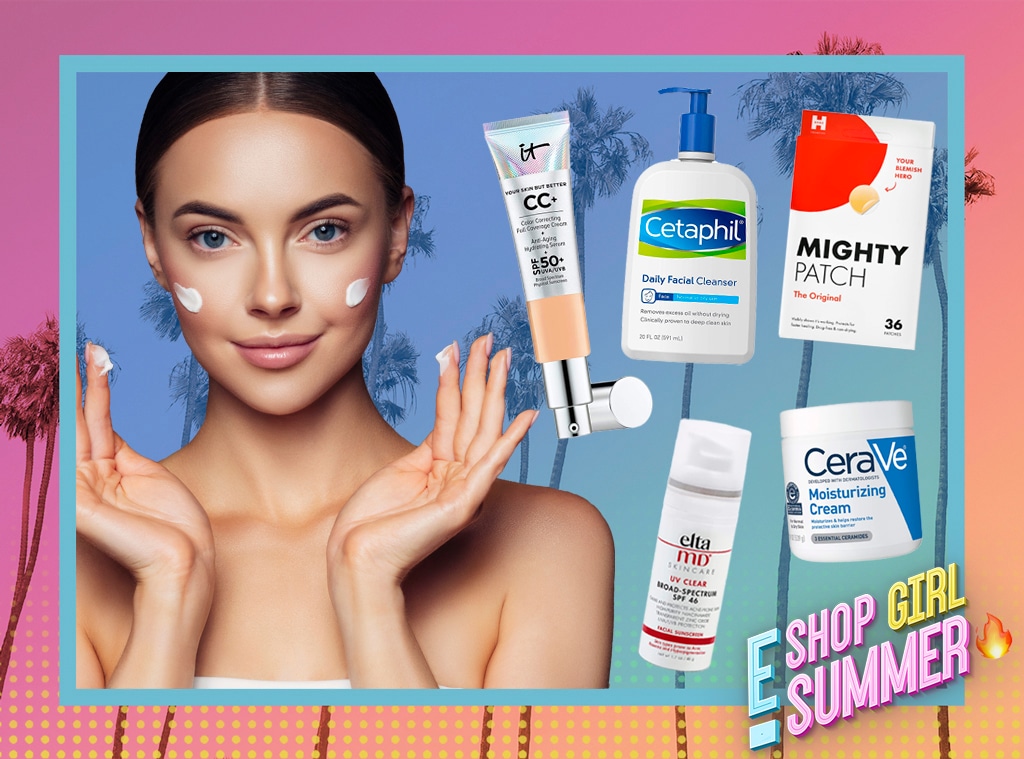 E! Illustration; Getty Images
We independently selected these deals and products because we love them, and we think you might like them at these prices. E! has affiliate relationships, so we may get a commission if you purchase something through our links. Items are sold by the retailer, not E!.
Let's face it: there's no such thing as perfect skin. Even the biggest skincare enthusiasts have to accept that it's impossible to have flawless skin all the time. Even so, that hasn't stopped us from trying every product under the sun and reading all of the skincare advice we can get our hands on. Sometimes you can find a regimen that seems to work, only for the results to cease months, or even years, later. 
Skincare can get really complicated at times, but that doesn't have to be the case. Summer is the perfect time to reevaluate your routine. All season long we will be sharing our must-have summer products, exclusive deals, and insights from celebrity guest editors as a part of our E! Shop Girl Summer series. Obviously, we love getting our shop on, but let's get back to basics and keep our skincare to the bare minimum. If you're interested in summer skinimalism, we shared our five must-have products below.
Cetaphil Daily Facial Cleanser for Combination to Oily Sensitive Skin- 20 oz.
This is as close to a universal cleanser as you can get. It gives your skin a deep clean without stripping its essential oils. The non-irritating cleanser effectively removes oils, dirt, and makeup. This face wash rinses clean, without leaving pore-clogging residue behind. It's suitable to use before bed and in the morning.
The Cetaphil Daily Facial Cleanser has more than 17,200 five-star reviews from happy Amazon customers who praised the product. One shopper called it "the only face wash that clears my skin and gets rid of excess moisture." Another said, "I have combination skin and this cleanser seems to be the only thing that works for my skin.  Cetaphil is definitely the gentle cleanser that actually works."
CeraVe Moisturizing Cream
Whether you have dry skin, oily skin, combination skin, or "normal skin," adequately moisturizing is essential to hydrate and strengthen the skin barrier. There are so many moisturizers out there, but the CeraVe Moisturizing Cream is such a classic choice with a devoted cult following. It has 49,600+ 5-star reviews on Amazon.
One person raved, "THIS IS THE BEST MOISTURIZER I HAVE EVER USED IN MY LIFE. Ever since I was diagnosed with PCOS, I have had problematic skin causing it to be dehydrated, with awful breakouts, disgusting sweatiness, and has destroyed my face. CERAVE IS A MIRACLE CURE." Someone else shared, "I have extremely dry skin that's also acne prone and sensitive. That's a tough combination to treat because most products that heavily moisturizer also cause acne. This lotion is by far the best I've used!"
This moisturizer has three essential ceramides, it's fragrance-free, and it absorbs quickly into the skin whether it's dry, sensitive, oily, or acne-prone. Try the 19 oz. container, sample the 1.89 oz travel size, or buy a combination set with both sizes.
EltaMD UV Clear Facial Sunscreen Broad-Spectrum SPF 46 for Sensitive or Acne-Prone Skin, Oil-free
It is so important to wear sunscreen every single day. Even if you are indoors all day long, you are probably logging a lot of screen exposure from your computer, phone or TV, which means blue light exposure. Wearing sunscreen will protect your skin from blue light from loss of firmness, aging, inflammation, and other skin issues. And, of course, sunscreen is essential when you're outdoors to protect your skin.
We recommend the EltaMD UV Clear facial sunscreen because it helps calm and protect sensitive skin types, including those that are prone to acne, rosacea and discoloration. This formula is non-greasy, fragrance-free, oil-free, paraben-free, and noncomedogenic. 
Its clear formula does not leave behind any white residue, regardless of your skin tone. One Amazon shopper wrote, "I was a bit skeptical due to the mixed reviews and there weren't very many reviews that talked about whether there would be a white cast on dark skin. This product rubs on very smoothly and you can't even feel that it's there. My makeup blends flawlessly with this underneath. This is the best sunscreen I've ever use on my face! It's so thin and moisturizing. A little goes a long way so if you have a white cast you may have used too much. I have deep brown skin and there is no cast left."
Another customer shared, "I've been using this product for two years and will not be without it for my morning routine. I carry one in my purse for driving (sun exposure) and reapply throughout the day if I leave the house or buildings. I'm nearly 60 y.o. and Asian. I used to have sun damaged age spots but since using this sunscreen, most faded and keeping my skin smooth." So far, this sunscreen has 21,100+ 5-star reviews on Amazon.
IT Cosmetics Your Skin But Better CC+ Cream
The concept of a "no makeup" look isn't something that every person is super comfortable with. And that's where IT Cosmetics comes through with a hero product. The company's CC+ Cream is called "Your Skin But Better," which sounds like the ideal makeup look for most people. This best-selling CC cream is really multiple products in one: a foundation, a brightening color corrector, makeup primer, hydrating serum, concealer, and more. The cream enhances elasticity, reduces the appearance of wrinkles, and locks in moisture.
It has 8,400+ 5-star reviews on Amazon, more than 285K "loves" on Sephora, and 4,300+ 5-star reviews from Macy's shoppers.
Mighty Patch Original - Hydrocolloid Acne Pimple Patch (36 Count)
Even if you are consistent with your skincare routine, a pimple will pop up here and there. We are always prepared for those moments by keeping the Mighty Patch on hand. These hydrocolloid acne patches are true miracle workers. Just put on one of these stickers before you go to bed and you'll wake up to improved skin. The medical-grade hydrocolloid absorbs impurities from blemishes, reducing the size of pimples, and preventing you from picking at them. 
So far, these pimple patches have 41,300 5-star reviews from happy Amazon customers who dubbed them to be "tiny miracles" and "witchcraft" among other praise.
Skinimalism isn't just for your face, these body buffers are an exfoliant, moisturizer, body wash, loofah, and more in just one product. And they're on sale for 25% off.