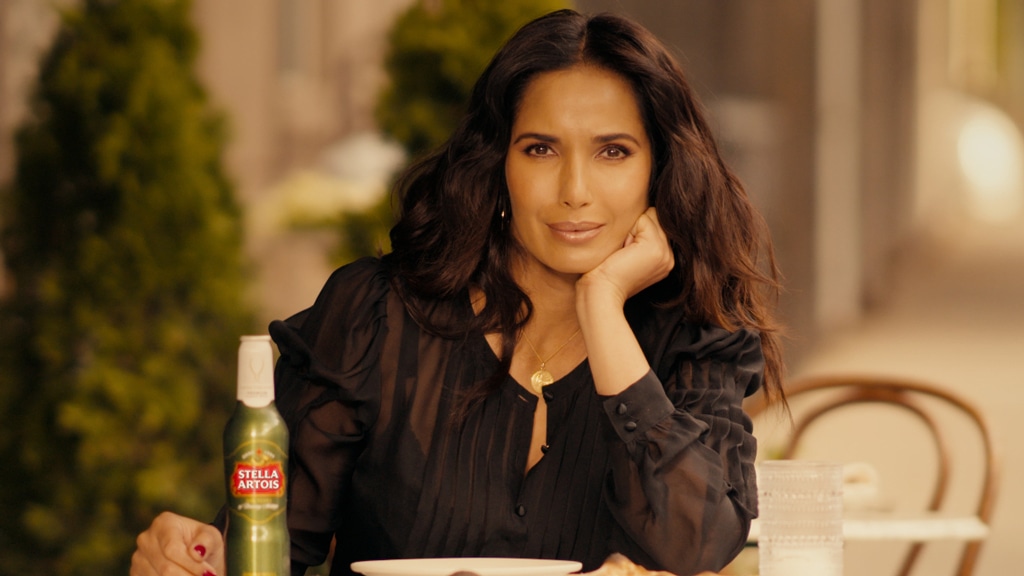 Stella Artois
When she got the call last year that Top Chef wanted to get rolling on season 18, Padma Lakshmi admits she was a bit dubious.
"I was very, very incredulous when they said 'OK, we want to go back into production,'" she recalled to E! News in a recent interview. "I was like, 'Are you guys crazy?' But we did it!"
Indeed, the long-running Bravo show returned April 1 along with its companion online series Last Chance Kitchen, a slate of all-star judges and 15 new chefs ready to out-create and outcook each other, their competitive fire intact despite a host of exhausting safety protocols that of course had to be implemented in the thick of the COVID-19 pandemic. 
"Our shoots are always really, really grueling," Padma said. And this time, "we were in such a strict bubble. It does wear you down." 
The author, activist and host of both Top Chef and the Hulu series Taste the Nation readily acknowledged that, while roughly 150 crew members and the contestants were relegated to a hotel with no other guests, she didn't have it so bad, quarantining when she first arrived in Portland, Ore.—where they had been hoping to go for a long time, and it just so happened the city has been at the center of a lot of national news lately—with daughter Krishna, 11, at an Airbnb rental. (They flew to Portland privately with Tom Colicchio and Gail Simmons, who also had their own Airbnbs.)
"I was safe, I went out and I enjoyed the time with my kid," Padma said, "but it became really difficult once I got on Top Chef because she couldn't go anywhere. But [at least] she was with me."
The contestants, who even in regular seasons room together and commit to not seeing their families for weeks on end, at least were prepared for some type of bubble life.
According to Variety, the competing chefs all had their own spice jars to pinch and dash from and spoons were all-the-way removed from the scene after one taste, as opposed to being allowed to just sit there after they're tossed to the side. And while hygiene was always a priority, showrunner Doneen Arquines told the publication, "They're definitely working cleaner and washing hands a lot more. We just have to make the time to do those things." 
Aside from the more obvious elements, though, such as wearing masks to shop at Whole Foods, most of the tweaks that have been visible on the show this season—a U-shaped judges table so they can sit six feet apart, no sharing plates, Padma not taking her usual strolls from Quickfire station to station—were subtle. ("Restaurant Wars," however, will be different, per Variety, with two teams serving dueling seven-course tasting menus to the judges in the kitchen, chef's table-style.)
Moreover, they were all tested for COVID every other day. "And I don't mean every other business day, or every other day that I'm filming," Padma told Variety. "I mean, if I'm not on set, the nurse comes to my house and wakes me up and gets me out of my bed." Krishna and her nanny were on the same testing schedule.
But it was all worth it, as not a single person got sick during production and they were able to both capture the show's usual spirit and acknowledge the unusual circumstances, incorporating challenges such as whipping up car-appropriate snacks for a drive-in and preparing hundreds of meals for frontline workers that reflected what was going on in the rest of the world.
Asked how they approached balancing the cold reality of the pandemic with their usual recipe for entertainment, Lakshmi told E! News, "I think my producers also did a really great job of finding creative solutions, so that the season felt like we weren't ignoring it—we talk about it because the whole world is experiencing it, so it would be stupid not to make mention of it, but we didn't want the show to feel any less than [a regular season]."
She noted that Top Chef: All-Stars L.A., which premiered last year about one week into the start of lockdowns and stay-at-home orders that proliferated around the world, saw a ratings bump, a sign that their usual audience and more were craving an escape. (It was a bit surreal to watch the contestants sample the cuisine at restaurants that had since been relegated to takeout and delivery, if they were still open at all, and win prizes such as a trip to the by-then-canceled Tokyo Olympics, but the show was comfort food all the same.) 
So, they didn't want to disappoint this year and they'd been hoping to return to the Pacific Northwest, it having already been eight years since they filmed Top Chef: Seattle.
"We picked Portland also because it's so beautiful, the natural beauty is so stunning, we felt we can do more outside," filming and holding events, Padma explained. "And then of course the fires started, so that was very traumatic," she added, referring to the wildfires that kicked up in August and September, eventually burning more than 1 million acres in Oregon and causing smoke-filled skies over the city (as well as necessary changes to the shooting schedule when on some days the smoke was too pungent to even film indoors). 
"We thought COVID would be our biggest challenge, but it really wasn't," Padma said. "There was also civil unrest, but we wanted to be in Portland, in solidarity with the actual city."
So it was just fate that they were in Portland, where some of the nation's largest Black Lives Matter protests took place downtown in the wake of the May 25, 2020, death of George Floyd at the hands of police (former cop Derek Chauvin was convicted of second-degree murder in April), as did some of the more destructive instances of rioting. The production, which wasn't affected by any of the demonstrations, in turn doubled down on its mission to showcase the city's vibrant culture amid all the controversial headlines.
"Once we were committed, we all felt very strongly that Portland was such a perfect backdrop," Bravo executive Matt Reichman told Variety before the season premiered. "We want to try and reframe the conversation about Portland, and bring it back to the amazing, special place it is, while also honoring what's happening there."
And it was another case of uncanny timing when Taste the Nation With Padma Lakshmi arrived on Hulu June 19.
"I could have never predicted the environment that the show would come out in, both because of the pandemic and people not being able to travel, but also because of the whole social reckoning with Black Lives Matter—and also [with the reckoning] in media and publishing, and in food," Padma told E! News. "But for those of us who are, like me, a woman of color working in a very white male Hollywood—I've been aware of those things for a long time. That's sort of what the impetus for Taste the Nation was all about."
The 10-episode first season features Padma crossing the U.S. to explore the sort of ethnic and cultural enclaves in this country that make for can't-miss Peruvian food in Paterson, N.J., or a must-stop spot for Japanese in Honolulu.
"I was kind of tired of people speaking for immigrants," she explained. "There was a lot of vilification of immigrants coming out of Washington in the last few years and I just knew that wasn't true. I grew up in those neighborhoods, I am an immigrant. It just didn't ring true." What's more, she added, "we all love all these foods, but we don't take the time to get to know our neighbors and these people who make that food. So for me, I was just wanting to do that show for so long, and then to finally get it done and have it come out last summer, in the thick of all of that...I was lucky to be able to give the television public an answer."
Instead of vilification of the "other," here was a show that celebrated our differences and what brings us together—which so often, whether it's with family or strangers or family who feel like strangers, is food. "To just be there in the moment with the alternative, ready to go," Padma said. "That was a stroke of luck that I don't think anybody could have predicted, but I think in a way Taste the Nation was an antidote to a lot of the stuff that had been building and going on." Audiences and Hulu agreed, and the show has been renewed for a second season.
Happy now to see Top Chef: Portland unfolding—the show itself a singular ambassador for the blood, sweat and tears these chefs put into their life's work—and with her first children's book, Tomatoes for Neela, due to be released Aug. 31, Lakshmi, like so many of us, is starting to see light at the end of the tunnel.
Watch:
Padma Lakshmi Gushes Over Yummy "Top Chef" Foods
But she and her legion of friends in the culinary world also were tuned in from the beginning to just how much the pandemic was going to ravage the restaurant business. Top Chef head judge Tom Colicchio was one of the earliest public voices last year presciently explaining how devastating closures were going to be for the sprawling food service industry—and he memorably shared that his personal financial windfall was primarily from TV and other media projects and not from his Craft restaurant empire, successful as it is.
"The margins are really, really slim, and I don't think people realize that," Padma concurred. "I really don't think people realize that [owners] are paying the invoices from 45 days ago with the money they're making this week, and so the restaurant business, even when you're a huge chef like Tom or others in his position, you're still suffering because the margins are so low" after you've paid your staff, your vendors, rent and utilities, etc.
The Small Business Administration started accepting applications for its Restaurant Relief Fund on May 3 and, within 10 days, 266,000 people had applied, requesting more than $65 billion to stay afloat.
Padma, who admitted that she felt "impotent" when she saw what was happening to the restaurant community, connected right away last March with the nonprofit James Beard Foundation, which funds a number of programs for culinary education, chefs and restaurant owners (and these days helps businesses apply for the RRF). "If you watch Taste the Nation or Top Chef, you've seen the James Beard callout at the beginning of each episode, which I'm very proud of," she said. "Both Bravo and Hulu came through for us on that."
The multitalented model is also now the face of Stella Artois' "Your Table Is Ready" summer campaign, which is aiming to refill restaurants all over the world with hungry—and thirsty—customers.
Starting June 7, Stella's "Open for Good™" aluminum bottle will be available for purchase at participating eateries, with proceeds from sales going to the James Beard Foundation's "Open for Good™" campaign, part of the brewer's ongoing efforts to support the restaurant business through this crisis. And, as Padma's new commercial spot promises, "Stella Artois will help cover your first chalice."
Which, especially if you haven't toasted with your friends for more than a year, is going to taste amazing. (And, not to mention, is a good deal for pandemic-stressed pocketbooks. Stella's got that first beer for 150,000 diners through Aug. 31.)
"They're putting their money where their mouth is," Padma said of Stella Artois, applauding the Anheuser-Busch-owned brand for both the "very large sum" they're committing to the James Beard Foundation through this collaboration, but also for finding a way to give both businesses and consumers a boost.
"That's one thing the pandemic has shown us, is how interconnected we are," she said. "Regardless of whatever lifestyle you live, or however much you try and limit yourself to the outside world because of whatever comforts you're able to create for yourself, what the pandemic showed us is it doesn't do us any good unless everybody's healthy."
"We are no longer in a world where it's even possible to be isolated from one another, even if we want to be. Unless," she added pointedly, "we don't leave our house."
New episodes of Top Chef: Portland premiere Thursdays on Bravo at 8/7c and all 17 prior seasons of Top Chef are streaming on Peacock. Taste the Nation With Padma Lakshmi is streaming on Hulu.
(E! and Bravo are both members of the NBCUniversal family.)