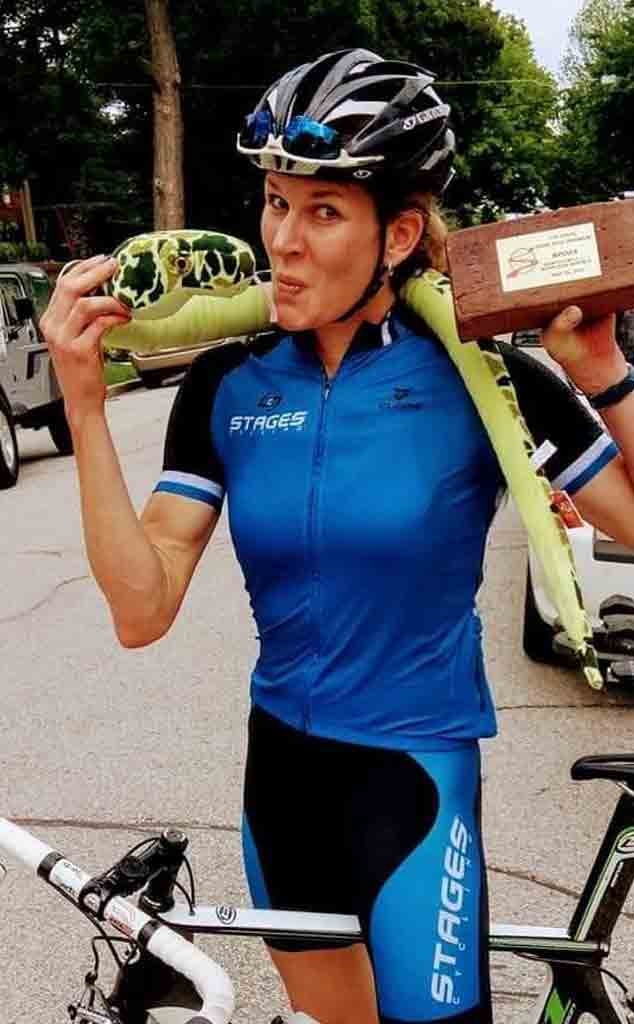 Facebook
U.S. cycling champion Gwen Inglis died at age 46 after being hit and killed by a suspected DUI driver on Sunday, May 16, local police shared in a statement on Twitter.
The crash took place in her hometown of Lakewood, Colo., around 10 a.m. She was riding in the bike lane when a driver "drifted" over and hit her with his compact sedan, per the police statement. Authorities identified the driver as 29-year-old Ryan Scott Montoya of Denver, Colo.
Gwen was taken to a local hospital, where she later died of unknown causes related to her injuries.
Ryan remained on the scene after the accident and was taken to the Jefferson County Jail to be held on charges including suspicion of vehicular homicide involving a DUI or DUID, according to the Lakewood police. 
He's additionally charged with being the alleged owner or operator of an uninsured vehicle, as well as another DUI or DUID claim, according to the booking sheet obtained by E! News. He's being held on $50,000 bail and is scheduled to appear in court on Thursday, May 20, per the document.
The Jefferson County Coroner's office is investigating Gwen's passing and does not have an official cause of death to release yet, the office told E! News in a statement on May 18. An autopsy was performed and a report will be available in the coming weeks. 
Lakewood Police Department
Gwen was the national champion for women's road racing in her age group of 45 to 49. Part of the Black Swift/Cycleton Cycling Team, she most recently raced on April 24 at Colorado's Pueblo Classic—Steel City Road Race, where she finished eighth, according to Bicycling. 
The Colorado Classic road race group wrote on its Instagram page, "If you knew Gwen, you knew a true champion on and off the bike. Our condolences to Gwen's family, friends and her community that mourn her loss."
Shawn Farrell, executive director of Colorado Cycling paid tribute by saying, "She was a wonderful human being who epitomized everything that is good in sports and humanity, a true advocate of inclusion and the type of person any parent would want their young athlete to look up to," per the Denver Post.
The outlet notes her husband Mike Inglis is also a cyclist.