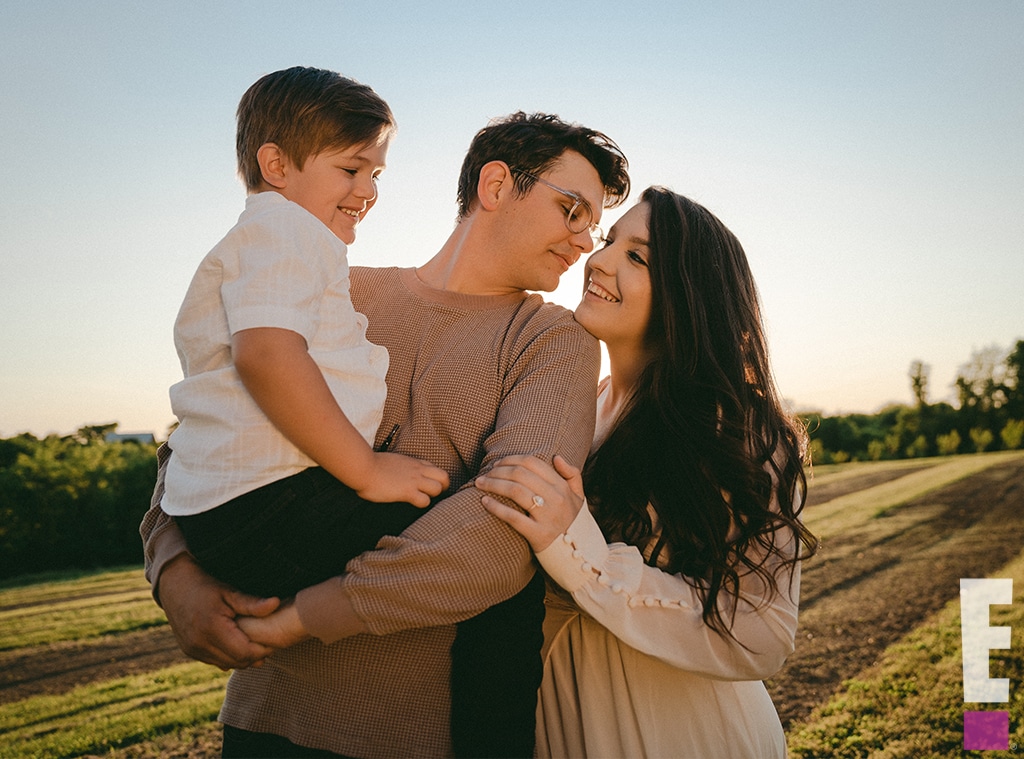 Chris Ashlee & Garrett Rizan on behalf of "Samuel + Ash" Productions
It's never too soon to open up your heart.
When Andrew Jannakos first met then-girlfriend Kat Jannakos in 2018, the country singer wasn't sure if he was the right guy to serve as a father figure for her then-2-year-old son, Brenson.
But in a love story fit for the big screen, the trio immediately formed an incredible bond that proved to be life changing for all parties involved.
"I was lost for a lot of my life and I didn't know what I wanted to do until I met my wife and my son," Andrew exclusively shared with E! News. "They are the ones that kind of blossomed me into the man I am today. It's been a pretty crazy journey."
Andrew and Kat wed in September 2020. Then, on Valentine's Day of this year, Andrew first confirmed on Instagram that he had started the adoption process to officially become Brenson's father. And on Tuesday, May 18, the adoption was finalized.
"My son has been the light at the end of the tunnel since I met him," the "Somebody Loves You" singer shared. "I didn't even think I wanted kids and then I met this little boy and he just stopped everything from spinning. He just settled it. It did not take long for him to steal my heart."
Chris Ashlee & Garrett Rizan on behalf of "Samuel + Ash" Productions
Just days before the adoption was finalized, the family of three participated in a photo shoot to celebrate their latest milestone. In pictures exclusively obtained by E! News, fans received a taste of the father-son duo's chemistry as they traveled to an apple orchard near their Georgia home.
"He makes me be the best person I can possibly be," Andrew gushed. "He wants me to be the best songwriter, the best musician and the best dad and the best husband and I may not be at times because I'm still new to it. But I would not change one moment that I've had with him."
His new-formed family has inspired Andrew as a singer and songwriter. After competing on season 16 of The Voice in 2019, the proud member of Team Adam Levine is ready to release a brand-new EP on June 4. Titled Gone Too Soon, the body of work is a personal project that Andrew is excited to share with fans.
"This has been a really special project for me," he explained. "Every song on the EP tells a story about who I am as an artist and my life in general and the people in it. It's been very exciting to be part of every song and have co-written every song."
Chris Ashlee & Garrett Rizan on behalf of "Samuel + Ash" Productions
As Andrew continues following his musical dreams, the 27-year-old artist remains focused on being the best dad to his son.
After first sharing his family's journey on Instagram, the singer was moved by the supportive messages from friends and strangers alike. Ultimately, Andrew hopes his story will inspire others to open up their hearts.
"It's all about an emotional connection from the heart," he shared. "I hope they take away that you don't have to be blood to be a dad or to love someone or to be a son or daughter. Blood has nothing to do with it. It's all about the love in your heart."
Watch:
Celebrities You Didn't Know Were Adopted
Andrew continued, "Without a doubt, he and my wife 110% saved my life. I don't know where I would be or what I would be doing if I didn't have him."