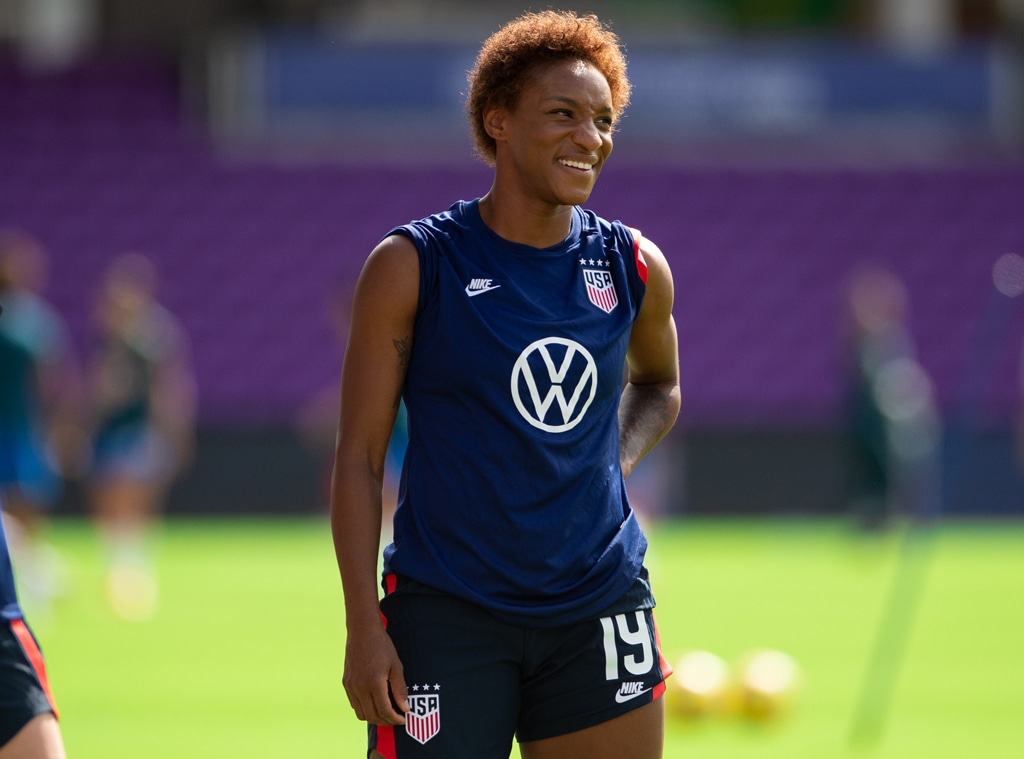 Jeremy Reper/ISI Photos/Getty Images
The Summer Olympics aren't complete without Team USA's winning soccer team.
Every four years, sports fans look forward to the women's national team coming together in hopes of winning gold. While the roster for the 2020 Olympic Games in Tokyo has yet to be finalized, Crystal Dunn is confident fans can expect amazing things from this year's team.
"You should definitely be rooting for us!" she exclusively told E! News. "I think it's such a fun group. We have this common goal of knowing what it takes to really be successful. We're like a family. We spend so much time together—I don't know if people realize, but I'm with my national team teammates more than I'm with my own husband or my best friends."
The Portland Thorns FC soccer player added, "It's an interesting group because we're basically family. Whether we like it or not, we're all we have. I think you should definitely root for us because we know what it takes to perform and be at the highest level and be successful." 
Crystal was fortunate enough to travel to Rio in 2016 for the Olympics with Alex Morgan, Carli Lloyd, Megan Rapinoe and other teammates. Although Team USA didn't win a medal, the 28-year-old athlete is confident that this year will be different.
"The overall experience, obviously, was not the greatest just because we fell short of a dream, but I'm really excited for this year," she shared. "I think the team is incredible…Should I be named to this roster, it is going to be a lot of hard work to really bring home a gold medal. But, if anything, we're very prepared and we'll have the roster to do so."
Brad Smith/ISI Photos/Getty Images
Until then, Crystal is teaming up with Mastercard, a new National Women's Soccer League sponsor, as the brand's latest Global Brand Ambassador. As part of her role, Crystal hopes to grow the women's soccer fan base while also creating an inclusive and diverse experience.
"A sport like soccer is a global sport. It's everyone's game. But, yet, I feel like it hasn't always felt that way. The pay-to-play model is really disallowing groups of people to be involved in this sport, which is really sad because I truly believe that everyone should have the right to play soccer," she explained. "I'm a huge advocate for finding ways to really allow more women of color to be involved in this sport and I think partnering with Mastercard will allow me to really promote that message."
While winning trophies—and hopefully, a medal—is an amazing accomplishment, Crystal wants new and old fans alike to appreciate a sport that can be accessible for so many.
Watch:
Soccer Star Alex Morgan Gives Birth to Baby Girl
And with a shot at competing at the Olympics in the coming months, the world-famous athlete is not letting the rare opportunity go to waste.
"Of course, winning trophies and lifting them up is pretty cool, but, I think, for me, it's really trying to leave this sport in a better way than I found it," she explained. "For me, it's about promoting this sport as an 'everybody sport' and allowing everyone to be a part of it and connect with fans and really make this an experience of a lifetime."