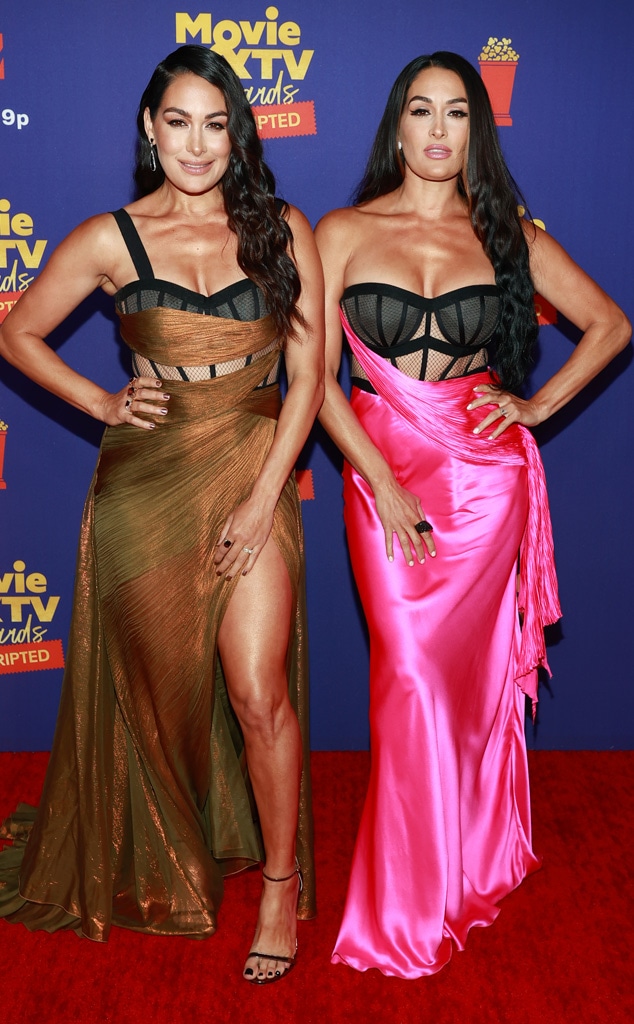 Matt Winkelmeyer/2021 MTV Movie and TV Awards/Getty Images for MTV/ViacomCBS
The Bella twins are making a splash with their return to the red carpet!
On Monday, May 17, Nikki Bella and Brie Bella prepared to serve as presenters for the 2021 MTV Movie & TV Awards: Unscripted award show. But before handing out any golden popcorn trophies, the Total Bellas stars decided to dress to impress with help from a fabulous glam squad.
As seen on the red carpet, the proud moms chose two gowns from Maria Lucia Hohan. As for their hair and makeup, we have all the secrets behind the look.
"I took inspiration from the dresses, which gave us mermaid vibes," celebrity makeup artist Eileen Sandoval exclusively shared with E! News. "We wanted to go for a wet glossy type of look for Brie so I added lots of glow to the face and body, as well as sparkle to the eyes using eyeshadow with shimmer and glitter pigments."
Eileen continued, "For Nikki, a winged liner was essential and I kept the lips soft with a hint of pink."
While makeup is important, great hair is also a necessity. Fortunately, the Bella twins worked with celebrity hairstylist Paul Norton on a look he described as "glam undone."
Instagram @paulnortonhair
"The details were polished, but with a soft bohemian texture," Paul explained to E! News. "For Nikki, I was inspired by 1970's Cher while Brie was a fusion of wet and soft texture."
And if you are loving Nikki and Brie's tresses, Paul revealed the secret behind their long locks. "The one thing that elevated this look was the Hidden Crown seamless extensions," the salon owner shared. "For Brie, these added volume and for Nikki, they added length." 
While hitting the red carpet is fun, the professional wrestlers can't get enough of their lives at home raising their kids. If all goes according to plan, Nikki and Brie's respective 9-month-old sons Matteo and Buddy will be best friends just like their moms.
Instagram @paulnortonhair
"We already called them our spirit twins," Nikki joked to E! News on the red carpet. "They do so much in sync and it's really fun watching them figure each other out. They touch and they don't understand it but my mom, we'll send her videos and she's goes, 'That was you two girls.'" Brie is also mom to 4-year old daughter, Birdie.
Nikki added, "So we look at them and my mom will look at them and it's like having twins. I just feel so blessed that they'll have each other in school, growing up. We're really lucky."
The MTV Movie & TV Awards: Unscripted airs Monday night at 9 p.m. on MTV.