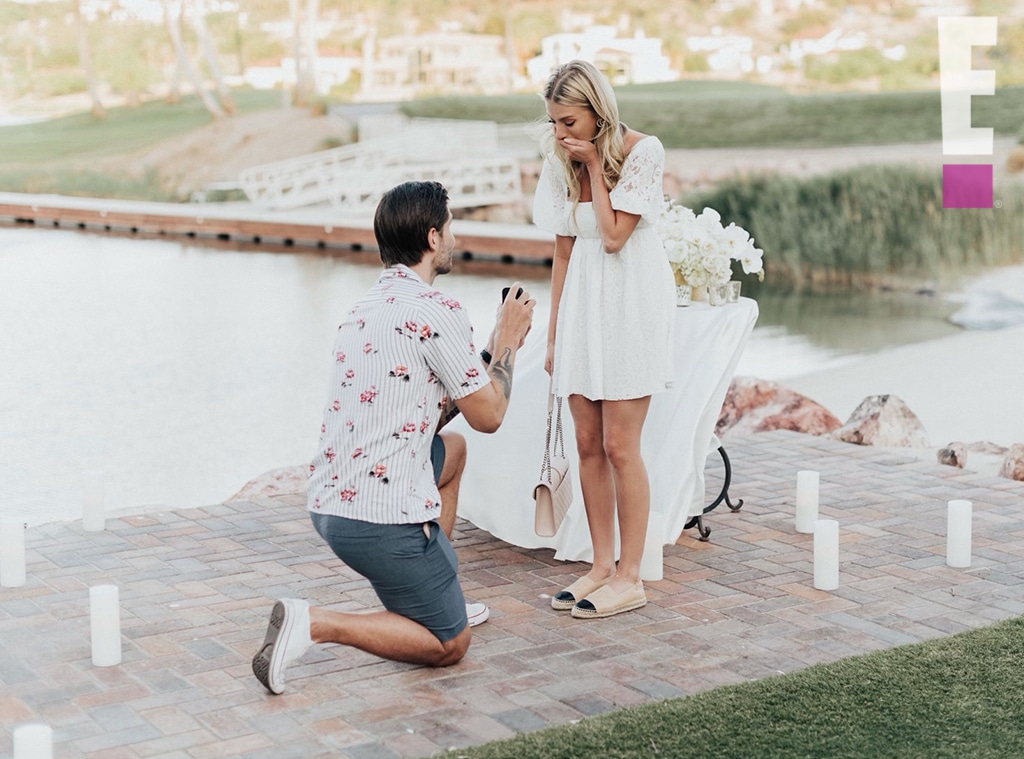 Erin Marie Photos / @erinmarie.photos
Haley Ferguson's love life is coming up roses.
E! News can exclusively reveal the Bachelor Nation star is engaged to professional hockey player Oula Palve.
"What made this proposal so special was that Oula proposed at our potential wedding venue!" Haley shared with E! News. "I've been in love with this venue for awhile and wanted to lock down a specific date since his hockey schedule only allows for him to have three months off during the summer. So, I thought we were just going to view it because we had talked about getting engaged this summer."
The Twinning at Life podcast co-host added, "I didn't know he would propose this early, so he totally threw me off when he proposed there! He also had all my close family and friends waiting for me after for a private dinner. Now that location holds a very special place in my heart!" 
As for the all-important engagement ring, Haley couldn't love the piece of bling more. Hayley Larue at Happy Jewelers collaborated with Oula to create something extra special.
"I couldn't believe how massive it was!" Haley admitted. "I sent him a picture of the shape that I loved and let him do the rest! Oula also had the band engraved on the inside with 'ikuisesti,' which means forever in Finnish, so I love that it has a personal touch to it!"
Erin Marie Photos / @erinmarie.photos
Fans first met Haley and her twin sister Emily Ferguson when they both appeared on season 20 of The Bachelor with Ben Higgins in 2016. They would later compete on Bachelor in Paradise before receiving their own show on Freeform titled The Twins Happily Ever.
For those wondering what Emily thinks of the engagement, she couldn't be more thrilled for her sister. And yes, she deserves credit for this love story. After finding Oula on Instagram, Emily said she "forced" her sister to send him a DM. The rest is history. 
"I think Haley and Oula make a great match because they balance each other out!" she explained to E! News. "Oula is very thoughtful and sweet. He always puts Haley first and I know he takes extra good care of her when I can't be there. I'm so happy for them and glad my matchmaking worked out!"
Erin Marie Photos / @erinmarie.photos
Back in December 2020, Emily announced she was engaged to NHL player William Karlsson. And because the Ferguson twins are so close, you can expect wedding planning together. 
"I'm so excited that Haley and I get to enjoy our engagement at the same time!" Emily shared. "We love doing everything together if it already isn't obvious! We will do a conjoined bachelorette and bridal shower, but definitely will have different wedding dates. I look forward to being married around the same time and then having babies around the same time as well."
Watch:
Inside the "Bachelor" Engagement Boom
For now, Haley is simply enjoying her new relationship status with a little help from her wedding planner Tory Cooper. And while she didn't find her happy ending on TV, Haley's reality is better than she could ever imagine.
"My life has changed so much since meeting Oula," she shared. "He's the kindest and most thoughtful person and I can't picture my life without him."