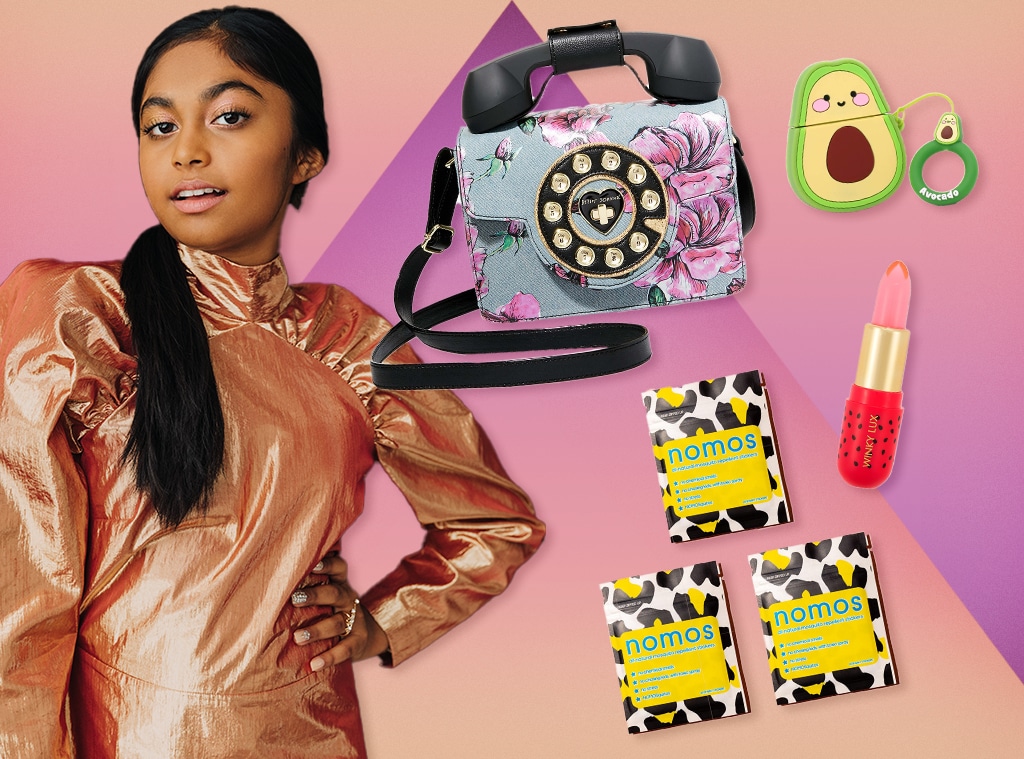 We interviewed this celebrity because we think you'll like their picks. E! has affiliate relationships, so we may get a commission if you purchase something through our links. Items are sold by the retailer, not E!.
Between starring in shows like Succession, using her platform to inspire others and serving up fashionable looks on her Instagram, Sway Bhatia is not like most 12-year-olds. With a schedule as busy as hers, we asked The Mighty Ducks: Gamechangers actress to dish on the things she can't live without. From mosquito stickers to an avocado AirPods case and nourishing lip balms, Sway proved to us that she is always prepared. And she shared some great advice for feeling your best self!
"Taking inspiration from role models is important, but it's imperative to find your own voice," the musician explained to E!. "For me, I love experimenting and countering the stereotype. I also wear confidence and kindness with pride."
For everything in Sway's Betsey Johnson handbag, scroll below!
ListerinePocketpaks Fresh Breath Strips Cool Mint
Yonocosta Avocado Airpods Case
"I eat avocados almost every day because it's my favorite food. The case makes me feel unique because in a room full of air pods, my air pods stand out."
NOMOS Mosquito Sticker Weekend 3 Pack
Florence by Mills Hit Reset Moisturizing Mask Pearls
"I love Millie Bobby Brown's Florence cosmetic line. I use many of their products but my ultimate favorite is the Hit Reset Moisturizing Mask Pearls. The pearls are meant to be used as a moisturizing mask but I use it as hand lotion. The little pearls are super cute and you just need a few to squish and they become a lotion. It's genius."
Watermelon Jelly PH Balm
"My mom hates when my lips are chapped and I love adding a tint of color on my lips. This lip balm meets both of our standards and makes me feel a little more glamorous."
Yves Saint Laurent Mascara Volume Effet Faux Cils Radical
"This becomes a must in my bag for several reasons. I use the tip of the brush to place a black dot behind my ear for events, auditions, or performances to protect me from any evil (Used like an evil eye necklace). It's a traditional Indian practice used by my Mom, and, I too, love having the feeling of being protected. I have long eyelashes and this just gives my eyelashes a pop!"
Summer Keep Me Clean Disposable Potty Protectors Travel Pack- 20-Count
"My mom has taught me to be COVID-ready since I was a toddler. She has made it a practice to carry these in every bag she and I own. You are never too old for safe measures when others may not be."
-Originally published on Friday, May 14, 2021 at 5:00 a.m. PST.