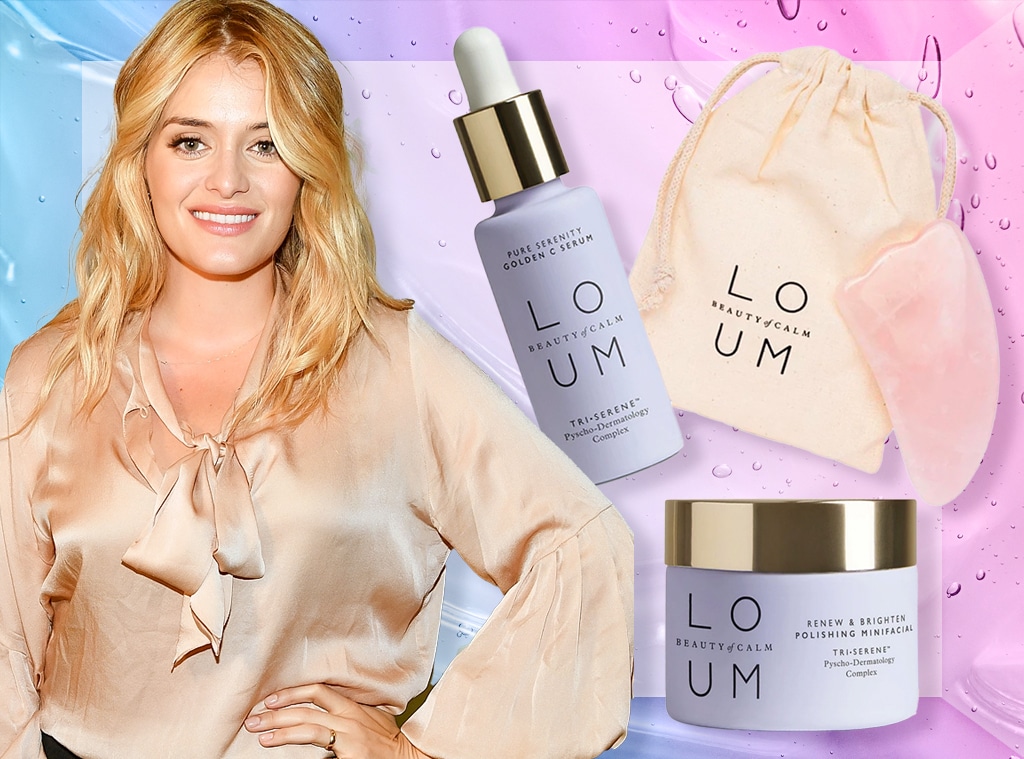 Slaven Vlasic/Getty Images
We independently selected these products because we love them, and we hope you do too. Shop with E! has affiliate relationships, so we may get a commission if you purchase something through our links. Items are sold by the retailer, not E!.
Are you stressed about the stress that's causing your skin to break out? We can relate, and so can Daphne Oz.
In addition to being an Emmy-winning TV host, nutrition author and host of the Mom Brain podcast, Daphne is also co-owner of LOUM Beauty, an emerging beauty and wellness brand dedicated to the mind-skin connection. Recently, we caught up with Daphne to discuss all things LOUM Beauty, a personal favorite of ours, and how we can all achieve radiant skin through manageable self-care routines.
"I've been approached by other skin-care companies in the past to be part of their journeys, but for me, as a total product junkie, it was important not to be a part of something that I felt was just more noise in an already-crowded marketplace," Daphne explained to E!. "What drew me to LOUM was the brand's foundation in 30 years of scientific research into how stress impacts so many of our major skin concerns — from dullness and dryness, to breakouts and premature aging. My skincare routine needs to feel luxurious and practical, effective, and gentle. Most of all: time for yourself well spent that helps me 'lean my routine' with multi-tasking, performance-grade products." 
What are your favorite LOUM products and why?
DO: My holy grail product is the Pure Serenity Golden C Serum. I use it morning and night on clean skin and press it over make up for a fresh, radiant finish. It's packed with potent Vitamin C and gold to instantly brighten, refresh and firm your skin. It's also the first product in the LOUM Beauty line that I got my sisters and friends hooked on because it works fast and it's so easy to use! Just smooth a few drops between your palms and press over your face and neck to melt away stress, fine lines and dullness. My skin drinks this stuff up, and I love the velvety, hydrated glow it brings.
Pure Serenity Golden Vitamin C Serum
The Pure Serene Golden Vitamin C serum helps with dullness, loss of firmness and elasticity, and hyperpigmentation thanks to ingredients like golden vitamin C, marine micro-algae and wild indigo.
"I'm also devoted to my Renew & Brighten Polishing Minifacial– I use it twice a week in the shower before bed," Daphne revealed. "It's such a gentle but effective buffing cleanser-plus-mask combo (all of our line is multitasking, but this one is a powerhouse of goodness) to take off the day and prep my skin for my evening skincare – and it works in 2-3 minutes! At night, I can't deal with long rituals – I'm just trying to go to sleep! But, the minifacial works so fast and I can't get over how buttery soft it makes my skin."
Renew & Brighten Polishing Minifacial
Packed with ingredients like chamomile, grape seed, pumpkin enzymes and the brand's Tri·Serene™ Complex, the minifacial functions as a cleanser-mask hybrid that delivers nutrients deep into the skin while gently exfoliating to reveal more radiant looking skin.
Awaken Glow Elixir Oil
"Then I follow with Pure Serenity Golden C Serum and our Awaken Glow Elixir Oil for maximum smoothing hydration," Daphne explained.
E!: The brand promotes the idea of finding your calm and addresses how the cycle of stress can affect one's skin. Do you have any tips for minimizing stress through skincare? 
DO: Manageable rituals of self-care that really deliver results are my priority. I find that when I set aside a few minutes to get myself ready to tackle the day or wind down at night, I signal to my body and mind that I prioritize them.  Everything from the aromatherapeutic scent to the casual ritual of using LOUM Beauty is meant to make it easier to find this time for you in your day -- because stress happens but your skin doesn't have to show it.
Rose Quartz Gua Sha
"A few things I've recently incorporated that have boosted how soothing my skincare routine feels are a Gua Sha tool and a rose quartz face roller. They are so effective at detoxing my skin, boosting glow and adding definition to cheekbones and jawline – I'm honestly kind of amazed by the results, plus the facial massage element just feels so good."
E!: There are some beauty myths and misconceptions that we should use certain products at specific ages, what's one product (or ingredient) that you think people should incorporate earlier in life than they typically do?
DO: I remember as a teenager thinking I really had to strip my skin to get it clean – all those "squeaky clean feeling!" commercials!! But over-cleansing can actually set off a chain reaction of your skin overcompensating to try to restore the hydration balance, meaning hyper sebum production that attracts bacteria, creates breakouts and/or dry, irritated skin etc. The first of many examples in my life where doing less (but better!) can get you more. Especially if you're transitioning away from harsh cleansers, it can take a couple weeks for your skin to acclimate, but once it does, it will require so much less work – and look so much healthier and happier! I love using our Be Calm Cleansing Balm to gently bind and lift away impurities while maintaining my skin's natural balance. And then I do slather my skin with our Firming Cream and/or the Elixir Oil to keep my skin soft and supple.  
Be Calm Cleansing Balm
LOUM's glow-inducing cleansing balm melts into skin to gently remove oil-based impurities while helping promote hydration and reducing redness.
Redefine Contour Firming Cream
With a Tri·Serene™ Complex, whole plant extract with marine micro-algae, wild indigo extract, plant-derived collagen and lycopeptides, this cream helps firm, lift and contour skin. Plus, it also amplifies existing collagen levels while boosting the production of new collagen.
E!: What does your ideal self-care night look like?
DO: The best would be cooking a delicious meal to enjoy with family and friends…free-flowing wine and tequila…laughing and dancing and making memories! Listening to my kids tell me stories – it's the greatest way to hear what's going on in those little heads and makes me so, so happy. On the regular, I feel the most daily stress when my life doesn't feel organized or compartmentalized, so I've really been working on applying healthy structure to my days. I almost always get some kind of sweat in – even if it's just a 10 minute HIIT routine with weights in my garage/kids' playroom. I set aside time in my calendar (15-30 minutes before bed) to do something fun, creative or relaxing – usually it's reading, scrolling Pinterest while listening to a good book on tape, etc, and I love Epsom salts baths to soothe tired muscles while I do a hair and face mask. I make my to-do list for the next day first and then really let my brain turn off and wander."
Tranquil Radiance Nutrient Mask
With ingredients like turmeric and green tea, this mask will hydrate, balance and re-energize skin in addition to helping with a variety of skincare concerns like dullness, redness and sensitivity.
To check out the rest of LOUM beauty's incredible skincare and wellness must-haves, head over to Loumbeauty.com. And in honor of Mental Health Awareness Month, the brand is offering 25% off your complete purchase using the code CALM at checkout!