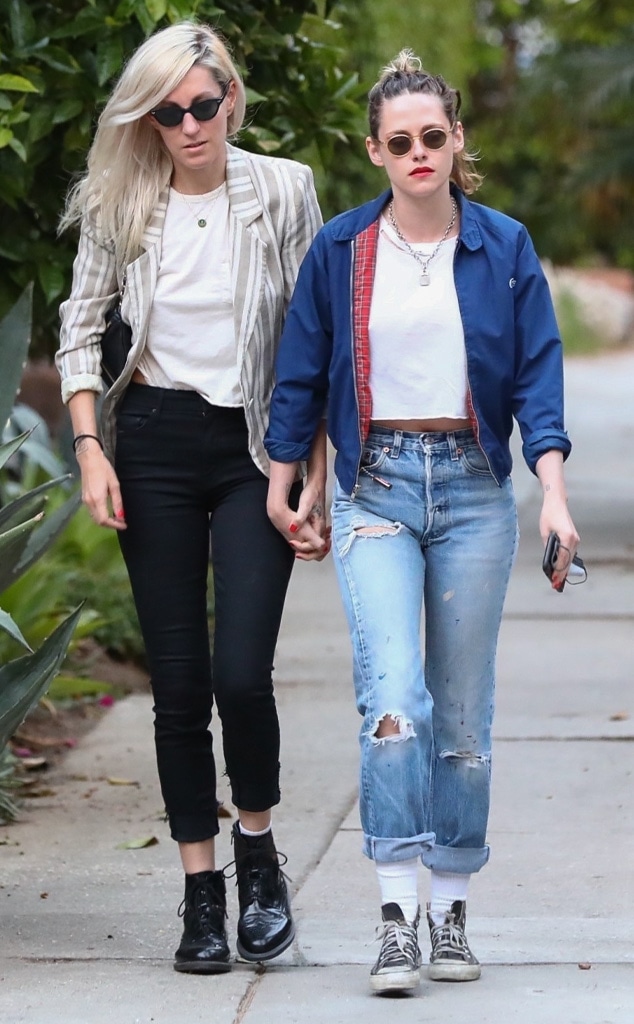 BACKGRID
Kristen Stewart and Dylan Meyer are going strong!
The actress and her screenwriter girlfriend, who have been in a relationship since 2019, were spotted hand in hand taking a stroll together in Los Angeles on Tuesday, May 11. The sighting comes just over a month after the Twilight alum celebrated her 31st birthday with help from Meyer's sweet tribute. "Life sure is sweeter with this cute little family," she captioned a photo on Instagram of Stewart and their dog. "Happy birthday, kiddo. You knock my socks off."
Back in 2019, the star, who is slated to portray Princess Diana in the upcoming biopic Spencer, made it clear to Howard Stern that Meyer knocks her socks off, too. During their November 2019 sit-down, Stewart confirmed to the radio host that she was in love and will propose. "I can't f--king wait," she told him candidly. "I want to be sort of somewhat reasonable about it, but I think good things happen fast."
Stewart also revealed at the time that she had not only dropped the L-word with Meyer, but also already told her she wanted to marry her. "The first time I told her I love her...it was like really late and we were in some s--tty bar and her friends were there or whatever, and they like walked out, and I was just like, 'Oh man, I'm so f--king in love with you,'" the actress recalled to Stern. "Like, done."
Watch:
Kristen Stewart Just Keeps Giving Us Chills as Princess Diana
The Happiest Season star explained that they had met six years earlier on a movie, but hadn't seen each other until their paths crossed again all those years later. "She rocked up at a friend's birthday party," the actress said, "and I was like, 'Where have you been and how have I not known you?'" 
While she had been seen with her on-and-off ex Stella Maxwell in July 2019, by that August, she was seen embracing with Meyer. "Kristen isn't holding back at all and loves being with her," a source told E! News of Stewart and Meyer. "They are moving quickly and always together. "