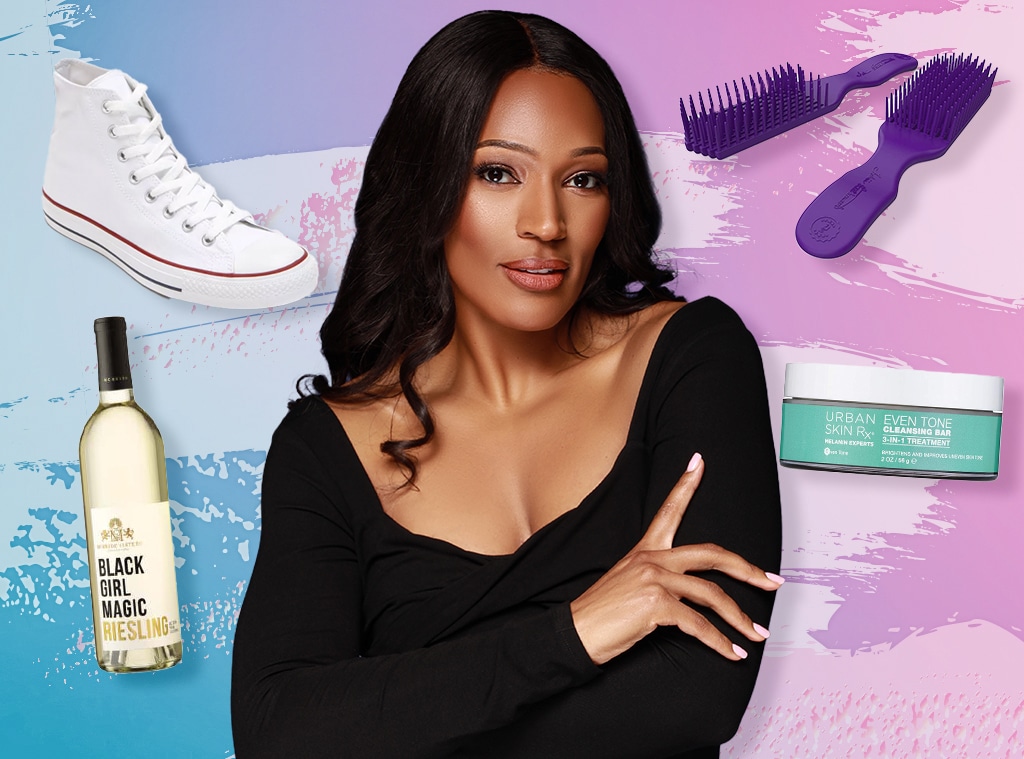 Mel B. Elder
We interviewed this celebrity because we think you'll like their picks. Some of the products shown are from the celebrity's own product line or a brand they are paid to endorse. E! has affiliate relationships, so we may get a commission if you purchase something through our links. Items are sold by the retailer, not E!.
Victoria Franklin is a cold villain that we cannot get enough of on The Oval. Victoria is always worked up about some drama (and no one can blame her), but her real-life counterpart Kron Moore couldn't be more different. The BET actress told E!, "I feel the happiest when someone smiles, or has their spirit lifted, because of something I've done for them." That's definitely not a sentiment we'd ever hear from Victoria.
Kron shared, "I feel the most relaxed when I'm curled up in my oversized chair, with Nefertiti (my fur baby), binging Hulu and sipping wine." Maybe that's what Victoria needs: a good glass of wine. In case anyone was wondering, Kron's go-to is McBride Sisters Black Girl Magic Riesling. Aside from revealing her favorite wine, Kron shared nine other items she can't live without, including a timeless pair of sneakers, a $4 lip product, and a cleansing bar that does triple duty as an exfoliant and face mask too.
Get to know Kron beyond her role on The Oval and out the 10 things she can't live without below.
Converse All Star Chuck Taylor High-Top Sneakers
"If I could, I'd have a pair of Converse Chuck Taylor All-Stars in every color and style. These cute, throwback kicks are not only affordable, but can also be worn with ANYTHING!"
Aquaphor Lip Repair Ointment
"My lips are addicted to Aquaphor, because it actually keeps them moisturized and conditioned. If I leave home without it, I have to stop by a store to pick up a tube (it's that serious)."
Felicia Leatherwood Detangler Brush
"My natural hair is thick, curly and tends to be a little unruly when it's wet. My Felicia Leatherwood Detangler Brush glides through my curls like butter; it's my secret weapon for smoothing my curls."
Traces of Tranquility Love & Leather Candle
Degree Women's Invisible Solid Anti-Perspirant & Deodorant- Shower Clean
Urban Skin Rx Even Tone Cleansing Bar, 3-in-1 Daily Cleanser, Exfoliator, and Brightening Mask
"I've been using Urban Skin Rx Even Tone Cleansing Bar for about two years, and my skin has never looked so good. Having dealt with acne scarring, I now get so many compliments on my skin that I feel completely comfortable going out into the world barefaced."
The Four Agreements: A Practical Guide to Personal Freedom (A Toltec Wisdom Book) by Don Miguel Ruiz
"The Four Agreements by Don Miguel Ruiz is one of my faves, because it's a reminder of how basic principles can help  you navigate life gracefully. I try to adhere to my core values and embody the respect and tolerance I'd like to have extended to me."
Colgate Max Clean with Whitening SmartFoam
Colgate Max Clean Smartfoam Toothpaste is an absolute staple, because it makes my teeth squeak! I'm serious about oral hygiene, and it feels like I've just had a professional cleaning, every time I brush. "
Ben & Jerry's Ice Cream Cherry Garcia
"Those who know me well, know that I consider ice cream to be a major food group. Because of its perfect mix of cherries and chocolate, Ben and Jerry's Cherry Garcia is my belly's tried and true go-to."
McBride Sisters Black Girl Magic California Riesling
"With every bottle of Black Girl Magic Riesling I open, it feels like a Saturday afternoon, in June. This wine is truly magical!"