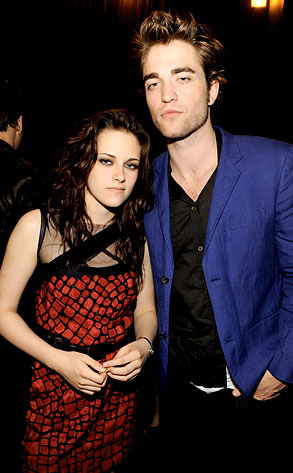 Frank Micelotta/Getty Images
UPDATE: Rob and Kristen finally emerged together this afternoon. Check out K's disheveled hair! If that doesn't scream bed-head, we don't know what does. Love how X17 is "exclusively" saying they are together. Jeez, welcome to the party a little late, guys!
______
While some Twilight costars like Billy Burke say there's nothing going on with Robert Pattinson and Kristen Stewart (what would he really know, anyway), we decided to talk to the younger castmates who have actually been out and co-chilled with Robsten. Folks who haven't been so purposely shushed, either.
We found New Moon actors Michael Welch (who plays Mike Newton) and Christian Serratos (who plays Angela) and asked them to dish about the hotness that is Robsten.
So what makes Robert and Kristen's chemistry so great?
"First of all, stepping back," said Michael, "the story itself is the classic story of eternal teenage love. It goes all the way back to Romeo and Juliet. So between that and then, like you said, Kristen and Rob were so perfectly cast. Honestly, they hangout a lot and get along really well. So that makes their chemistry explosive onscreen. And Kristen and Rob…[long pause like he's thinking about what he can say] well, I think it's only going to get hotter and better from here."
As for a gal's perspective?