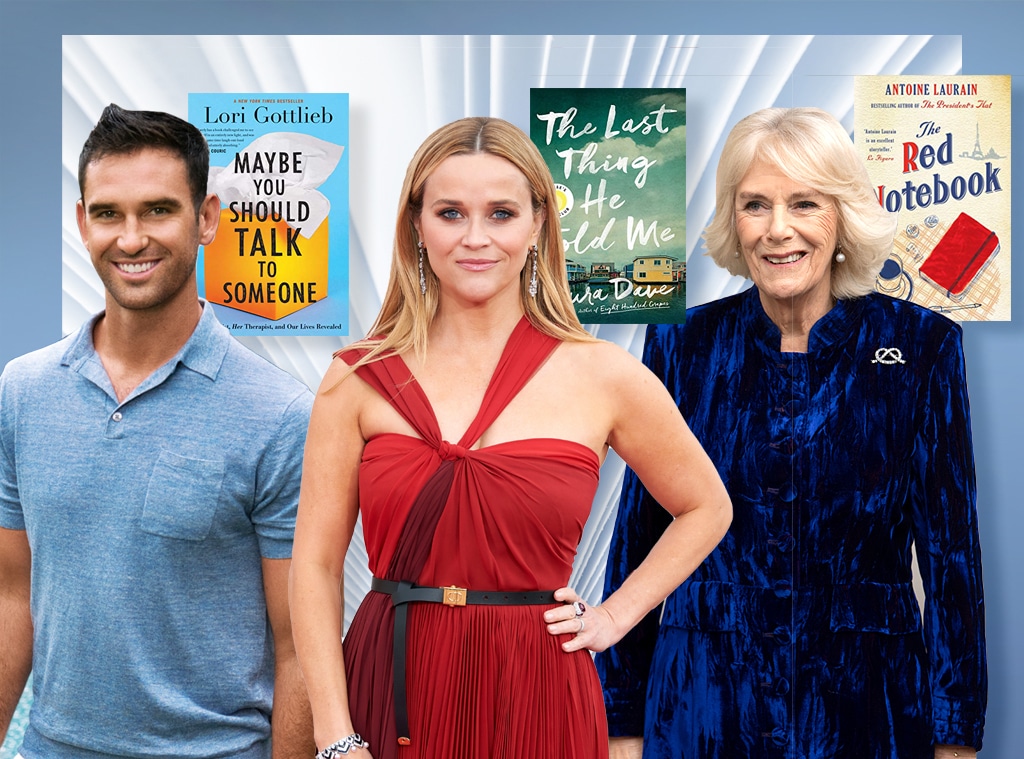 We independently selected these products because we love them, and we hope you do too. Shop with E! has affiliate relationships, so we may get a commission if you purchase something through our links. Items are sold by the retailer, not E!.
Summer is approaching, which means it's time to find an enjoyable book to read on the beach. With so many books to choose from, take the guess work out of researching your next read and just take a recommendation from your favorite celebs instead. This month, we are reading picks from Reese Witherspoon, Camilla Parker-Bowles, Oprah Winfrey, Summer House star Carl Radke, Sarah Jessica Parker, Emma Roberts, Halle Berry, Jenna Bush Hager, and Gwyneth Paltrow.
The Last Thing He Told Me by Laura Dave
"Holy Moly!... you will NOT be able to put this book down! If you're looking for the ultimate page turner, I highly recommend The Last Thing He Told Me by Laura Dave," Reese Witherspoon shared.
The actress said, "This story centers around Hannah, who is settling into her new role as a wife & stepmother when her husband suddenly disappears leaving her with an ominous note and a request to protect his daughter. There's so much to love about this thrilling, roller coaster of a novel: mysterious identities, unreliable friendships, dubious loyalties and terrifying chase sequences through the streets of Austin, Texas."
Lila by Marilynne Robinson
"Lila just might be Oprah's favorite of all the Gilead novels. It's filled with moments of philosophical beauty familiar to any reader of Marilynne Robinson," per Oprah's Book Club. It asks, "How do you feel joy and sorrow reflect on each other in these novels, and in your own life?"
Great Circle by Maggie Shipstead
Sarah Jessica Parker is "a fan of" Maggie Shipstead's previous novels, posting, "I'm thrilled to have her newest title in my hands and so delighted to be reunited this author!"
Jenna Bush Hager recommended the same book for May 2021, teasing, "At 14 years old, Marian drops out of school to follow her passion for aviation. A century later, Hadley is an actress caught in the culture of Hollywood. When Hadley is cast to play Marian in a film about the pilot's disappearance, the two women's fates collide. A fierce novel filled with ambition, Maggie's writing is epic in this story that breaks the mold of traditional gender stereotypes."
Younger Skin Starts in the Gut by Nigma Talib
Halle Berry shared, "For anyone who wonders if what we eat shows on our face, i've got the book for you. Younger Skin Starts in the Gut by [Nigma Talib] lays out a four-week plan that will change the way you think and feel about food and you will discover how it affects your body… Especially your face! If you want an interesting and informative read, give it a go."
Maybe You Should Talk to Someone by Lori Gottlieb
Carl Radke said, "May's book is Maybe You Should Talk to Someone by Lori Gottlieb. This book is a funny, thought-provoker that dives deep into one of our favorite topics: therapy and mental health. In other words, keep a pen in your hand when you read this one… because you WILL be underlining sentences left and right."
The Book of Dust: The Secret Commonwealth (Book of Dust, Volume 2) by Philip Pullman
Camilla Parker-Bowles' book club posted, "The Duchess's first recommendation of Season Two is The Secret Commonwealth: the second of Philip Pullman's novels from his The Book of Dust series. The first in the series, La Belle Sauvage, (2017) is a prequel to Northern Lights and we can't wait to dive back in to Lyra's world." This is one of four books she recommended in honor of the late Prince Philip.
Girl by Edna O'Brien
Per, Camilla Parker-Bowles' book club Instagram, "Her Royal Highness's second recommendation for Season Two is Edna O'Brien's Girl: the story of a girl who is kidnapped by terrorists in Nigerian. Readers may wish to be aware that this book includes scenes of sexual violence."
The Red Notebook by Antoine Laurain
Camilla's third recommendation is The Red Notebook, which is a about someone who finds an abandoned handbag in Paris. There's nothing in it except for a red notebook with personal thoughts. After reading it, he wants to meet the person who wrote it.
A Gentleman in Moscow by Amor Towles
Camilla's fourth book of choice is A Gentleman in Moscow by Amor Towles, which is "a story about a man who is ordered to spend the rest of his life inside a luxury hotel."
Open Water by Caleb Azumah Nelson
Gwyneth Paltrow's Goop chose Open Water by Caleb Azumah Nelson for its May 2021 book, which "explores the depths of romantic love through a relationship between two best friends and young Black artists who meet in a London pub." The book club teases, "You will fall for them quickly."
And Now I Spill the Family Secrets: An Illustrated Memoir by Margaret Kimball
Emma Roberts and Karah Preiss' Belletrist book club selected And Now I Spill the Family Secrets for its May 2021 read, which is "both a coming-of-age story about family dysfunction and a reflection on mental health." They promise that the book is "funny, poignant, and deeply inspiring in its portrayal of what drives a family apart and what keeps them together."