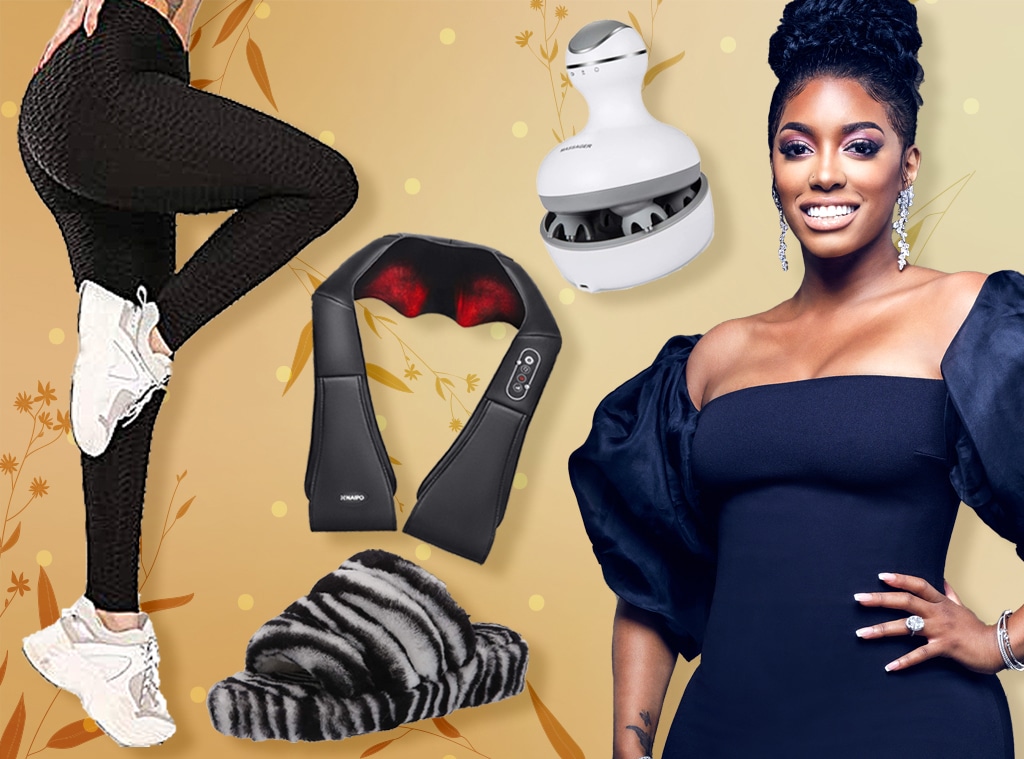 Tommy Garcia/Bravo; E! Illustration
We independently selected these products because we love them, and we hope you do too. Shop with E! has affiliate relationships, so we may get a commission if you purchase something through our links. Items are sold by the retailer, not E!.
Gift shopping can be difficult, especially for an event like Mother's Day that you celebrate every single year. It is plausible to run out of ideas. Thankfully,  Porsha Williams shared some suggestions during an Amazon live broadcast. The Real Housewives of Atlanta star said, "Look, I'm doing all the work for you, OK? Click and add to cart. Click and add to cart."
If you can trust any Amazon shopper, it's Porsha, who promised, "Listen, don't second guess it. If I'm telling you that I love it, you know I tried it. You know I'm an Amazon freak, so you're gonna want to buy it."
Porsha found a pair of leggings that she swears "reduces the sight of cellulite" and makes it look like you got a Brazilian Butt Lift. She loves these Ugg slippers that "literally hug your foot" and a shiatsu massager that "feels like somebody is pressing on those pressure points."
If those sound like the perfect gifts for mom (or yourself) just keep on scrolling to get more of Porsha's insights and see her other recommendations.
SEASUM Women's High Waist Yoga Pants Tummy Control Slimming Booty Leggings
Porsha started out wearing a beautiful orange dress, but she couldn't resist changing into these leggings to show Amazon shoppers how much she loves them. Porsha said, "These Amazon pants, they are ridiculous and they are the perfect Mother's Day gift because what mom doesn't want to be sexy? What mom doesn't want to have all the boys come to her yard for the milkshake?" 
Porsha continued, "Look at these pants. Y'all have to get these. I know you have seen these pants. They have been going viral on TikTok." She added, "They're really nice and tight and the thing that I like about them is that they reduce the sight of cellulite," which Porsha said is "a natural thing for us all to have." 
Porsha's favorite part of the leggings is "the little ridges." Porsha told Amazon shoppers, "The little ridges cover the cellulite. They also make everything look super nice and tight. They also like cup your butt up. So it's like a Brazilian butt lift. They're amazing. You guys have to get them, OK?"
Amilia Womens Sexy Long Sleeve Crop Tops High Waist Leggings 2 Piece Bodycon Set
Porsha began, "Yes, sometimes when you see us wearing workout clothes, we've definitely been to the gym. But, there are other times when we just wear them because it looks good on our bodies and it's the easiest thing to put on. No matter what size you are, you're gonna look sexy. You're gonna look athletic. This outfit is super duper cute."
Porsha loves the cut of the crop top because it falls "a couple inches underneath where your arm will be, so you won't have to worry about if you lift your arms and you'd have that under boob hanging out. It's very controlled at the bottom." In case anyone was wondering, Porsha clarified, "This material, it is long sleeve, but it's very breathable." There are 17 colors to choose from.
Ugg Women's Fluff Yeah Slide Zebra Slipper
Porsha's sister Lauren Williams had these Ugg slippers first, but she didn't have them in the right size, which is how Porsha acquired them. The Atlanta Housewife said, "I am obsessed with them, so I spice it up for you guys for Mother's Day and I got this print. When I tell you, these Uggs are bomb as.... you know what. We're not gonna curse because it's for Mother's Day, but they're so freaking comfortable."
Porsha gushed, "Everybody knows that Uggs are comfortable. If you have a grandmother, an aunt, whomever, listen, we work really really hard. You definitely want to pamper their fit with these Uggs and they're sassy as hell." She emphasized the slippers' hard bottom, which makes them great to wear outdoors as well. Porsha insisted, "It's like heaven. They just literally hug your foot. I love it."
Yunchi Sonic Facial Cleansing Brush
Porsha explained, "A lot of the time when people think about exfoliating their skin, they think they need something that's really rough." However, Porsha pointed out, "The skin on your face is very very delicate, so you need something that's gonna be designed the right way for your face." Porsha loves this cleansing brush because it vibrates and it can charge wirelessly.
"I guarantee you, anyone who has this, you're gonna have glowing skin," Porsha said. She added, "The game-changer for me was exfoliating." Amazon has this cleansing brush in pink and mint green.
Esarora Ice Roller for Face & Eye, Puffiness, Migraine, Pain Relief and Minor Injury
Porsha described this ice roller as "amazing" and she considers it to be another game-changing skincare product. She told Amazon shoppers, "Go ahead and add it to your cart right now. This is not something you need to be thinking twice about. You need to be purchasing this right now for your mother... or yourself." Porsha enjoys this ice roller because it's relaxing, good for headaches, and she suggested it for anyone who experiences hot flashes. Regarding the skincare aspect, Porsha advised everyone to "make sure you roll up" when you use it.
Porsha isn't the only Bravolebrity who recommends this ice roller. Vanderpump Rules star Ariana Madix recently hyped it up as well. And if you're looking for more reassurance that this is a solid purchase, more than 8,400 Amazon customers gave the roller a 5-star review and Zoë Kravitz and Brie Larson's makeup artist uses this roller on the actresses. There are 8 different colors to choose from at Amazon.
Naipo Shiatsu Back and Neck Massager with Heat Deep Kneading Massage for Neck, Back, Shoulder, Foot and Legs
Porsha loves this massager for its adjustable speed/heat, deep kneading capabilities, and the safety features. Porsha said, "Who needs a man? Who needs anybody? Who needs their children? It literally feels like somebody is pressing on those pressure points." The mother of one said, "Y'all have to get this for your moms. Get this for yourself, get it for your moms."
Latme Electric Scalp Massager with 4 Replacement Massage Heads
"This one, I really really love," Porsha said as she used the Latme Electric Scalp Massager. She said, "This is really relaxing." She's not the only one who adores it though. More than 2,200 Amazon customers gave the product a perfect five-star review. 
Lodge 7.5 Quart Enameled Cast Iron Dutch Oven
Porsha said, "If you don't cook, a pot this beautiful will make you want to get busy, OK? Oh my gosh, the quality! I, mean seriously, this is the type of pot that you will have for a really long time." Why is this one of her favorites? The RHOA star said, "The heat is distributed very, very evenly, which means a lot when you are cooking meats and sauces." In contrast, she said, "A cheap pot, it will burn in certain areas and that's just not what you want. The heat distribution of this pot is amazing." 
"Also, it's really easy to clean," Porsha added, "You don't have to sit there all night and soak it."
If you're looking for more Mother's Day shopping inspiration, check out these gift suggestions from Porsha's RHOA co-star Drew Sidora.