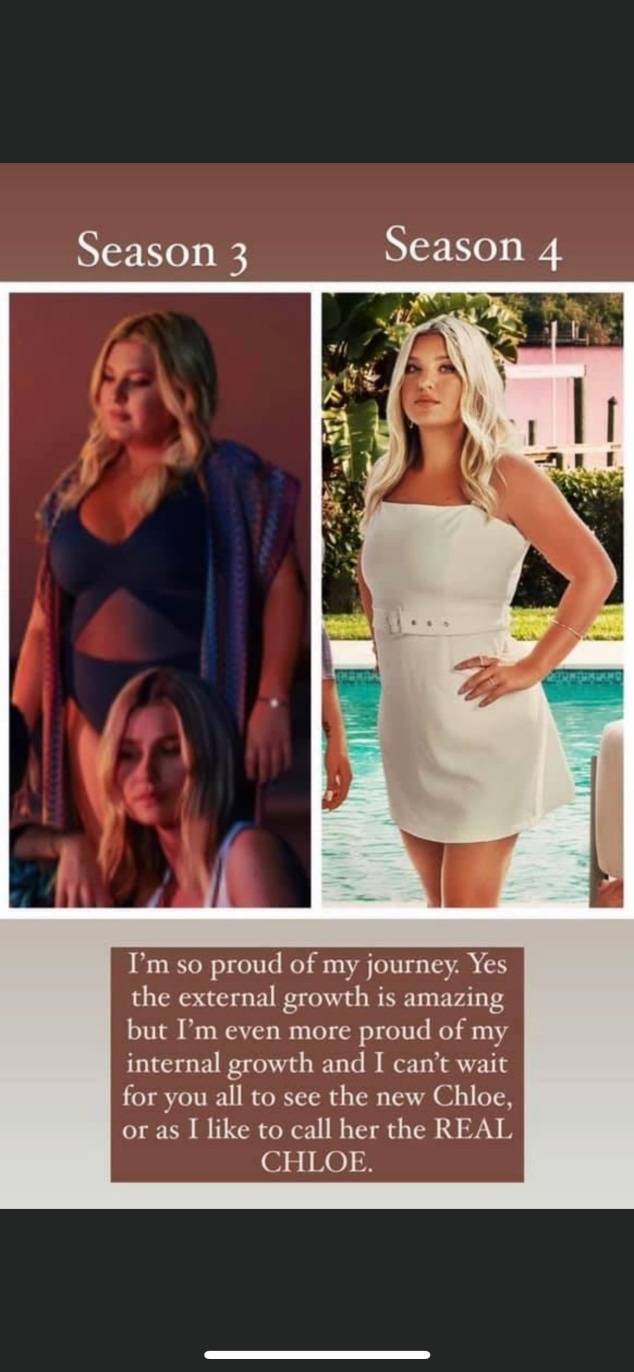 Instagram/MTV
Prepare to see a whole new side of Chloe Trautman.
While the new season of Siesta Key promises to have plenty of fights and drama, fans will also be able to see many cast members grow and evolve.
For Chloe, the past year was full of change—and not all because of the coronavirus pandemic. What came next was a physical and mental transformation worth celebrating.
"There was kind of a moment—literally on a mountain in Aspen—where I was struggling skiing and tumbling down it and that was a moment where my physical transformation started," Chloe exclusively shared with E! News. "I was 50 pounds heavier than I am right now and I was like, 'I need to get healthy.' And then my ex and I broke up in June of last year and that was really when the bigger shift started happening."
In addition to going vegan and limiting her alcohol, Chloe began working out. She immediately began to see and feel a difference.
"I've been sober curious for about a year now and you'll see that journey on the show, but I think the biggest thing is just being as active as possible," she explained. "Working out, doing yoga, going for walks, going for bike rides and not eating processed foods."
Back in March, Chloe took to Instagram and shared a glimpse of her weight loss through a side-by-side photo. Since then, the reality star continues to receive positive feedback from both fans and co-stars.
"I've worked really hard to get to where I'm at and it's nice for people to acknowledge that, but I'm most proud of my inner transformation and I think my outer transformation just really reflects the work I've done," Chloe shared. "The main reason I still do this show is to be an inspiration to others."
That's not to say Chloe is going to be perfect this season. Back in January, the 25-year-old blogger confirmed she was stepping back from the MTV reality show in the middle of filming. The series' original cast member promised fans they will have clarity when the show begins airing. 
Watch:
E!'s Famous Reality TV Families: Where Are They Now?
"I decided to take a step back from filming because it became extremely toxic," she previously wrote on Instagram. "I am unwilling to put my journey and my happiness on the line for fame and money."
While she may have been a skeptic at first, Juliette Porter calls her co-star and friend's journey nothing short of inspirational. And yes, it's something new and old fans should take seriously.
"I feel like the people who were skeptic were the ones who didn't truly love her enough and I was worried too," she explained to E! News. "Does she really mean this or is this just a phase? I told her the other day that she's such a light in my life and she gives me strength when seeing her overcome all of these obstacles and being put in situations that are bad, but continue to stand strong in her values and be who she wants to be and I think that's really powerful."
The JMP The Label designer added, "I think she's a huge inspiration for many people and I'm really happy people get to see it."
Siesta Key returns with new episodes Wednesday, May 12 at 8 p.m. only on MTV.