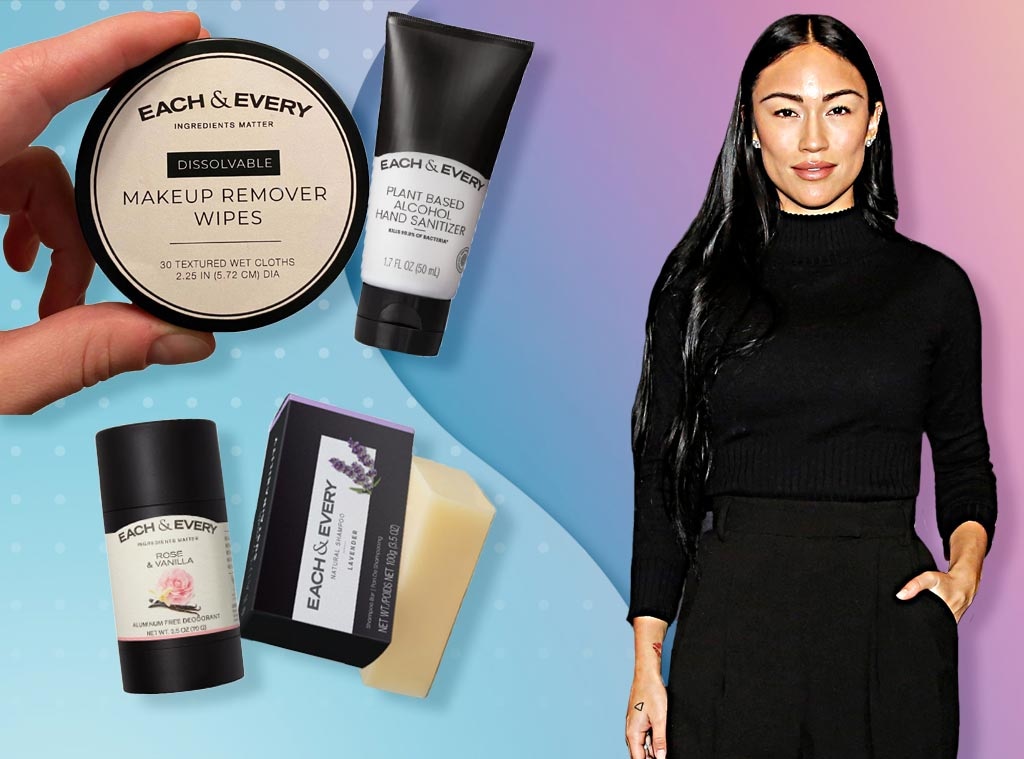 Rachel Murray/Getty Images for MAKERS/E! Illustration
We interviewed this celebrity because we think you'll like their picks. Some of the products shown are from the celebrity's own product line or a brand they are paid to endorse. E! has affiliate relationships, so we may get a commission if you purchase something through our links. Items are sold by the retailer, not E!.
We've all been on top of our cleaning and sanitization game in response to the pandemic. For a lot of people, this means using products with harsh chemicals, but that doesn't have to be the case. You can effectively sanitize your hands with a product made from clean ingredients instead. In fact, Each & Every makes a plant-based alcohol hand sanitizer, but you're probably most familiar with the company for its staple product: the Worry-Free Natural Deodorant. Despite some common misconceptions, you can prevent sweat and odor with a natural product. Just ask Stephanie Shepherd, who told E!, "From personal experience, I know that 'green' products are just as efficacious."
If there's anyone who we should trust on this one, it's Steph. She and Max Moinian created Future Earth, a climate club that launched last year. Additionally, she shares her insights on living a plastic-free lifestyle as a columnist for Kourtney Kardashian's website Poosh. Prior to those roles, she was Kim Kardashian's executive assistant and, eventually, she served as the Chief Operating Officer of Kardashian West Brands.
Steph told E!, "It is really important to me to explore the clean beauty space and find brands like Each & Every that really check all the boxes when it comes to clean and safe ingredients as well as sustainability." While Steph understands why some people may be reluctant to try new products when their go-to items work so well, she is encouraging people to replace those with eco-friendly products because they work just as well.
Overhauling your skincare routine sounds like a daunting task, but it really doesn't have to be. For anyone who wants to gradually switch things up, Steph advises, "Start wherever feels natural to you and educate yourself on the choices you're making, the products you're buying, the brands you're supporting, and the people you are electing into office."
Discussing her partnership with Each & Every, Steph shared, "There are so many incredible points that make Each & Every standout. First off, it is made with natural fragrance, which is great for sensitive skin. Also, Each & Every's products come in the first and only carbon-negative sugarcane deodorant packaging on the market, making it easy to reduce your carbon footprint. The brand has worked to ensure that the sugarcane packaging is sustainable from creation through end of life - meaning that the packaging is carbon-negative from the beginning."
If you're interested in learning more about Steph's favorite natural deodorant and the other amazing products from Each & Every, keep on scrolling. And, just in case, you need a little more motivation to switch to eco-friendly beauty products, all Each & Every orders ship for free in the US and there's a money back guarantee.
Each & Every Worry-Free Natural Deodorant
"For me, finding a deodorant I like has been one of the trickier products. I like that Each & Every is made with natural fragrance - the Rose & Vanilla scent is my favorite. On top of creating products and packaging that are safe for our bodies and the planet, I love that Each & Every continues to find ways to enhance their sustainability efforts and have chosen the EWG, an organization close to my heart, as their Earth Month charity this year" — Stephanie. There are 10 scents to choose from and an option to save some money by subscripting instead of making a one-time purchase. 
You can get 4 mini deodorants if you aren't sure which fragrance you'll love or if you just enjoy variety. Or you can get a three-piece bundle with full-size scents.
Each & Every Magic Makeup Wipes- 30 Count
These are not your average makeup wipes. Each wipe dissolves completely in water, leaving zero waste behind. The wipes are made from plants and natural oils to instantly remove makeup.
Each & Every Worry-Free Hand Sanitizer
Each & Every Natural Fine Natural Fragrance
The Each & Every fragrance has zero alcohol, water, or fillers, which is not the norm for most perfumes/colognes. It's made from 100% natural ingredients. Choose from the Rose & Vanilla, Cedar & Vanilla, Lavender & Lemon, and Sandalwood and Black Pepper scents.
Each & Every Worry-Free Natural Shampoo Bar
This shampoo bar lathers just like liquid soap. This one bar is equivalent to two shampoo bottles.