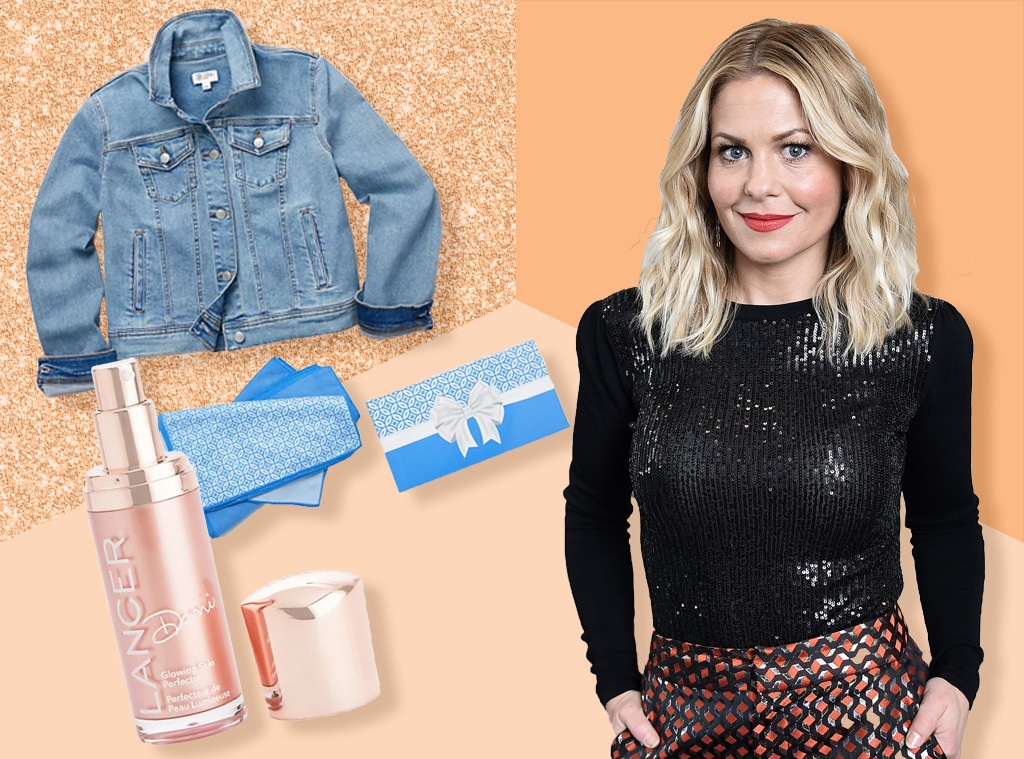 E! Illustration
We interviewed this celebrity because we think you'll like their picks. Some of the products shown are from the celebrity's own product line or a brand they are paid to endorse. E! has affiliate relationships, so we may get a commission if you purchase something through our links. Items are sold by the retailer, not E!.
Candace Cameron Bure is presenting us with a full house of goodies.
The actress, who recently launched a new fashion collection with QVC, appreciates both the stunning styles and the accessibility of her line.
"They are soft, cozy and comfortable, easy to wear, bright and feminine," the best-selling author exclusively shared with E! News. "So many pieces mix and match well together, meaning you don't have to think a lot about putting an outfit together! Bonus!"
What's more? Candice's line is size-inclusive ranging from XXS-5X and carries petites!
With Mother's Day right around the corner, the proud mom shared 10 items she can't live without. Keep scrolling to see her picks and catch the designer and Candace Cameron Bure—Fashion airing May 7 at 10 p.m. EST/7 p.m. PST on QVC.
.Printed Tiered Tank Dress
"Summer is almost here, and I will be living in this roomy, effortless dress," Candace admitted. "Sunday brunch, here I come!" Can we come too?
Classic Denim Jacket
"This is a staple piece that every closet needs," the fashion designer explained. "A jean jacket for that light summer breeze or a layer over a tank. Dress it up, dress it down. Everyone needs a denim jacket." 
Dr. Lancer The Method: Polish, Cleanse, Nourish
"Every day, twice a day for 12 years and counting," the New York Times best-selling author revealed. "My skin is as beautiful as it is because of this skincare routine." 
Polished Paperbag Waist Shorts
"Roll them up, keep them down. These shorts have an elastic waistband which means…they are comfortable!" Candace told E! News. "Wear it with a t-shirt or tank, or put on a pretty blouse and heels. These shorts can literally go from day to date night." 
Dr. Lancer Dani Glowing Skin Perfector Treatment
"This is how I get my sunset glow on!" Candace explained. "It's perfect for non-makeup wearing days, but also acts as a highlighter when you are wearing makeup. There are no sparkles, just a soft, glowy finish."
The Malibu Lounge Sweatshirt
"Sometimes, I just want to stay in my pajamas all day long," Candace started. "These lounge shorts and sweatshirts are like doing just that. Wear them for running errands, grabbing coffee or hanging out in the house. The stitched details on the cuff and collar give it that extra touch that shows they aren't just for sleeping in."
One Step Closer Bible
"This is my center: it starts with the Bible," Candace shared with E! News. "I do my best to read God's word every morning to connect with Him and seek His wisdom and guidance before my day starts. This Bible is an easy to read modern English translation that has over 500 help index topics to bring you one step closer to Jesus."
Candles With Devotional Card
"I light these up in my bedroom, my living room and my office," the Fuller House star revealed. "Gardenia Water and Raspberry Violet are my two favorites scents. Clean, fresh smelling, not overly fragrant."
Breezy Cotton Distressed Tank
"Buy every color," Candace advised. "You won't regret it. It's super soft and roomy." 
Microfiber Cleaning Cloths by Campanelli
"I'm obsessed with these cleaning cloths!" Candace said. "I use water only and it gets everything off the counters! Washable and reusable…goodbye paper towels. I've given these as presents to all my friends and family."