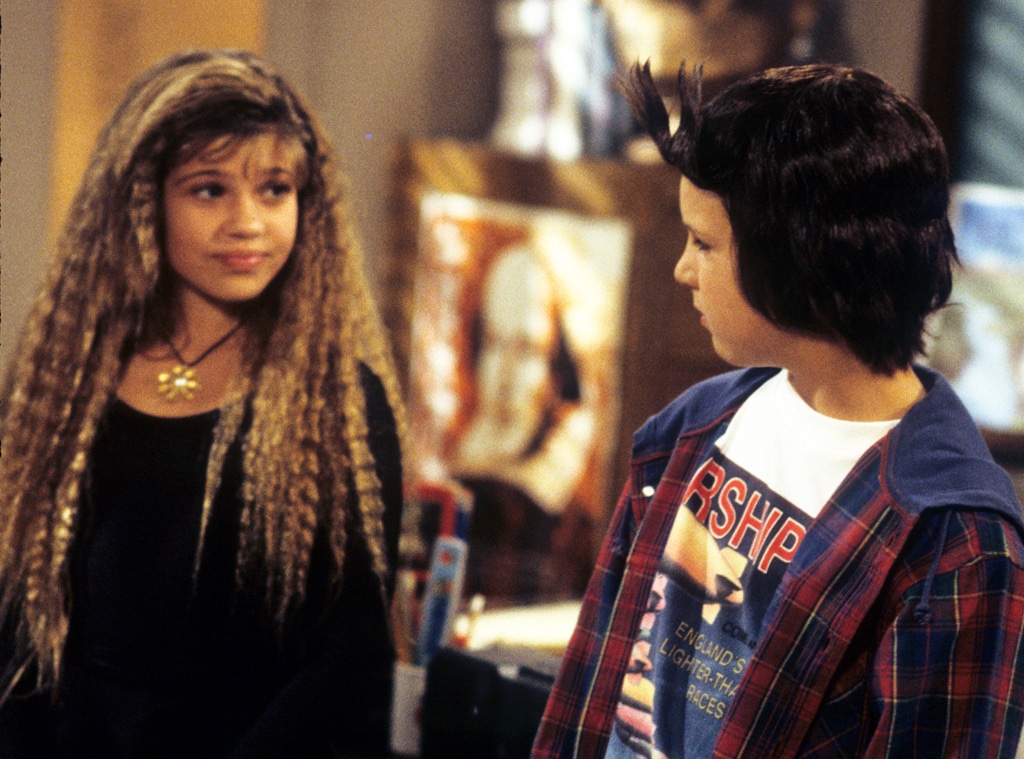 Walt Disney Television via Getty Images Photo Archives/Walt Disney Television via Getty Images
So often on Boy Meets World it was all about the girl.
And that girl was the brainy and civically ahead of her time Topanga Lawrence, played by Danielle Fishel, who scored the role of a TGIF lifetime when she was only 12 years old.
That former child star is marking her 40th birthday May 5, and needless to say she's grown up a bit since Ben Savage's Cory Matthews first realized he was crushing hard on his classmate with the exceptional hair.
After bringing Topanga back as a successful lawyer, wife (to Cory, obviously) and mom to daughter Riley and son Augie in Girl Meets World for a few seasons, Fishel remarried and in 2019 she and husband Jensen Karp welcomed son Adler. He was born a month early, meaning many anxious days and long nights for the new parents, but once Adler's condition stabilized after a few weeks they were able to take their bouncing bundle of joy home. 
So these days Fishel has even more to celebrate aside from having long since secured her place in the YA sitcom hall of fame.
"It has been interesting because on one hand there are so many milestones and changes that happen in the first year of having a baby, so I feel really lucky that I have this forced time to slow down," Fishel told TV Insider a year ago, mid-quarantine. "Also, I feel lucky he is at the age he is at. He is about to be 11 months, which means he didn't have to be taken out of school. As far as Adler is concerned, this is just the greatest time ever. It just means mom and dad are home all the time. He gets tons of one-on-one time with us. He enjoys that and is not missing anything."
And he's got some time before he tunes into the fact that Mommy is a TV legend.
"I try to keep in mind all the time that the cast was just as lucky to be a part of that show as the fans who are so appreciative of how it impacted their life," Fishel said of Boy Meets World's devoted 1990s-era viewers, so many of whom grew up along with the show's stars. "We're just as lucky. I could have been anybody in those roles. It could have been anybody to have those experiences we got to have. I constantly think about how lucky we are. People ask me all the time if it bothers me that I'm only known for being Topanga. I think no, because it could have been so much worse."
Watch:
Danielle Fishel on THAT Wedding Episode: E! News Rewind
Asked what she meant by that, she explained, "There are so many characters that would really bum me out to be known as when I look back at the course of TV. Topanga was so cool. I'm so lucky that's the character I'm known for. I feel the same way about the lessons. We were so lucky we had the writers we had, who cared about the audience and never wanted to talk down to the audience. Who insisted in keeping the episodes real and tried to get as much into those 22 minutes as they possibly could without making it too cheesy."
The actress, host (including of the at-home Instagram Live gameshow "Scorantine" with Karp, which helped entertain and pass the time during the pandemic) and hair care entrepreneur also revealed that the old gang had been staying in touch from their respective houses, thanks largely to an email chain started by Rider Strong expressly to check in with each other in COVID times.
And, conveniently enough, Will Friedle and his wife Sue are neighbors, so even though they couldn't socialize up close, Fishel explained, she and Karp generally walked their dog past her TV brother-in-law's house.
No, we're not feeling nostalgic—you're feeling nostalgic. So in that case, here's an update on where the cast of Boy Meets World is now: