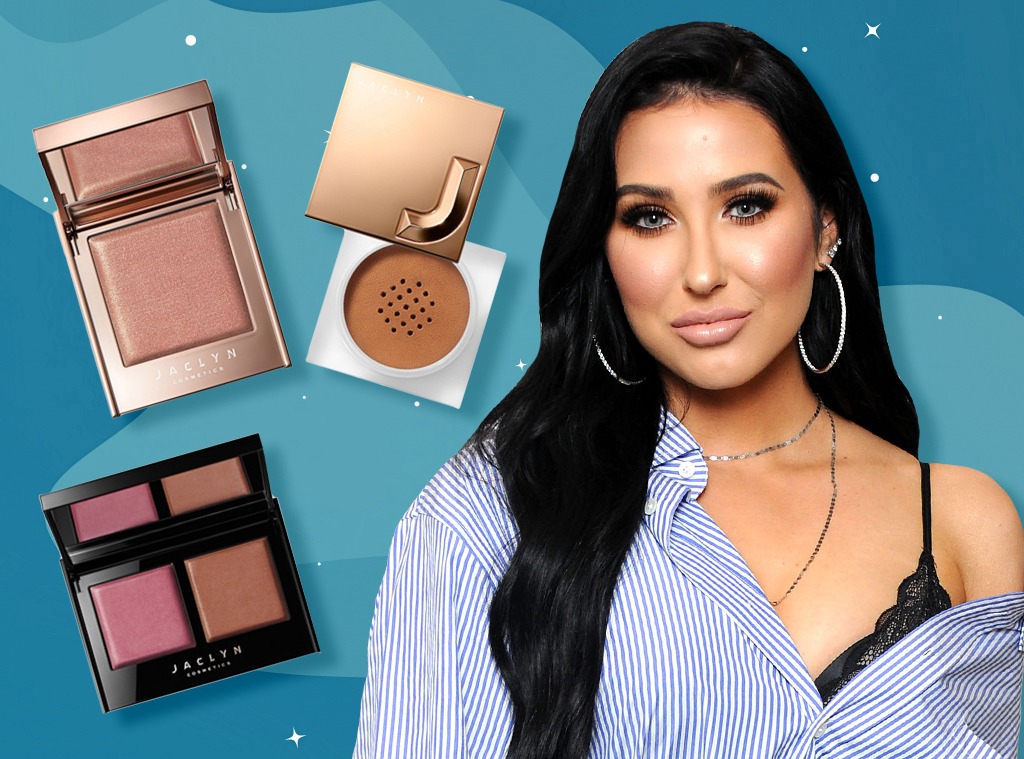 We interviewed this celebrity because we think you'll like their picks. The products shown are from the celebrity's own product line or a brand they are paid to endorse. E! has affiliate relationships, so we may get a commission if you purchase something through our links. Items are sold by the retailer, not E!.
Before TikTok and Instagram existed, makeup artist Jaclyn Hill made her YouTube debut in 2010. Prior to that, she was "a young girl working at MAC who would dream of makeup." On her lunch breaks, she "would stroll into makeup stores and swatch every new product," which allowed her to find her true passion.
From there, she became one of the OG beauty influencers who blazed the trail without any inclination about what to expect. The entrepreneur told E! that she "didn't think the YouTube beauty space would truly take off." While the newest creators attempt to monetize from the jump, Jaclyn had different intentions when she began her social media presence. She recalled, "I really wanted my channel to be a place where individuals could find confidence through makeup!"
The YouTube pioneer elaborated, "My beauty mantra is 'it's more than just makeup' because it's a community. A community for people to come together and be whatever you want to be. Whether you feel like you don't fit in or have a big dream and feel like no one is rooting for you to succeed, I wanted to be that role model for young people everywhere." She taught many of us how to contour/highlight/bake in addition to encouraging her fellow creators to embrace their passions and use social media to connect with the world.
Jaclyn shared, "I think social media has played a huge role in how makeup has evolved. It has become a hobby, a skill, a profession, and a place for people to be their true and authentic selves. First taking off on YouTube with product reviews, to becoming more mainstream on Instagram with reels & stories, to now reaching an even younger demographic on TikTok where individuals can show their whole routine in seconds!" She has seen it all, influenced many, and most importantly, Jaclyn has evolved with the times.
Many TikTokers took part in the 2016 vs. 2021 Challenge, where they showcased how much their beauty routines have changed in the past five years, which is something Jaclyn admitted, "we can all relate to all too well." She explained, "Beauty trends come and go, and even my own beauty routine has certainly changed throughout the years. From wearing a bold dark lip back in the day, to transitioning to a nude lip statement! I do have to say though – highlighters will always be a staple in any routine, especially mine. It illuminates your face beautifully and I love how buildable they are. Over the years I have perfected my signature look and I wanted to create lines that everyone would enjoy."
That go-to look is what inspired her to create highlighters, bronzers, blush, and more for Jaclyn Cosmetics, which is available at Ulta. The mogul shared, "With my new collections I wanted to stay true to what I look for in makeup, but also would complement every skin tone. We launched on my website JaclynCosmetics.com and partnered with the amazing Ulta team to bring these staple products to everyone!"
To learn more about the Jaclyn Cosmetics collection at Ulta and Jaclyn's personal application tips and insights, keep on scrolling to get your glow on.
Jaclyn Cosmetics Bronze & Blushing Duo
"During shelter-in-place, I started experimenting with my bronzer technique and I discovered that placing bronzer higher up on cheekbones rather than hollows of cheeks really warms up and lifts my face. I also used to place blush on the apples of my cheeks only, but I now place my blush higher on the cheeks. It really snatches up my cheekbones. I even take my blush up to my temples, blending ever-so-lightly into the diffused edge of my eyeshadow. Then, I finish off with a little blush on my nose and even my chin. You know me… I love to layer!" There are seven shades of the Bronze & Blushing Duo to choose from at Ulta.
Jaclyn Cosmetics Accent Light Highlighter
"Too much highlighter? No such thing. When I'm feeling extra—which let's be honest, is most of the time—I like to mix two or more Accent Light shades to create a multi-dimensional glow. On the rare occasion I want to go more lowkey, I'll just lightly sweep Accent Light on the tops of my cheekbones for a fresh-face sheen." Choose from 8 beaming highlighter shades and there's a mini version in two shades.
Jaclyn Cosmetics Beaming Light Loose Highlighter
"I love to finish off my look with a little Beaming Light in the inner corner of my eyes, my brow bone, and the tip of my nose. A little goes a long way, so be sure to tap off that excess, honey!"
Jaclyn Cosmetics Mood Light Luminous Powder
"Use as a finishing powder all over the face to get that lit-from-within look or apply it to targeted areas for a soft highlight! Sometimes, when I've finished applying and blending my foundation and concealer, I feel like I could still use a little extra oomph. That's when I set my face with Mood Light. It creates this really soft radiance that gives me an instant confidence boost."