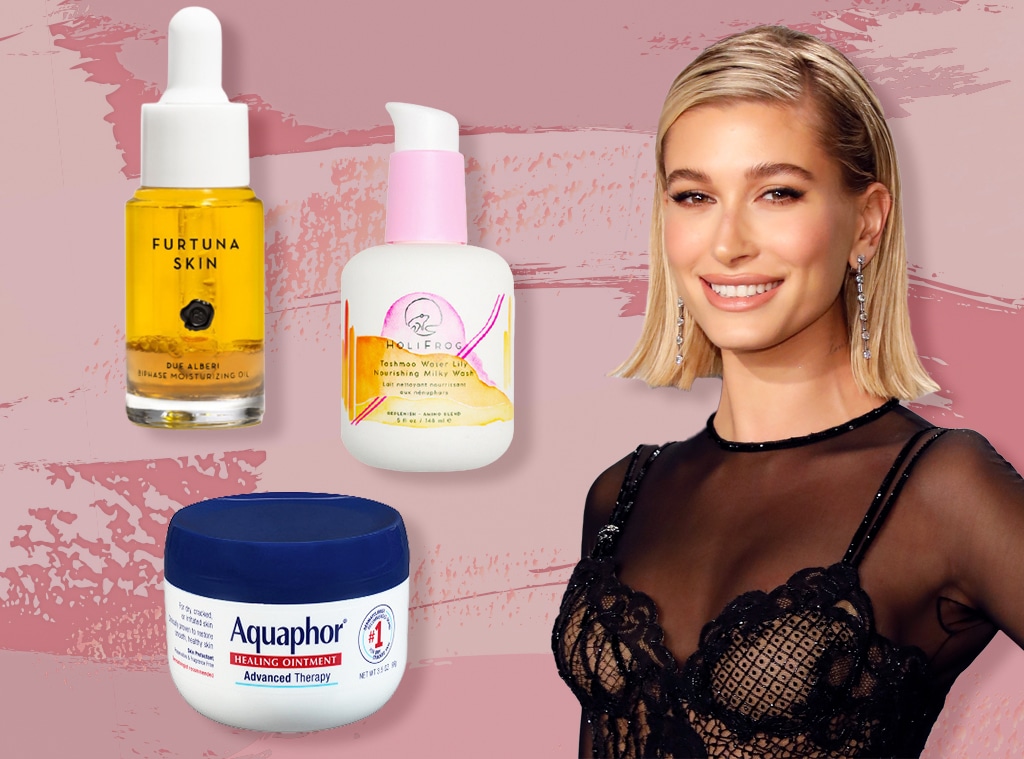 Taylor Hill/FilmMagic, E! Illustration
We love these products, and we hope you do too. E! has affiliate relationships, so we may get a small share of the revenue from your purchases. Items are sold by the retailer, not E!.
Hailey Bieber's skin is always on point, but what's her secret? Actually, she has a few, but she's not keeping them under wraps. Recently, the model shared her nighttime self-care regimen along with some application tips and her skincare philosophies, including her insistence that you should look like a "glazed donut" when you go to bed. You may think that the influencer only uses super, high-end products, but surprisingly, the step she "cannot go to bed without" is a product you can get for as little as $3.
You may not Belieb that you can get that picture-perfect skin, but check out Hailey's routine below for some insights and inspiration.
MARA Beauty Algae Enzyme Cleansing Oil
Hailey's first step is to put her hair up and remove the day's makeup with the MARA Beauty Algae Enzyme Cleansing Oil. She shared, "I'm going to start with an oil cleanser because I have a lot of makeup on and I don't use makeup wipes. I started doing this during quarantine and it's honestly made the biggest difference in my skin. That is how I take my makeup off now. I don't do it any other way." She advised everyone to be "gentle on the eyes" while she rubbed the oil in with her hands. As her makeup started to melt, she joked, "I look like a psychopath" before she rinsed her face with water. The cleansing oil is available at The Detox Market for $58 or you can use the promo code WELCOME20 to get it for $38 at Heyday.
HoliFrog Tashmoo Water Lily Nourishing Milky Wash
"Now that I've done an oil cleanser, I'm gonna go in with a second step cleanser. I like cleansers that don't get super, super foamy. I prefer something that's a milkier, hydrating, nourishing wash," Hailey said while she used the HoliFrog Tashmoo Water Lily Nourishing Milky Wash. She shared, "I never like for my skin to feel dry and stripped at night after I wash it." She added, "I just pat dry, but I don't completely dry my face. I keep it a little bit damp." The face wash is sold out at Revolve, but we listed three other sites to shop below.
Furtuna Skin Due Alberi Biphase Moisturizing Oil
Hailey revealed, "I have really sensitive skin that tends to be on the more dry side, so with that being said, usually I add one layer of an oil." She said, "My standard when I get into bed at night is if I'm not getting into bed looking like a glazed donut, then I'm not doing the right thing." She explained, "I don't ever do too much. I just kind of pat it into the skin. I find that when I'm working a lot and I have a lot of different makeup put on my face, different foundations, different concealers, my skin is just insanely sensitive so I find that I break out when I have a busier work schedule."
The Furtuna Skin Due Alberi Biphase Moisturizing Oil is available for $128 at Furtuna Skin, but if you register your email with the site, you can save $20 on your first purchase. You can get the larger size at Neiman Marcus and Saks Fifth Avenue for $225.
Bareminerals Ageless Phyto-Retinol Eye Cream
Hailey emphasized, "You can't forget about an eye cream." While she applied Bareminerals Ageless Phyto-Retinol Eye Cream, the influencer elaborated, "I'm usually really really diligent about eye cream because eyes are a really, really, sensitive area and I'm trying to prevent getting crow's feet so I try not to ever skip it. One thing, ladies and gentlemen, not to forget is that I put eye cream on my lids too because those get saggy as you age." 
Aquaphor Healing Ointment
Hailey concluded, "My very last step and something that I legitimately cannot go to bed without doing is lip balm. I hate chapped lips. I hate when they feel dry. It's truly one of my biggest pet peeves. And my go-to is Aquaphor. I think it's the best lip balm." The product Hailey uses is actually an ointment, which is why she also applies it when she has "really flaky, dry patches anywhere." There's a 3.5 oz. version available at Ulta for $8 along with a $3 mini. Amazon carries a 14 oz. Aquaphor ointment for $14 if you want to go all in on Hailey's must-have ointment.