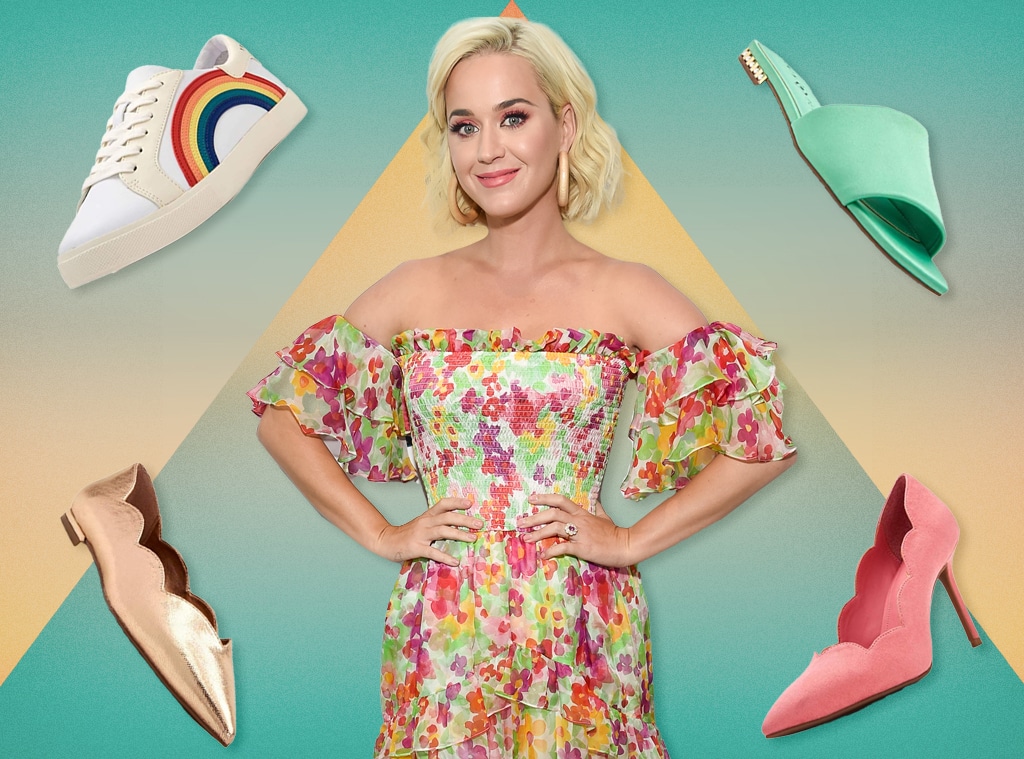 E! Illustration
We love these products, and we hope you do too. E! has affiliate relationships, so we may get a small share of the revenue from your purchases. Items are sold by the retailer, not E!.
We've all reveled in the slippers and sweatpants life for the past year, but whenever you're ready to leave the house and start socializing again, Katy Perry has you covered with her shoe collection. She shared the initial peak at the new shoes during a recent Amazon Live session, she said the line was all about "boldness, conversation, and color," revealing, "Our motto is 'Stop traffic and start conversations.'" And that's exactly what you'll do when you rock the heels, sandals, and sneakers curated by the singer.
Check out some of her favorite pairs along with commentary from Katy and Summer House star Paige DeSorbo.
Katy Perry Women's The Geli Flat Sandal
"My Geli shoes are super fun. This collection has a little bit of an Egyptian inspiration based on my trip. This ankh symbol is on the toe and it's beautiful." She added, "This would be my favorite pair of shoes from this collection." There are 38 colors to choose from!
Katy Perry Women's The Jimmi Flat Sandal
"Who doesn't want to go to the pool in a watermelon slide that sparkles? Isn't that fun? Very very cute," Katy shared. She wishes she had the shoes to wear for her "This is How We Do" music video back in 2013.
Katy Perry Women's The Star Heeled Sandal
Katy recommends this shoe for wedding guests, remarking "You don't want to steal the show necessarily, but why not go all out since we've been dressing in sweats? I love this shoe." She added, "I love a little PVC and a unique-shaped heel. I like PVC because I'm interesting in elongating my leg and that's what this see-through [fabric] does." The singer revealed, "This is based on a little art deco Hollywood style." Paige chimed in to share, "I'm obsessed with these. I feel like they go with everything." She also insisted that they're "really, really comfortable."
Katy Perry Women's The Dina Pump
Katy, who was wearing the Dina Pump in nude at the time said, "It's helping me feel a little more snatched." Paige commented, "I think they're so unique with the scallop. I think they are the PERFECT girl boss shoe. And they're so comfortable." There's also a flat version of the scalloped shoe.
Katy Perry Women's The Luv Flat Sandal
Paige gushed, "You don't understand how comfortable these flats are. Usually, I feel like something that goes over your ankle can get uncomfortable, but I've been wearing these all day long. I'm wearing the yellow ones. I absolutely love these." Katy described them as "hip, funky, and cool," pointing out the padding in the shoe which provides comfort.
Katy Perry Women's The Rizzo Sneaker
"They're so cute," Paige told Katy about the Rizzo sneakers. Katy described the sneaker as "the evolved saddle shoe, but very comfy and cute."
Katy Perry Women's The Kerry Sneaker
"Here's some comfort and some pizazz for you," Katy shared as she held up the Kerry sneakers. She divulged, "Just so you know, I'm really particular about the crystals and stuff," promising that there's no need to worry about them falling off the shoes.
Katy Perry Women's The Pearl Slide Sandal
"These are my favorites. A satin, stretchy slide, and in the heel is a pearl and gold whole bit situation. It's simple and comfortable, but it's so beautiful and chic." She elaborated, "I love a square toe." The shoes are available in mint, yellow, black, and red.