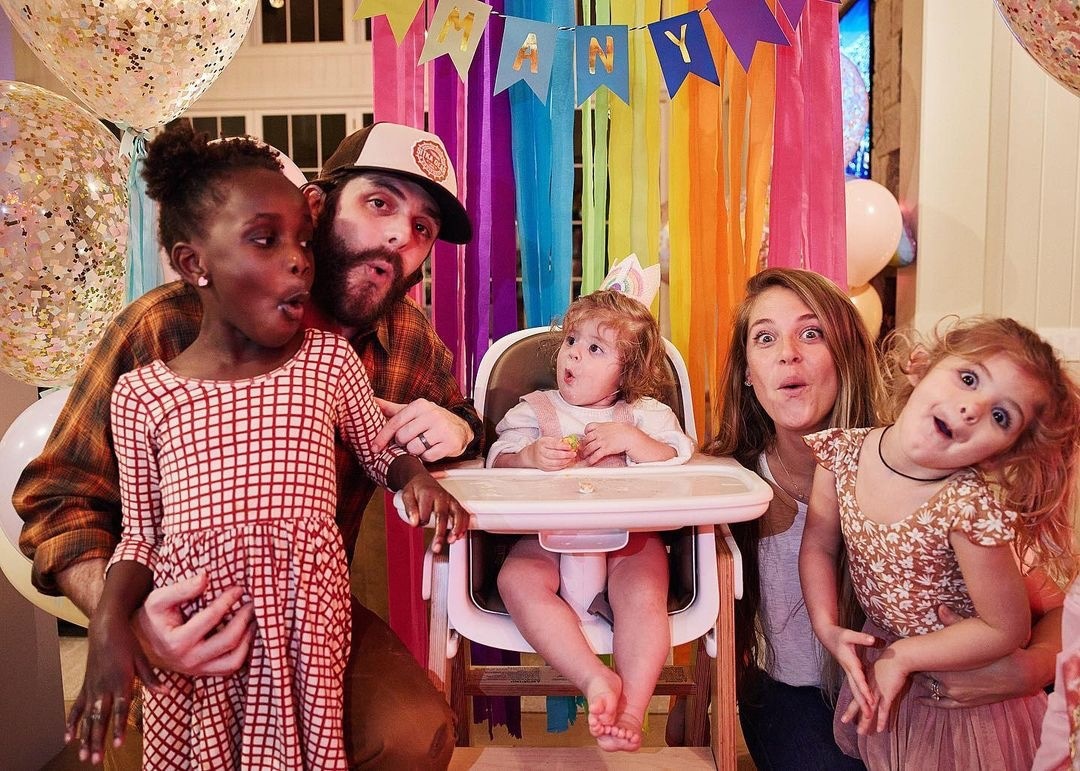 Instagram
Ain't it funny how life changes?
As so many musicians can relate to, Thomas Rhett Akins remembers a time when life as an artist included sold-out tours, in-person award shows and non-stop traveling. But when the coronavirus pandemic hit, the 31-year-old country singer found himself adjusting to a whole new reality.
With his schedule suddenly wide open, Thomas Rhett began asking himself serious questions like, "Who am I without a stage?" and "Who am I without a guitar?" What came next was the creation of part one of his fifth studio double album titled Country Again: Side A.
"I sort of had to literally write down a list of 'OK, I'm a dad. I'm a husband. I'm a friend. I'm a brother. I'm a son,' and I started to take these things that I knew for sure that I was, and I started to put all of my weight into that in 2020," Thomas Rhett exclusively shared with E! News. "And it was just amazing to realize, 'Yeah, I'm a musician for sure, but first of all, I'm a dad. First of all, I'm a husband' and when I started to realize that those were the priorities, my life just kind of shifted." 
That shift can be heard on his new album available on April 30. All 11 tracks including the radio hit "What's Your Country Song" are co-written by Thomas Rhett and inspired by experiences in his life.
"To The Guys That Date My Girls" is a "letter of what I think I would say" to any potential suitors wanting to date his daughters, he explained. As for "Heaven," the track explores grief after Thomas Rhett lost a close friend nine years ago.
Watch:
Thomas Rhett's Kids in Tutus Starring in His Music Video
"I'm not sure that that song would have ever been written had I not had a chance to slow down and take inventory of the last eight or nine years of my life," Thomas Rhett admitted. "I think when you're kind of forced to be with yourself for a while, a lot of the things that maybe you didn't deal with kind of come up in conversation."
Thomas Rhett is the first to admit that he couldn't have done this project alone. Throughout the album, he collaborated with his father and fellow country music legend Rhett Akins.
To this day, the Grammy nominee can't believe he gets to write songs and work alongside his dad.
"I feel like you hear so many stories of fathers and sons working together and just butting heads—not to say that we don't, because we definitely have our moments where we're like, 'Hey, that's not a good line' or 'I don't think that's a good song title,'" Thomas Rhett shared. "But for the most part, my dad gets my brain and I get his brain and when we put our brains together, it's really, really cool to watch a song come to fruition and not just get recorded, but be on an album and it become a single. That's one of the coolest things in the world to get to work with your dad and do it successfully and do it from a very authentic place."
While dad's approval is important, Thomas Rhett also values his wife Lauren Akins' opinion as well as their three daughters including Willa Gray, 5, Ada James, 3, and 14-month-old Lennon Love. 
During quarantine, the proud dad would play new songs at home to see if the ladies in his life would dance or sing along. If they weren't impressed, he would be forced to reconsider.
"I think my wife, my kids and my immediate family are my greatest assets when it comes to picking songs," he explained. "Family is the one who is going to tell you if the song sucks or not. In a roundabout way, my family was the one who picked the majority of these songs on this record and whether they come over to the house to swim or we're going to the farm to hang out, my brothers-in-law were big about, 'Play me the new stuff. Keep playing these songs.'"
Thomas Rhett continued, "Even if my kids were like, 'Hey, I want to hear that song again,' that was always a great sign for me that I think other people would like that song as well. It was definitely a family affair."
Courtesy of The Valory Music Co.
When new music comes out, pop culture fans hope for a new tour. Fortunately, Thomas Rhett is ready to deliver. Earlier this month, he announced both new and rescheduled dates for The Center Point Road Tour.
With special guests including Cole Swindell and Gabby Barrett, Thomas Rhett is more excited than ever before to hit the road and treat his loyal fans to an unforgettable show. But after a special year with his family, the musician can't help but describe the situation as "bittersweet."
"If you were to have asked me this in the beginning of 2020, I would have been like 'Man, let's get back on the road. I'm ready to go.' That's all that I know for the last 10 years and when you get to experience a year like the one we just had—as devastating as it was—there's no way I would have gotten to see Lennon grow up," Thomas Rhett reflected. "I got to see the entire first year of her life and I got to bring them to school everyday, pick them up. I got to wake up with them and go to bed with them so when we do get back on the road, it's going to be different to go to sleep without my wife or without tucking my kids into bed."
But as you likely could have guessed, Thomas Rhett's family remain the true stars of the show. And although the last year brought along many challenges, the country singer can't help but express gratitude for the good that has come from the experience.  
"I'm really grateful for the person that came out of such a terrible year because I think it could have gone one of two ways," he explained. "I could have just been super bitter the whole year and really just been super mad about not being able to do the thing that I love, but I'm glad that I just embraced what life gave me and that was to really show me what my priorities were and it was really just my kids and my family. I just think the last year made me a better human being and a human being that I hope stays here for a very long time."