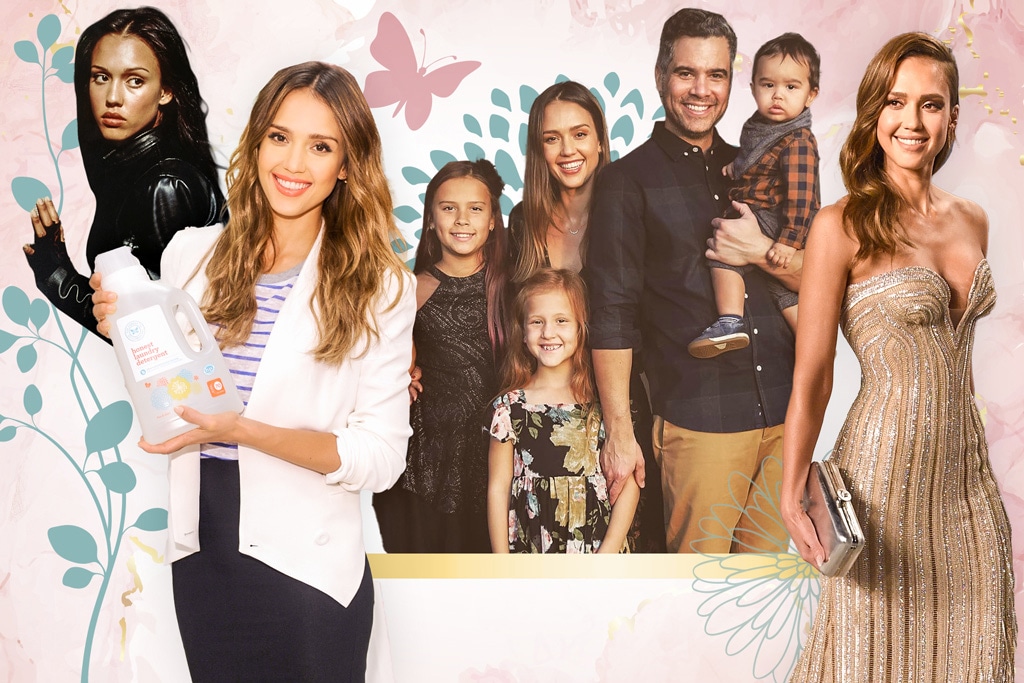 E! Illustration
For Jessica Alba, acting was a means to an end—but it also allowed her the freedom to explore an entirely new beginning.
"I think there's two types of people that want to be in Hollywood, especially in front of the camera," the star of Fantastic Four and Sin City said in early 2020 (pre-pandemic) on The Sakara Life podcast. "There are people who are like, 'Look at me, I'm fabulous and amazing!' And then there are the people who are like me, why I did it is I just wanted to be somebody else. And it was so liberating, actually, to have another name and to have a made-up back story and life that I got to create, and to step into someone else's shoes was where I felt the most free.
"So that's why I got into it. Just the straight-up financial independence side of it allowed me to not feel so beholden to my family's ideas around who I had to be and how I had to operate in the world."
Obviously it worked out rather well for the California native, who, feeling stifled by the lack of communication and strict religious piety on display at home that she never really bought into, started auditioning when she was 11 and made her movie debut at 13 in the 1994 comedy Camp Nowhere. 
It wasn't too long before she was everywhere, landing her own show, Dark Angel, when she was 19 and playing the game that she's able to appraise these days with the benefit of hindsight—and with the added advantage of knowing she doesn't ever have to act again if she doesn't want to.
"I felt like I couldn't breathe and having that financial independence allowed me then to start looking inside and working on myself," she explained to The Sakara Life's Danielle Dubois. "Without the independence, I didn't even have the space [to visualize bigger dreams]. So for me I had the goal, I got to achieve it, and that's where my inner work started."
But, putting some distance between herself and the hustle ultimately proved that she's still into it, and after taking on leading roles in the sequel Sin City: A Dame to Kill For and the sleeper hit Mechanic: Resurrection alongside Jason Statham, she also returned to TV co-starring with Gabrielle Union on the buddy-cop Bad Boys spin-off L.A.'s Finest, which ended last year.
"She had eight times what she had before," Sin City director Frank Miller told Maxim in 2014, the men's mag featuring Alba on its September cover 13 years after she came in at No. 1 on its infamous Hot 100 list. "I've rarely seen anything like that in terms of a transformation of talent. She's become a mother, so part of it is her natural organic maturation into an actor of greater power and greater range."
Watch:
Why Jessica Alba Goes to Therapy With Her Daughter Honor
And now, celebrating her 40th birthday April 28, she's ready for more, so long as it doesn't cut too much into time with her husband and three kids and her hands-on role as founder and chairperson of The Honest Company, the clean-product brand she launched eight years ago that reported $300 million in revenue in 2020, a year-on-year increase of 28 percent.
After devoting her life to her acting career since she was a kid, "she poured her heart and soul into Honest, and poured her love into Honest," Alba's husband of almost 13 years, Cash Warren, said on the April 20 episode of Rachel Zoe and Rodger Berman's new Works for Us podcast. "And that was giving her that love back and she was very much able to treat Hollywood like a transactional business… It's almost flipped now. While Honest still has her heart, it very much is a business. And now she's gone back to acting, she rediscovered that joy, and rediscovered that love for acting again."
Well, Warren would know, having had a front-row seat to Alba's journey from Maxim cover favorite and ass-kicking action hero to mom to increasingly frustrated actor to determined idea woman who didn't rest until her dream of a company that made products free of potentially harmful chemicals turned into a reality that just filed for an initial public offering of $100 million in shares two weeks ago. (Meaning, you too can invest in Honest via the Nasdaq.)
As Alba has said, becoming a mom herself was essential to her awakening as a businesswoman—though she wasn't exactly planning on becoming one at 27.
Relaying their meet-cute-and-kinda-gross to their longtime pals Zoe and Berman on the podcast, Alba and Warren shared that they first got together when she was shooting Fantastic Four in Vancouver and he was an assistant to the director, Tim Story. One of Warren's tasks was to take a bunch of photos of Alba trying on contact lenses that would give her Sue Storm's blue eyes—and he decided to just go for it.
"I went into her trailer and I was taking pictures and flirting with her and trying to strike up a conversation and trying to be friends with her," he admitted. For about a month, they'd go out regularly in a group with other people in the production (which, lest we forget, included Chris Evans playing her brother Johnny Storm, the Human Torch), until one night, Warren surprised her with dinner plans for two.
John Sciulli/WireImage.com
Or, as Alba recalled, "he tricked me into going on a date with him because I thought it was going to be, like, the group night again, and then it was just him. And I was like, 'Where's everybody else?' and he was like, 'Oh, it's just going to be us.'" And one of her first thoughts was, "I don't know, this is where it could get weird."
And it did get weird, but not in the way she worried it might.
Rather, they talked for more than three hours, Warren having arranged for a private room at Tojo's Restaurant, a high-end Japanese spot (which is still there), where they proceeded to eat nothing despite dish after dish coming out of the kitchen. "What happened was, is even though we had hung out and we were chill with each other, we both just started getting butterflies in our stomach and we couldn't eat!" Alba explained. So they just drank sake and afterward they took the hour-long walk back to her hotel.
And that, friends, is where Cash lost his cool.
"I'd never had allergies in my entire life," Warren recalled, "but for some reason, that night, we start hooking up and all of a sudden I get the craziest allergies...I'm like snotting..."
Alba interjected, "His eyes are tearing..." He continued, "You have no idea—and I sneezed in her mouth." (Alba confirmed as much.)
"I had to go to the bathroom," Warren remembered, "I had to talk to myself in the mirror, like, 'What the eff is wrong with you, like why are you doing this?! Like, get your s--t together!'"
Alba said, "The allergies lasted like a month...And we proceeded to still hang out and he would stay over. We never went all the way to home base. It stayed at like second base for a hot minute. And he ate my dog's breath mints."
Right, so Warren, waking up after spending the night for the first time and not having a toothbrush, spied what looked like breath mints in a foil package. He popped one into his mouth and "it tasted like vomit," he said. "...And I was like, 'I've got to go, I'll be back!' and I ran out of the room. It was nothing but embarrassing moments for like a month and a half."
Alba collected the evidence from friends and family, including Cash's dad, actor Michael Warren ("the smoothest person on the planet," she said), that her new boyfriend was actually in possession of a fair amount of swag and had been leading a pretty charmed life as far as his luck with the ladies was concerned.
"This guy had no swag," Alba recalled, "and I only knew no-swag Cash, and it was the first time he had no game, no swag. But what I liked, and for me it was the first time with any guy, 'cause I was very terrible with guys. I was not good with dating, I didn't know how to do it, all of it, I was just like weird, insecure. And so with Cash it was the first time I met someone and—I called my best friend the first day I met Cash, when he was taking the contact pictures, and I was like, 'It's so weird, I feel like I've met this guy before named Cash and I feel like I'm just going to know him for the rest of my life. It just feels comfortable. It feels like family.' I was like, 'Have you ever had that feeling?'"
They were together for four years before Alba broke up with him, Warren having turned into a jealous sort. That being said, during what proved an action-packed six weeks, he moved in with an NBA player in Malibu and "he hooked up with everything," Alba said, referring wryly to her ex getting lost in the "bone zone" during the time they were apart. "I was trying to trade while my stock was high," Warren quipped.
After a "soul-searching trip" with her mom, Cathy, the actress called Warren, told him she missed him, and they went to dinner. She had to leave right away for Toronto for work but, during a few days off, she told Warren she'd fly back to L.A. and see him. The only hitch: He was on a guys' trip to Las Vegas. Not what she wanted to hear, but Alba flew there instead—"and that's where Honor was conceived," Warren shared proudly.
Before welcoming their firstborn daughter, Honor Marie Warren, on June 7, 2008, they had a quickie May 19 wedding ceremony at the courthouse—mainly so she and her child would share a last name, Alba explained.
She initially planned for a grander celebration—or at least a ceremony with more guests than the security guard who waved the wand over them at the entrance and then served as a witness to their nuptials—at a later date. But then the years started to go by, daughter Haven Garner Warren was born Aug. 13, 2011, Alba launched her company...
"And now it's been so long, Cash is like, 'Why would we jinx what we have?'" Alba told Zoe and Berman. What they have also includes son Hayes Alba Warren, born Dec. 31, 2017—"a cherub," his mom gleefully described him, while also admitting that the little angel had probably deserved more than the one 10-minute timeout he'd received in his life up till then, but as the baby of the family "we all let him get away with everything."
Alba admitted that quarantine had at least allowed her the opportunity to be with her kids all the time, while she was pulled away more when Honor and Haven were Hayes' age. (However, she never thought twice about bringing her babies to work, and she takes pride in Honest Co's maternity and paternity leave policies and accommodations on site, such as a designated pumping area, for moms.)
"I struggle with it all the time and I would say that, during quarantine, I felt like with Hayes, this is the first baby where I don't feel like I missed that stage of their life," she said. She was always home at the end of the day for the girls, but "I definitely feel like I missed the small moments," and that was different from being there "with every meal, watching them grow, watching their vocabulary develop…all the good, the bad, the everything."
Meanwhile, "Cash is having a great time," Alba cracked of her husband's quarantine experience, which in addition to 24/7 at-home parenting apparently has also included working out a lot (acquiring his first-ever six-pack) and brushing up on his golf game. "Lots of self-care over here," Alba quipped.
Warren said, "I think one of the things that has allowed us to stay together so long is that we're not together all the time, and so we were able to have some distance. She travels a lot, I travel a lot, we're able to miss each other. Quarantine, we're on top of each other nonstop and so even every small thing that I do probably is amplified and annoys her even more now." 
Alba readily agreed, but when Warren observed, "There's not a lot of things that make you love me more during quarantine," she did make a sound of protest. (And they had a getaway date night planned for that evening, so all was perfectly well.)
Asked what made them work, Warren said, "I think our friendship, truthfully! It's so corny, but it's true. Just the friendship, we can talk about anything, we can sit down, we can make each other laugh, we can piss each other off—just that best friend friendship, that trust."
Alba added, "Yeah, like, ride or die. We're in it. We both committed to being in it. The second you can choose to be in it, is when you're like, 'Hmm, I don't know, I can probably choose to not do this anymore.' The second that happens, that's when it gets weird."
And, Warren noted, they were helping each other grow. Alba said, "The moment one becomes stagnant and the other one's really pushing for growth, it's challenging. Or if you're growing apart, it's really challenging and so, it's like finding a way to support each other on our own paths, in our own growth. Her helping me on my path, and it doesn't mean our paths have to converge and we have to be doing the exact same thing. It's just supporting each other in our own growth."
Alba was in the thick of her first go-round as one of Hollywood's hottest stars when she started dating Warren (hence the jealousy that, he admits, he didn't blame her for getting tired of) and leading up to having Honor—but she was growing increasingly disillusioned with the whole thing, from the constant focus on her looks (she worked out constantly and denied herself in the food department, figuring, as she said on The Sakara Life, "being physically miserable is part of the gig") to the fickleness to the utter ridiculousness when she was advised that she was probably finished at 27 after becoming a mom.
"You're constantly scrutinized, you're constantly told you're not enough…everything that you see me in, you don't realize the thousands of rejections," she told Zoe and Berman. "I was wildly insecure as an actress and I would say...it becomes so superficial, and like no matter how much you bring to the table, how professional you are—because it isn't about exotic locations at the end of the day. It's about being able to put in an 18-hour day and...knowing your lines and hitting that mark and being on [snaps her fingers] and being consistent, and never being tired—and always being able to turn it on, no matter what—and also being Gumby. At the end of the day...you've put your heart and soul into whatever you're doing, but at the end of the day they don't want it. They want to manipulate you into this idea of who they need you to be, so then your performance is completely thrown out because it's just about the editor and the producers and how they wanted to show it."
And that was Jessica Alba telling you how she really feels.
Larry Busacca/Getty Images
But as her frustration was mounting, it just so happened that she got pregnant. Alba, who as a child was hospitalized several times a year because her colds would inevitably turn into pneumonia, had an allergic reaction to a detergent and started researching what was in common baby products. And then her brother was expecting his second child, a daughter who they knew was going to have some health issues. And then she realized that while it was easy enough for her to shop above and beyond for clean goods, living that life shouldn't be so time-consuming or cost prohibitive...
"Sure, it was like, 'good luck with that one,'" she said, recalling her three-year struggle to get her idea off the ground, including finding the investors who would take a chance on a concept that may sound simple now but which was not at all obvious then.
"So I pitched this concept and it was just too big for a lot of people," Alba told Dubois on The Sakara Life. "Like, 'What? You want to create what?'"
And, Alba admitted, a lot of people initially took meetings with her "to take a selfie," but once she realized that the door was at least open to her, she joined forces with veterans of the branding space who would help prove in those face-to-faces that she meant business. "It just cut through a lot of the bulls--t and it allowed me to leapfrog, instead of getting into 'I'm a woman that's never done this before,' [but rather] 'the financial model is here, it's a great investment.'"
She was also heavily inspired by Warren, who had started and sold two companies by the time she was launching Honest, and he was also in the process of starting Pair of Thieves, a purveyor of men's underwear, socks and—coincidentally in time for the rise of stay-at-home chic—loungewear. ("We got lucky with the timing of the loungewear, and the underwear continues to do exceptionally well," he said on Rachael Ray this month.)
"He has such a fearlessness," Alba gushed to Zoe and Berman of her husband's business acumen. He also, unlike her when she was first starting out, "knew how to make something [that sounded] complicated [and] distill it to something very simple in order for people to want to get onboard with his ideas."
Moreover, "by then I was like, 'If this fool [can do it]..."
After several years of courting investors and forming manufacturing partnerships, The Honest Company launched in 2012 with 17 products, including household cleaners and the brand's now cult-favorite baby wipes, and has since expanded into the beauty arena—always a goal of Alba's, but due to the initial parameters of the contracts she couldn't do it right away. Plus, she wanted to start with a full-on lifestyle brand, determining that it would be harder to pivot and expand into the rest of people's homes if she started out in beauty.
There have been plenty of challenges, not least because she was an actress venturing into business—at a time when it was far less common—and missteps that normally are more associated with just company names ended up attached to Honest's famous founder as well. Over the years, several product recalls and lawsuits accusing Honest sunscreen of being ineffective ("baseless and without merit," the company said), questioning whether the baby formula was really organic (dismissed by a judge), and accusing the brand of misleading consumers about the ingredients in the detergent and dish soap (quickly settled) prevented the former unicorn startup from achieving full-on world domination after once being valued at $1.7 billion back in 2015.
But, after shuffling the leadership and bringing on former Burt's Bees and Clorox executive Nick Vlahos as CEO in March 2017, the rapidly expanding company scaled back, refined its objectives and refocused on quality control, also bringing research and development in-house for the first time.
Stefanie Keenan/WireImage
"We have to drive good growth on a consistent basis, which means getting out of businesses we can't win in," Vlahos told the Wall Street Journal.
"We do our own formulas in-house, and then we work with manufacturing partners to make it at scale," Alba said, expounding on some the changes at the company at the WSJ's Future of Everything Festival in 2018. "That's very differentiating compared to others in the marketplace, where they normally [rely] on a third-party manufacturer to help create the formulas."
So Alba, always hands-on, has been more involved with the making of Honest products than ever before over the past few years—becoming not just the poster woman for the most successful celebrity-founded lifestyle brands, but also for what it takes to guide a company over the inevitable bumps in the road after managing to start one in the first place.
"I can't even tell you how many people have worked at Honest and tried to go start their own company and thought it was going to be so easy," she said on The Sakara Life last year. "They don't really understand the grit and the no—like literally there is [no break], you're never not working. It's so time consuming, what goes into it, and is the outcome really worth it?...I think you shouldn't start a company because you want to be on a pedestal. I think if you have to start a company because you literally can't live another day without this thing existing, then that's a different situation."
And that was undoubtedly her situation, once she became a mom and realized she wanted more than anything to create better options for families everywhere.
"Yeah, I was definitely told that I was done at 27 and I was like, 'Whatever,'" Alba recalled. "I created a company and was like, 'I'm busy anyway, guys.'"