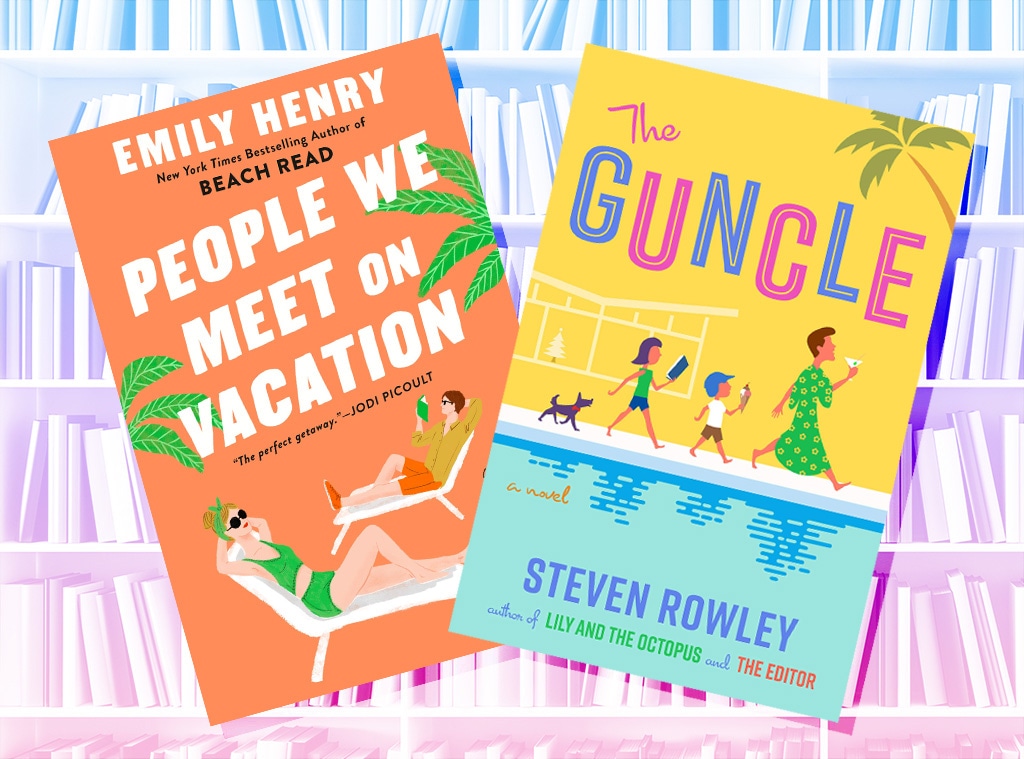 We love these products, and we hope you do too. E! has affiliate relationships, so we may get a small share of the revenue from your purchases. Items are sold by the retailer, not E!
Gird your loins, beach-read season is finally upon us.
May is here and she brought along some irresistible new book releases. From a dishy celebrity memoir to a twist-filled thriller (or two, because, really, is one ever enough?) to a summer read filled with back-and-forth banter, there's something for everyone on our reading list this month.
So go on, slather on the sunscreen and spend some time outdoors getting lost in the pages of your next read after shopping physical copies of our picks or—because technology—pulling them up on Kindle Unlimited or through a free trial of Audible.
Here are 18 books to check out this May...
The Last Thing He Told Me by Laura Dave
Just how anticipated is the Eight Hundred Grapes and Hello, Sunshine scribe's latest release? Well, it's already being adapted into an Apple TV+ starring Julia Roberts. NBD! The gripping novel follows Hannah Hall as she deals with the the disappearance of her new husband on the same day that the FBI raids his software startup on suspicion of fraud. The only breadcrumb she has to follow is a note from her M.I.A. man, asking her to protect her teenage stepdaughter. (May 4)
The Wreckage of My Presence by Casey Wilson
Ready for the juiciest boots on the ground you'll hear this month? Wilson, beloved for her turn as Penny on Happy Endings and her Real Housewives podcast Bitch Sesh, has delivered her first book, a hilarious and hearfelt collection of essays, candidly tackling topics such as motherhood, mourning, female friendship and so much more. Hey, one woman's wreckage is another person's treasure. (May 4)
The Girl With Stars in Her Eyes by Xio Axelrod
Prepare to have your heartstrings plucked by this novel filled with romance and rock music. Aspiring musician Toni is making a name for herself in Philadelphia's indie scene, but when she goes to audition for a new band, she runs into Seb, the guy that broke her heart when they were teenagers. Did we mention he's the group's manager? (May 4)
The Newcomer by Mary Kay Andrews
One of the reigning queens of the beach reads delivers yet another summer stunner. The Newcomer centers on a woman who goes on the run after her sister is killed and all signs point to her brother-in-law being the murderer. She, along with her 4-year-old niece, find refuge at The Surf, a motel in the Florida beach town of Treasure Island. A tight-knit community and romance soon blossom, but will she be able to outrun her sister's husband...or her own past? (May 4)
Sunshine Girl by Julianna Margulies
The star of The Good Wife and ER chronicles her life and career in this moving autobiography. From her childhood spent living in Paris, England, New York, and New Hampshire to her 10-year relationship with an unnamed toxic man to juggling motherhood with her Emmy-winning roles, Sunshine Girl is the latest must-read celeb memoir. (May 4)
People We Meet on Vacation by Emily Henry
After gifting us with our favorite com-com in 2020 with Beach Read, Henry is delivering what will probably end up being our favorite love story of 2021. Best friends Alex and Poppy have always gone on summer vacations together, but their annual trips abruptly stopped two years ago when they ruined everything. Now, Poppy is desperate to fix it all, and, having convinced Alex to go on one final vacay together, they're both packing some serious emotional baggage. (May 11)
A Special Place for Women by Laura Hankin
A dash of Andrea Bartz's The Herd, a pinch of possible witchcraft and a sprig each of feminism and politics blend together to make the perfect potion for a juicy read. After years of rumors about an all-powerful female-run secret society calling the shots in New York City, ambitious journalist Jillian Beckley is determined to join the club to expose all of their misdeeds. (May 11)
That Summer by Jennifer Weiner
Settle in for yet another sensational tale of friendship in the bestselling author's latest novel. An unexpected bond forms when one woman keeps receiving emails meant for another woman with a very similar email address. They decide to meet up for drinks IRL and hit it off, despite living two very different lives. But a painful secret may prove the mix-up was no accident. (May 11)
The Soulmate Equation by Christina Lauren
What happens when a single mother signs up for a buzzy new DNA-based matchmaking company, only to find herself 98 percent compatible with its founder? Too bad she already knows him and can't stand him. But when the service offers to pay her to go out with him, fate and science may have other plans in store. (May 18)
Don't Breathe a Word by Jordyn Taylor
Set at a fancy boarding school in two separate timeframes, outsider Eva is surprised when she's invited to join the Fives, an elite secret society. But she may get more than she bargained for when she discovers the group is responsible for keeping—and causing—some of their academy's darkest secrets. Concurrently, Connie is attending the school in 1962 and signs up to be one of the six students to test a nuclear fallout shelter. Only five make it out alive and the mystery of what happened to the sixth classmate ties the two plots together. (May 18)
The Breakup Book Club by Wendy Wax
Some people turn to ice cream after their relationship ends. Other listen to sad songs. For Jazmine, Judith, Erin and Sara—four different women with very different lives—they unexpectedly find comfort at their book club meetings in an historic carriage house turned bookstore. We want to go to there. (May 18)
Last Chance Books by Kelsey Rodkey
If You've Got Mail is one of your favorite movies, then this charming YA story is definitely for you. Banter, books and big business are all essential aspects of Rodkey's book, which centers on Madeline Moore trying to keep her fam's independent book store alive after Prologue, a popular chain, opens across the street. And it also had the audacity to have a cute guy, Jasper, working there. (May 18)
The Ivies by Alexa Donne
Who among us can really resist a thriller set at an elite boarding school? Donne's take on the beloved trope centers on five girls at Claflin Academy who have the same goal: to get into the Ivy League by any means necessary. The competition is fierce and sometimes it can turn deadly, something college admissions generally frowns upon. (May 25)
Pumpkin by Julie Murphy
After her first novel was turned into a Netflix film starring Jennifer Aniston, Murphy returns to the world of Dumplin'. The sequel centers on Waylon Russell Brewer, a fat, openly gay boy stuck in the small West Texas town of Clover City who, on a whim, creates an audition tape for his favorite TV drag show, Fiercest of Them All. (May 25)
Sixteen Scandals by Sophie Jordan
Prepare for Bridgerton and Jane Austen vibes in this delicious romp featuring Primrose Ainsworth, who decides to escape English society on the night of her 16th birthday. Prim finds an unexpected partner in mischief and romance when her cover is nearly blown during her wayward adventure in London. What would Lady Whistledown say? (May 25)