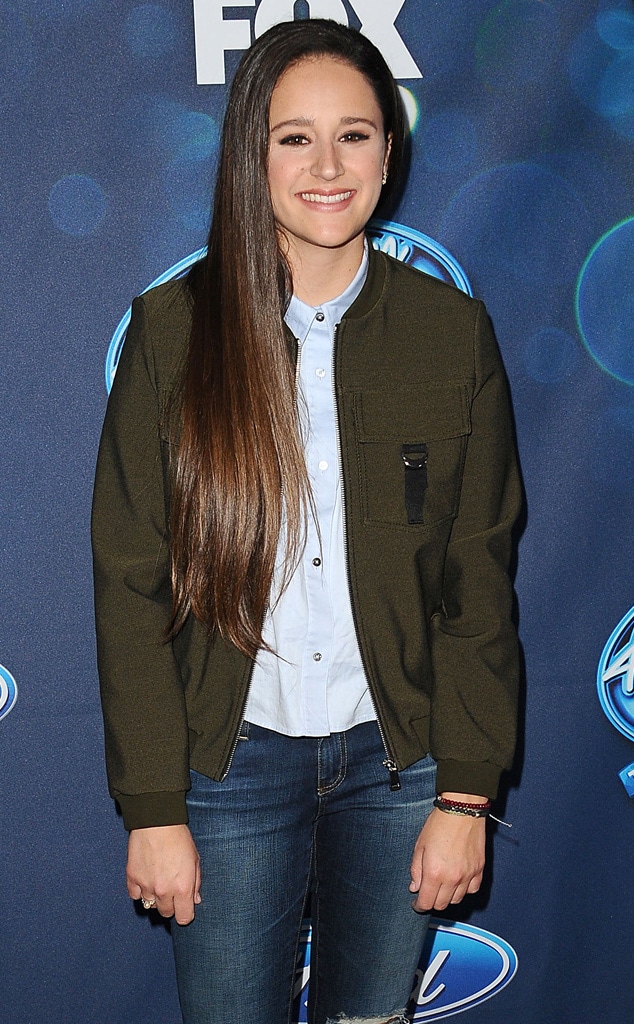 Jason LaVeris/FilmMagic
UPDATE: Avalon Young has undergone her second surgery amid her brain cancer battle.
On the day before the May 27 procedure, the American Idol alum took to Twitter to share the news and thank her fans for their support. "24 hours from now I'll be back in surgery for my goofy ass bald headed brain," Young wrote. "Thank u to everyone who's been really there for me through all this, I love u." 
And she continued to stay positive. "We're gonna get thru this s--t because there's an album dropping on the other side!!!" the season 15 contestant added, referencing the upcoming release of Lush. "See u soon."
After she started experiencing seizures last November, Young consulted a number of doctors and underwent a series of tests. As she explained in a February Instagram post, "there was no sign of any problem" with her brain. But when she went in for an MRI, a mass legion tumor that was "as big as a peach" was found on her left frontal lobe, resulting in her having a 16-hour surgery to remove the tumor. 
In April, Young announced she'd been diagnosed with brain cancer and that a second surgery would be needed to remove the remaining tumor. And according to a GoFundMe page set up to help with medical expenses, a third procedure may be required, as well.
"I take everything day by day," Young told People. "I mean, I could freak out if I wanted to and I've freaked myself out a few times. But I know that I have the best team of surgeons who have already taken really good care of me. I trust them to go in again and do this. We're just going to get this cancer done and then we're going to do radiation and we're going to do chemo. And then after that, I'm just going to live the best version of my life every day until I die. As this whole experience has taught me, you don't know what's going to happen to you tomorrow."
Watch:
"American Idol" Contestant's Emotional Journey
---
American Idol alum Avalon Young is making a desperate plea: help save her life.
Two months after undergoing a 16-hour surgery to remove a tumor the size of a peach from her left lobe in February, Young was diagnosed with brain cancer. Now, as she faces a second surgery this May, her family and friends are hoping to raise awareness—and funds for her medical expenses.
Her doctor has recommended "Laser Surgery to remove more of the remaining tumor, located in two different sections of her brain," reads an April 21st update on a GoFundMe page, which aims to raise $100,000. "Radiation and Chemo Therapy will follow. We are confident our Medical Team will continue to perform miracles and Avalon will recovery [sic] quickly."
Back in November, Young—who competed on season 15 of American Idol back in 2016—started having seizures, but doctors believed it was anxiety and prescribed her with medication, she explained in February.
"Homeopathic doctors told me I had an issue with serotonin and gave me pounds of vitamins," she continued. "I had bloodwork done, a QEEG, and an EEG and there was no sign of any problem with my brain." 
So when Young went in for an MRI, she said she was positive nothing would come up. But about a week later, her doctor informed her that a mass legion tumor had been found on her left frontal lobe.
"I've got cancer in my brain and I gotta boss up and take care of it," she wrote to her fans on Instagram earlier this month. "A second surgery, and then chemotherapy and radiation. I felt like it was only fair to let you guys know because you've supported me up until this point."
As she continued, "Unreal to receive this news at the age of 26. Everything is gonna be okay, the journey is gonna be wild, but I'm ready for it. Love you guys a ton. F*ck cancer."
This story was originally published April 27, 2021 at 10:47 a.m. EST.