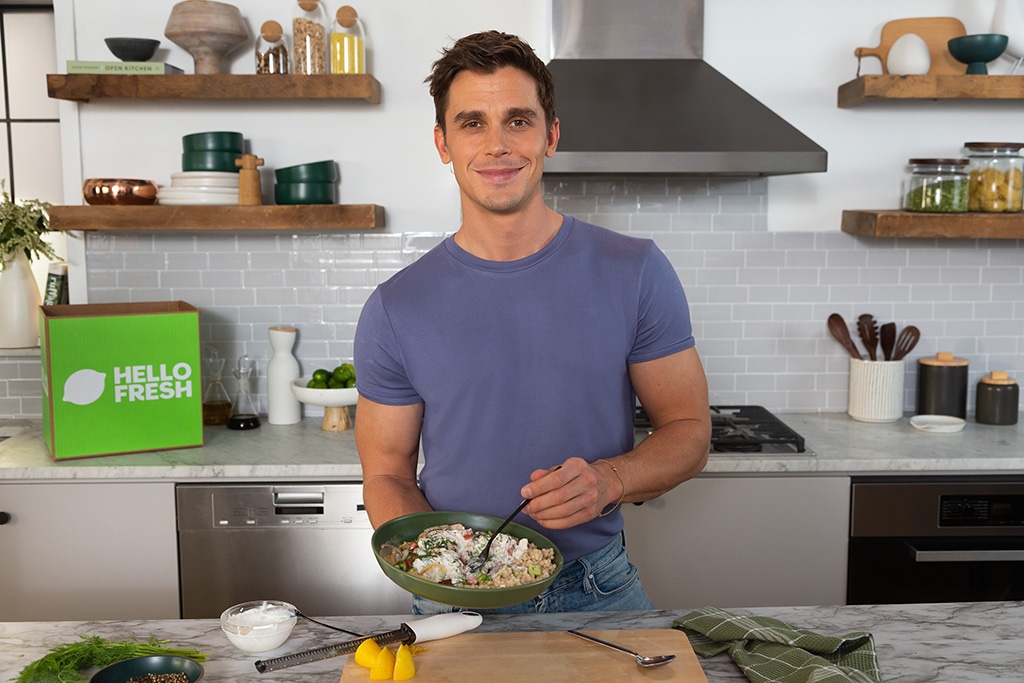 HelloFresh
We interviewed this celebrity because we think you'll like their picks. E! has affiliate relationships, so we may get a commission if you purchase something through our links. Items are sold by the retailer, not E!.
If you watch Queer Eye wishing that the Fab Five come to could come to your home and teach you everything they know, Antoni Porowski has a solution to make that happen, sort of. He has partnered with the meal kit delivery service HelloFresh, which gives you pre-portioned ingredients and instructions to make delicious food in your own kitchen. Antoni loves the "shortcuts" that HelloFresh allows people to take while they cook. Additionally, he's all about trying to "empower people in the kitchen" and take the intimidation out of cooking.
Antoni appreciates that the HelloFresh meals have exactly what you need for each recipe, explaining that it "removes that level of anxiety" of wasting leftover food. It really doesn't get any more user-friendly than HelloFresh, but there's much more to the delivery service than people may realize. It's actually a great way to learn general cooking skills. Antoni remarked, "What I love is that people can actually apply that to their own lives when they're making other recipes and experimenting."
These days when Antoni is cooking, his foster dog Neon is by his side. Neon even appeared in the HelloFresh photoshoot with Antoni. He remarked, "And now she has her first campaign with HelloFresh, which she's an integral part of, and I couldn't have done it without her." At this point, Antoni doesn't "even have the option" to cook without Neon, which proves two things: even dogs love HelloFresh and HelloFresh is so easy to follow that you can cook an amazing meal even when you're distracted by an adorable dog.
Obviously, HelloFresh is one of Antoni's kitchen essentials, but check out his other must-have items below.
Mixed Flat & Terry Kitchen Towels- Set of 6
Antoni believes that it's essential to have "lots of kitchen towels on rotation" whenever he's cooking.
John Boos Block Chop-N-Slice Maple Wood Edge Grain Reversible Cutting Board
This John Booos cutting board is made from sustainably sourced Northern Hard Rock Maple. You can use either side of it. Just flip it over for a fresh cutting board. You can even use it to serve appetizers when guests come over. 1,800+ Amazon customers gave it a perfect, 5-star review. 
Vitamix E310 Explorian Blender
Yes, the Vitamix is an investment, but you can do so much with it. It has ten variable speeds to cater to all of your blending needs. It's even self-cleaning. Just put in a drop of dish soap with warm water and turn the machine on for 30 to 60 seconds.
Byredo Suede Hand Wash
Clean hands are always important, especially in the kitchen. This nourishing hand wash has an aromatic scent with notes of pear, bergamot and fresh aldehydes.
If you love to know what culinary experts keep in their kitchen, check out John Kanell's must-haves.
—Reporting by Beth Sobol