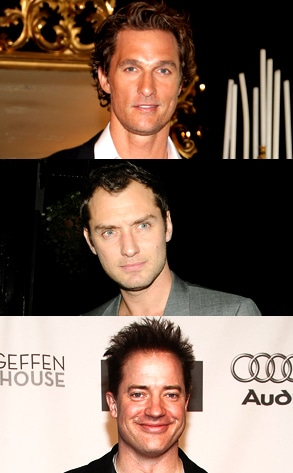 Venturelli/ Getty Images, Martin Fraser/Getty Images, Alberto E. Rodriguez/Getty Images
Brendan Fraser recently underwent what turned out to be very public hair transplants. Do a lot of balding men in Hollywood do this on the down-low?
—Diane, via Facebook
First off all, let's pull the steam brakes on this libel lawsuit engine before it explodes: Yes, a few years ago, paps took photos of Fraser looking so bald his head fell somewhere between hard-boiled egg and Don Rickles. Fact.
Couple years ago, Fraser came back on the scene sporting a very pleasant head of hair. Fact.
Exactly how that hair got there—surgery, hair system, wig, mind control—is not fact.
Now, something has touched the golden heads of male stars like Fraser, Matthew McConaughey, Jude Law and the Pivenator. Doctors tell me that it's most likely surgery. But you may be shocked at exactly who's doing it—and who pays for it...
Hair replacement surgeon Dr. Craig Ziering, who has plenty of star clientele, says celebrities contact his office on a weekly basis. So. Yes. You could say lot of balding Hollywood men do this on the down-low.
Let's put it this way. Law, the Piv, Fraser—those are obvious cases. Someone did something to their hair to enable such a hirsute comeback. But starting right now, and on into the future, don't count on stars making it that obvious. They're starting young. Way young.
"Suppose you have a young star who's just starting to show some hair loss," Ziering explains. "The hair and makeup artist is covering it up on the set, the star is covering it up whenever he goes out in public, and before anyone can notice anything drastic, he's coming in for a consultation."
That's right. Stealth hair. Stars are now visiting docs like Ziering as early as their late 20s, instead of waiting for disaster in their 40s. Bye-bye before-and-after pap shots.
As for who pays for it, well, of course, celebrities often don't. They don't pay for anything. Agencies and managers send their clients into surgeons' offices on their own dime; that's established dirt. But get this: So do producers. Who are working with the star on just a single, one-shot project.
That's right. One gig. Up to $20,000 worth of hair replacement surgery. Not that rare.
"After all," says Dr. Richard Fleming of the Beverly Hills Institute of Aesthetic & Reconstructive Surgery, who also has quite the famous clientele, "they will get their money back tenfold."