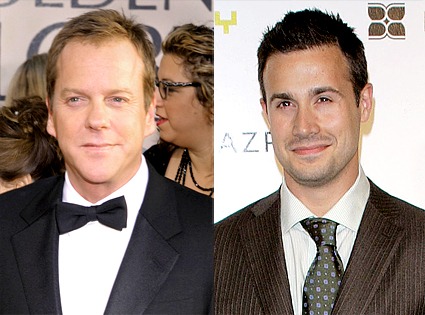 David Wakeling/ZUMAPress.com; Jim Spellman/Getty Images
We've seen him dance, make girls swoon and even be a crime-chasing goofball (remember Scooby-Doo?). But can Freddie Prinze Jr. play a hard-core badass à la Kiefer Sutherland's Jack Bauer?
We'll just have to wait and see when season eight of 24 debuts on Jan. 17, 2010. Freddie is joining the CTU gang, Fox confirms to E! He'll be coming to the cast as Davis Cole, a former Marine who runs CTU field operations and wants to follow in Jack Bauer's footsteps. Though he's not the only new face...
As you may have heard, also joining 24, which began production this week, are Slumdog Millionaire star Anil Kapoor as Arman Hashemi, a Middle East leader, John Boyd as a CTU systems analyst and Chris Diamantopoulos as the president's chief of staff. New recurring actors include Jennifer Westfeldt as a journalist and Nazneen Contractor as Anil's daughter, according to Fox.
Returning to the show, along with Kiefer, are Cherry Jones, Mary Lynn Rajskub and Annie Wersching.
Think Freddie can be the next Jack Bauer?