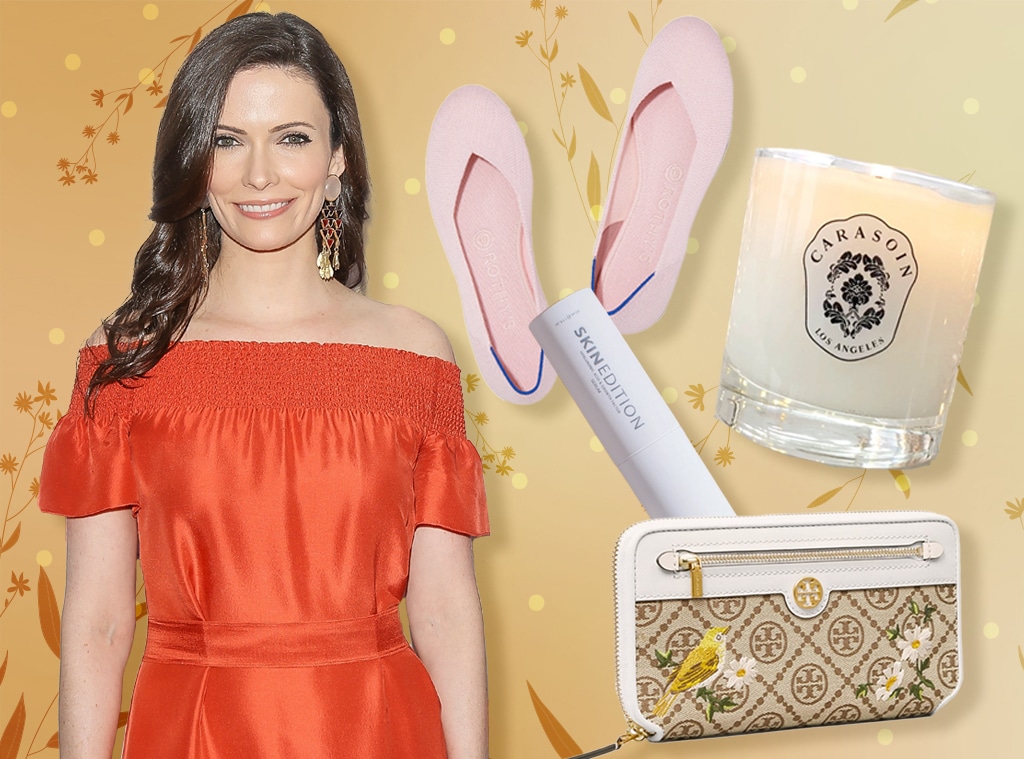 Michael Tran/FilmMagic; E! Illustration
We interviewed this celebrity because we think you'll like their picks. E! has affiliate relationships, so we may get a commission if you purchase something through our links. Items are sold by the retailer, not E!.
Let's face it, moms are superheroes! They give us attention, love, advice and will do anything to make us happy. So, what do you get the woman in your life who has otherworldly powers? If you're unsure, Bitsie Tulloch has a few ideas! In addition to having a child of her own, Bitsie plays a mom on The CW's Superman & Lois, which means she knows exactly what kind of gifts your mom would love to receive on Mother's Day!
"My favorite part of Mother's Day is not just the acknowledgment of how much time and effort goes into being a Mom, but the shared collective experience," Bitsie told E!. "Motherhood takes many shapes. I always reach out to my mom friends to wish them a happy Mother's Day - whether they are adoptive moms, foster moms, surrogate moms, pregnant future moms, or even fur-moms - and to thank them for providing an example of patience and strength to guide me on my own journey."
If you're looking for a gift that won't cost you but will mean the world to mom, Bitsie has an idea!
"Literally the gift of time," the actress suggested. "Give the mamas in your life a morning, afternoon, evening or even the whole day off. I love it when everyone is out of the house and it's suddenly quiet and peaceful. If you can't swing a whole day, at least let us sleep in. We are so tired. We need sleep!"
For the rest of Bitsie's Mother's Day gift ideas, scroll below!
Handmade Anything
"My trailer on the set of my new TV show Superman and Lois is COVERED in my 2-year old daughter's artwork from her toddler art class. Because of Covid safety protocols, she can't visit me at work, and sometimes I don't see her all day long, so I love stepping into my trailer and being reminded of her. A handmade note card, or drawing, or painting etc - is something any mom would cherish!"
Skincare: Skin Edition Hyaluronic Acid Serum
"I am obsessed with skincare. I love researching and testing out new products. If you're not using a product with hyaluronic acid in it, you're missing out. But most of the high-end products I've used that contain it are super sticky so I can't wear them under anything. SG Skin Edition Hyaluronic Acid Serum is an affordable option that was developed by celebrity facialist Lisa Marie and is the perfect consistency to wear under sunscreen, makeup, or moisturizer. I use it every morning,- it keeps my skin plumped up during long camera days. It's really improved the texture and hydration of my skin, and makes me look more well-rested than I actually am, which is why I think it's perfect for Moms!"
Easy Footwear: Rothys
"There's so many reasons why I love this brand: they're machine-washable, they're sustainably made out of recycled materials like plastic water bottles, and most of the styles are slip-on. I can't tell you how many times I'm getting dressed and looking at all my shoe options but I grab my Rothys because sometimes I literally don't have time to even tie shoelaces before I race out the door. So that ease factor makes them an especially great brand for busy Moms. Plus, they recently branched out and are doing handbags and a kid's line!"
Post-partum Body Firming and Pain Relief: Dr. Dennis Gross Skincare DRx SpectraLite™ BodyWare Pro
"For the busy mom who deserves a spa day everyday - I'd recommend the DRx SpectraLite BodyWare Pro by Dr. Dennis Gross. It combines both red and blue LED lights to treat fine lines, wrinkles, body acne, AND is FDA approved to provide pain management relief. The treatments are also short - 3 minutes on the anti-aging setting, 14 minutes for pain relief. I had a baby over two years ago and am constantly looking for products to improve the skin laxity from the pregnancy weight gain and then loss. The BodyWare Pro, in conjunction with their Alpha Beta Exfoliating Body Treatment Peel - has made a huge difference in the skin on my stomach and chest - the laxity has improved, as has the uneven skin tone. And I use it on my hip for pain relief - I tore my hip labrum doing stunts years ago and it really helps with the post-surgical stiffness and aching."
Cozy Loungewear: Lou & Grey
"I absolutely love this cozy Loft line - everything is so cute and colorful and I love the prints. Like many people, during the course of the pandemic and various lockdowns I wasn't leaving my house very often, so I was living in pajamas and loungewear. Now it's pretty much all I wear to work every day. I absolutely adore this line and everything is soooo soft. Your partners and kids will love hugging you! "
Candle: Carasoin
"I love getting into a bath and lighting some candles at night after I put our daughter to bed. That's usually when I work on my script and learn lines for my scenes for the next day. My personal favorite candle scent (and pretty much anyone who walks into our house) is Carasoin's Alpine Forest. My husband David doesn't love candle scents- he thinks they're overpowering, but he loves this one, too. It has notes of pine and evergreen and is both sweet and musky - an absolute crowd-pleaser of a scent!"
Donation
"This year has been so unbearably tough for so many reasons, so I think a lovely way to honor a Mom is to make a donation to a cause close to her heart. Two of my favorite charities are Meals on Wheels, a program that delivers meals to primarily elderly individuals at home who are unable to purchase or prepare their own meals, and the National Alliance on Mental Illness (NAMI), the nation's largest grassroots mental health organization dedicated to building better lives for the millions of Americans affected by mental illness."
Jewelry: Necklace by Zofia Day
"I have several pieces from this line including this one and I love them all. The designer Lisette also makes custom letter necklaces - David gave me an "H" last Mother's Day because we had lost our dog Henry a few months prior. I chose this link necklace as a great gift for Mother's Day because the Mother-child bond is such an incredibly deep connection, represented by the link. This necklace is a perfect symbol of that bond."
Fits-All Wallet: Tory Burch
"For the mom who needs a fresh update on a functional staple - I love this Tory Burch logo wallet with embroidered daisies and goldfinches, perfect for heading into summer (or sunnier days ahead). The pattern is inspired by traditional Pennsylvania quilting. I personally love bigger wallets that fit more - this one is so versatile and has multiple pockets, card slots, and a coin pouch."