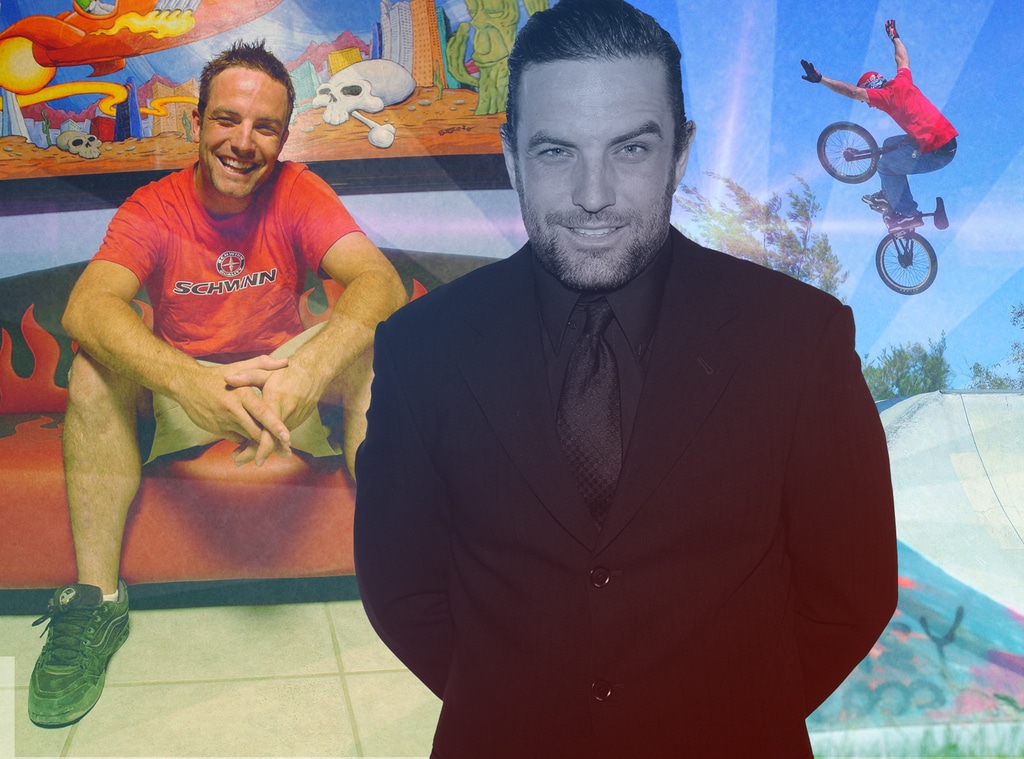 E! Illustration
"Don't take care. Hope to see you never."
With those eight words, said in The Challenge's 28th season, T.J. Lavin cemented his status as a reality TV icon, arguably one of the most underrated hosts in the genre, the calming center at the eye of MTV reality series' chaotic storm. And the guy not afraid to tell it like it is when faced with his least favorite type of competitor: A quitter. 
The Challenge first premiered in 1998, with Lavin replacing his friend and fellow professional BMXer Dave Mirra as the host in 2005. And thanks to his laidback personality, casual delivery and tendency to laugh at the contestants' fears and failures, the unassuming Lavin quickly became an essential part of the franchise—something he never anticipated when he first took the gig. 
"When I first got the show I thought I would do it for one or two seasons," Lavin, 44, admitted in a recent phone interview with E! News.
 You see, he called his friend to make sure it was cool that he took the job—"I'm not that guy," he said of not wanting to step on toes—Mirra told told Lavin that he'd "probably be over it" after a couple of seasons. 
Fast-forward 25 seasons, and wrapping Double Agents, hosting The Challenge has become his longest-running job. 
"I was thinking that because I was still riding bikes and stuff for a living, I didn't think that I would be doing this," he explained. "And now, this year, I'm going to be doing it longer than I was a pro bike rider, which is really crazy because I was a pro bike rider for 15 years. This one shows no signs of slowing down and I'm over 15 years into it now."
Watch:
Why MTV's "The Challenge" Stars Keep Coming Back
There was actually a time Lavin left the franchise, after season 30, to pursue a career as a firefighter. But, like a Challenger when faced with a trivia question, things didn't exactly go as planned.
"I went into the fire academy and stuff and they didn't really love with me," Lavin admitted. "I don't know what it was. They just didn't really like my laidback attitude, I guess? I didn't know that it was so military. I got fired from that in a month."
So, Lavin went back to MTV and was surprised to hear they were more than OK with having him resume his role.
"I didn't know that they really liked me," he reasoned. "I just thought it was, like, whatever, that I was along for the ride. I was stoked. And then they were like, 'No, we're really happy and we want you now and forever.' So then they just signed me to a bunch of deals. I felt so honored. I was like, now this is my show. I am never leaving again. I was just very humbled by it. I really had no idea, I did not have a clue that anybody really even gave a care."
More than that, they wanted Lavin to put his own stamp on the show. The grueling last challenge is now referred to as "T.J.'s final" and competitors speak of the host as if he were a gamemaker in The Hunger Games, just one who happens to sport a flat-brimmed hat.
But that ownership didn't come naturally for the soft-spoken Lavin. 
"I think that they made it more my show than anybody," he said. "[Executive producer] Justin Booth was the first person to make me say that. I felt so uncomfortable. I was like, 'Really?' And he was like, 'Yeah, this is your final. You're saying that. This is your final, this is your show.' So I just said it and I had no idea how it would play it and it played out 100 percent like he wanted it to, like he planned it."
While Lavin said he does have "a little bit of input," he's often kept in the dark about the show's twists and turns, and isn't privy to information about what's going down—hook ups, blow-ups and the like—in the house unless it directly impacts the game.
"I barely see that footage unless something significant happens and then I see the raw footage to help make the call if we're keeping somebody on or off or whatever," he explained. "I don't make the call, but I give my two cents, whatever that may be."
And, despite fans reading into the various sendoffs Lavin delivers to the eliminated contestant—ranging from "I'm sure we'll see you again" to "take care of yourself"—as an indication of whether or not they will be back in a future season, Lavin's signature laugh came out when he learned informed people put stock into what he says in those moments.
"It's off-the-cuff 100 percent," he confirmed, once the laughter subsided, stressing that his farewell holds "zero significance in whether or not someone will be back."
But producers have been banking on Lavin's spontaneous and off-hand remarks since his iconic send-off in 2008's Rivals III. After Brandon Tindel quit because he missed his girlfriend, a disgusted Lavin told him the aforementioned, "Don't take care. Hope to see you never." (And he hasn't, as the Are You the One? alum has never been asked to return.)
Of the infamous moment, Lavin admitted, "I didn't even know we were filming at that time. I just say those things straight off the top, for real."
The showrunner at the time had given Lavin the go-ahead to let Brandon have it and he did...and he's continued to do so when subsequent Challengers have decided to leave the competition.
So, in case you didn't know by now, rule number one of The Challenge is that Lavin does not like quitters. Like, really does not like them, and it's for two very specific reasons. 
"One: We have a million people who would die to be on this show, so you're taking the place of somebody that really wants it. That's not fair and that's not cool, so I don't like that already," he explained. "Two: I'm hating on you right now because you are going to regret this decision you are making right now. This is the biggest mistake that you've ever made. All you're doing is you are quitting something that you have tried so hard to get on and get into for a ridiculous reason. Something like you are going to miss your girlfriend, which is not going to last anyway, so like, what are you doing, dude?"
And when Lavin really goes in on a defector, it's because the production team has been impacted. 
"If they're upset, it makes me even more upset because the crew's out there and their jobs are very, very hard and you have a person out there that's not even trying and they just quit?" It's disgusting to me," he said. "You can't even give them a show? You came all this way, they spent all this money, everybody's trying so hard to put this thing together. And that goes for the challenge guys too. People who are building challenges, it is so hard. They are put there testing them, building them, making them, it's just ridiculous that you would even consider quitting."
Lavin got to recycle his classic line in the April 22 episode of The Challenge: All Stars when The Real World: Las Vegas star Arissa Hill decided to quit rather than go into an elimination. 
But that disappointment was a rare low-point in the filming process for Lavin, who "really enjoyed" filming the spinoff series. 
While he's normally told to "be serious, be tough" during production on the main series, with All Stars his directive was to "have fun. It was more of a laid-back situation than the regular Challenge. It was cool."
Laid-back and cool, two things Lavin definitely knows how to be. 
The Challenge: All Stars drops a new episode every Thursday on Paramount+. 
For everything you should be watching right now, don't miss BingE! Club hosted by Erin Lim on Snapchat!