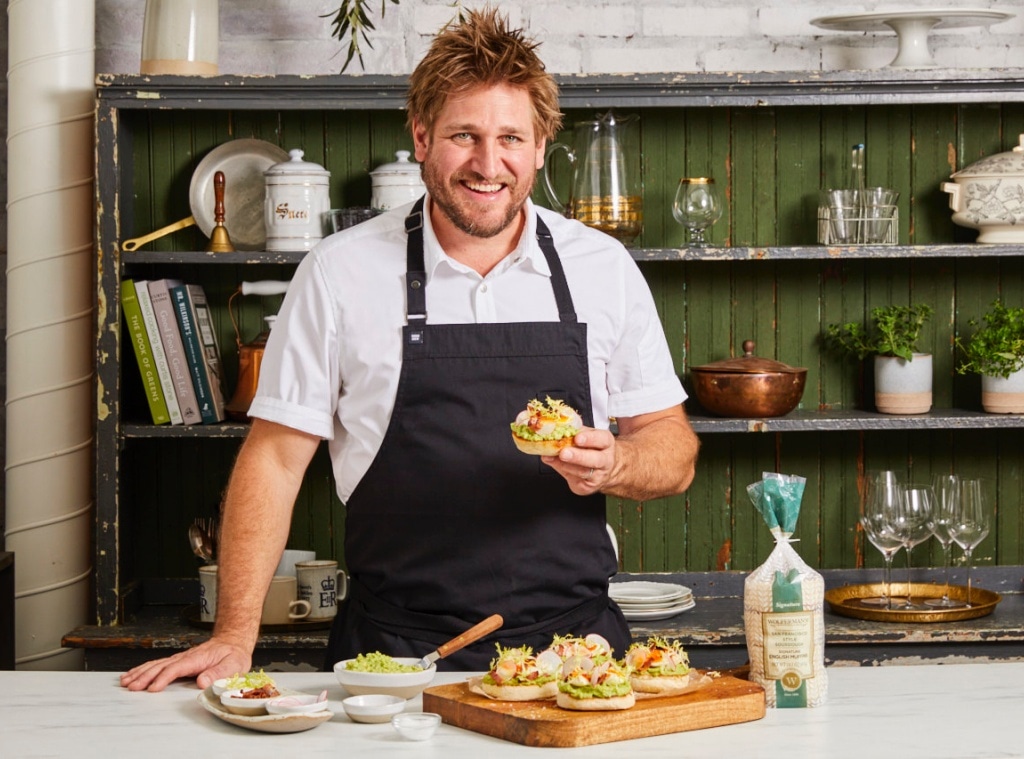 Wolferman's Bakery and Curtis Stone; Andrea D'Agosto Photography
We interviewed this celebrity because we think you'll like their picks. Some of the products shown are from the celebrity's own product line or a brand they are paid to endorse. E! has affiliate relationships, so we may get a commission if you purchase something through our links. Items are sold by the retailer, not E!.
What do you and award-winning chef and restaurateur Curtis Stone have in common? You both love brunch!
"It's a meal where you can accommodate those who veer toward both the sweet and the savory," he told E! News. We'll raise our mimosa to that.
The chef, who recently partnered with Wolferman's Bakery, went on to 'dish' out his tips for making brunch special. As he explained, "We keep a small garden at home and it's fun to send the boys out with a bowl to collect fresh berries to serve with our favorite breakfast dishes." He also recommends fresh juice and upgrading aesthetics by using linen napkins and nice cutlery. After all, it's the most important meal of the day.
Whether you're craving Smashed Avocado Toast or Mini-Citrus Bostock Bites, we spoke to Curtis in honor of National English Muffin Day to get his tips on how to elevate your brunch from blah to boujee. Keep scrolling for his tasty picks! 
Wolferman's Bakery Mix & Match Super-Thick English Muffins Gift Box
Up your breakfast sandwich game with these bad boys. "The English muffins from Wolferman's Bakery are not your average English Muffins," Curtis told E! News. "They will impress anyone with their thickness and texture." 
Wolferman's Bakery Mix & Match Mini English Muffins
Looking for some lighter fare? Wolferman's English muffins are available in three different sizes: traditional, super-thick and these adorable minis. Yum!
Curtis Stone Dura-Pan Multi-Function Airfryer Steamer
Airfryers are all the rage, with celebs including Top Chef contestant Carla Hall and The Real Housewives of Atlanta star Porsha Williams getting in on the craze. Curtis' airfryer-streamer is multifunctional allowing cooks to air fry, steam and steam fry. We can already hear the bacon sizzlin'!
Wolferman's Bakery Mix & Match Preserves and Fruit Butters
"Every great meal starts with the best ingredients," Curtis told E! News. That's why he recommends Wolferman's preserves and mouth-watering fruit butters.
Curtis Stone Compact Roll-Up Trivet & Drying Rack
Curtis' drying rack is the perfect helper for rinsing and air-drying produce and dishes. The best part? Save room by just rolling it up when you're done.
Traditional English Muffins Sampler
Wolferman's English muffins come in a whopping 12 different delicious flavors. Grab some friends and try out the six favorites included in this sampler: 1910 original recipe, San Francisco-style sourdough, cinnamon raisin, wild Maine blueberry, cranberry citrus and multi-grain honey. We're going to need a bigger plate.