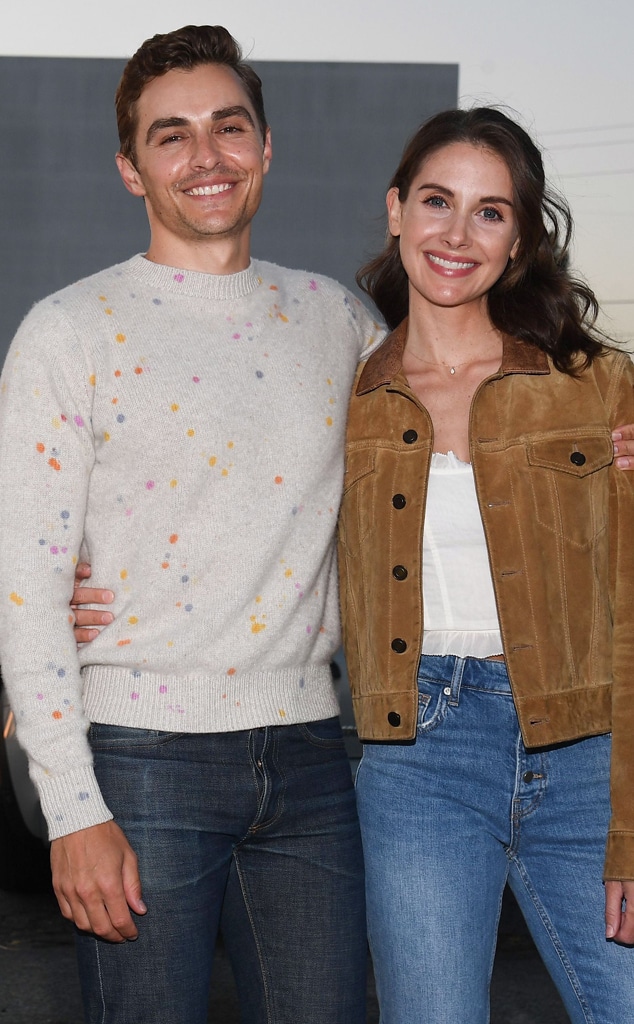 Michael Buckner/Variety/Shutterstock
At some point last year, as weeks spent at home turned into months, Alison Brie realized she had to admit it.
"The cliché of people being like, 'My husband is my best friend,'" the GLOW star, slipping into a canned prim voice, told E! News in a recent interview. "I hate saying that, but I did feel like a number of times there would be almost like"—she'd look at her husband of four years, Dave Franco and think—"'You are my best friend!' He is the person that I like spending the most time with. Our hobbies and everything are so aligned and I found, even during the year in hibernation, we ebbed and flowed in the same way."
So, that's one of the big reasons why Brie considered herself lucky during 2020, when in March the coronavirus pandemic put a halt to travel, indoor socializing and promotional obligations that required leaving the couch. And after a jam-packed 2019, she actually had a stack of projects to promote, including the horror thriller The Rental, which also marked Franco's directorial debut.
Considering he and Brie have been working on a screenplay together during their stay-at-home time, suffice it to say that the collaboration with Franco behind the camera was a positive experience.
"Whatever nervousness we may have had about it, it just couldn't have gone better," she said of the pre-COVID shoot. "Like, I can't stress enough what a wonderful experience it was for both of us and our relationship to kind of be able to connect in a different way, artistically, and really feel like a team on set together. I wasn't a producer on the movie, but I definitely felt like his partner on set."
In The Rental, which came out in July, Brie and Dan Stevens play a couple whose weekend getaway goes horribly awry (the horror is coming from inside the house) and the onscreen terror doesn't let up. So, striking the right mood on set was key. 
It was "a dream for me to be directed by a person that I trust more than anyone in the world," Brie explained. "And honestly, it was really fun to see him come into his own in a new way as a director and be so good at it—I guess it was so fun to watch the person that I love excel at a skill that I didn't know they had. It was hot. A turn-on!"
Watch:
Alison Brie Talks "GLOW" Transformation at 2019 Globes
Watching the rest of the cast and crew have a positive experience was also important to Brie, who had previously acted with Franco in films including The Disaster Artist and The Little Hours. 
"I've always known that he's one of the kindest people that I've ever experienced in the way that he treats everybody with respect," she said. "So it was fun also to get to watch other people kind of meet him and experience working with him for the first time." And, she admitted, "It was a fun treat to be like, 'Yeah, I married him. I know what's up.'"
They first met a decade ago and have been a couple for almost as long, so with no big since-when-are-you-like-this surprises cropping up, quarantine became an opportunity to savor just how well suited their are for each other.
"It was more like a deep appreciation for how similar we are as people and how much we love spending time together," Brie said. "I think we're still in awe how well our year in quarantine together went."
Her 2020 releases also included the Oscar-nominated A Promising Young Woman, in which she plays a former classmate of Carey Mulligan's vengeful Cassie who's on the teach-a-lesson-to list for a chilling reason; the psychological drama Horse Girl, which she co-wrote with director Jeff Baena and stars in as an unstable woman who's convinced her visions are real; and the rom-com Happiest Season, playing the sister of a happily coupled woman who brings her girlfriend home for the holidays but isn't out to their family yet.
Focus Features/Moviestore/Shutterstock
"I kind of can't believe the speed at which we were all working—certainly the speed at which I was working, even at the very start of 2020," Brie noted. "I was on a plane every couple of weeks, and flying different places and doing different jobs, and running all over the place!"
So while a year later she, like countless others, is cautiously thrilled that Los Angeles and places beyond are slowly but surely opening up again, staying home allowed her to "give a good amount of attention to the projects that were coming out, even though it was all over Zoom." She said, "It was nice to have focus on that, and at the same time it felt like a rebuilding year."
"It's weird," Brie added, "because I obviously work as an actor, it feels like an outgoing type of job, but I really am a homebody anyway. So, all my favorite things to do, stay home and cook and read, hang out with my cats—like, 'Oh yeah, okay, great'—but then it went on for too long and [it becomes] ,'Um, maybe it would be nice to go outside and see people...?'"
For most of the year the two-time Golden Globe nominee expected to be going back to work on GLOW, which Netflix had renewed for a fourth and final season pre-pandemic, but then the show was unceremoniously canceled in October. 
"Going to miss this... Will always be grateful to my GLOW family for changing my life forever," Brie shared on Instagram when the disappointing news was announced (though it didn't stop both she and Franco from dressing up as her character Ruth Wilder for Halloween).
"I'm going to miss playing with those incredible women and Marc Maron and Chris Lowell," she admitted on The Playlist's The Fourth Wall podcast in November. "But you know, we're so lucky. We're lucky that we got to make three, to me, perfect seasons of a show. I love it so much and it will live on Netflix forever. So people can still check it out."
Among the many positive takeaways from her years playing one of the Gorgeous Ladies of Wrestling: Brie emerged in the best shape of her life (as anyone who's seen the video of the 5-foot-3 actress doing deadlifts, or her Women's Health cover last May, might have guessed) and was committed to maintaining that feeling, even during quarantine.
"Coming out of working on GLOW, I really have a new perspective on strength training and my relationship with my body," she told E!, "and had just been in such a healthy place with all of that stuff going into the pandemic. So it was definitely a priority for me to continue to work out most days and really make a plan for that kind of stuff so that it wouldn't fall by the wayside."
Making exercise a priority "helps with my mental wellness, as well as my physical wellness," Brie emphasized. "Things that I've learned about myself and that I know about myself, I would be able to lean on during this time of isolation and say, 'Well, I know that I'm going to do better and feel better if I work out five days a week and really put aside that time'—so I definitely made sure to do that."
Not that she didn't enjoy the pasta and wine chapter of 2020, but lately there have been more oat milk lattes and chia seed pudding in her life for balance. And after our talk, the Los Angeles native was on her way to Malibu to plant trees ahead of Earth Day as an ambassador for the Planet Oat Project, the plant-based beverage brand having partnered with One Tree Planted in the latter's ongoing efforts to restore land that's been devastated by wildfires—as Southern California was last year.
"It's very cool to me when a product that I love, that tastes great—it's so nice when that aligns with also things that I care about," Brie said, describing the Planet Oat Project as "an ongoing commitment to support organizations who focus on clean land and wildlife conservation and water efforts. And it feels really good to know that the products I'm buying and that I already love are making that commitment to give back to the environment."
While One Tree Planted is hosting a number of Earth Day-inspired activities, including local neighborhood tree-planting events, for people who aren't in a be-around-other-people place yet due to COVID, a donation of $2 will cover two new trees planted. "It's an accessible amount of money to donate to something where you'll see a tangible result from it," the actress said, "which is really exciting." 
But while she loves being outside in nature, calling it one of her favorite things, a lot of what she's looking forward to doing will probably take her back indoors.
Brie, who so far has helmed an episode of GLOW and an installment of the Disney+ anthology series Marvel 616, said she'd love to do more episodic TV directing.
"I love how collaborative that type of position is, to be directing," she told E! "I don't want to say I love the process of writing, but I do love the outcome of producing my own work and so certainly it is something that I'm excited to be doing more. Like all things I've found in my career, things that scare me a lot, once I take the leap and do them, then they're not quite as scary—and you start to realize that actually, maybe there are more things that you're good at that you can do.
"It's really important to take those kinds of risks," she added, "so I definitely want to push myself into doing more directing and other producing and writing and all that stuff."
Yet while she's excited for future projects, Brie has a smaller goal in mind when it comes to getting back to normal. 
"When I see my friends, we've been outside, six feet apart, masks on," Brie said. "I'm looking forward to hugging my friends, being like, 'Come in, let's have a glass of wine inside!' What a concept!"